How to order custom fabric online
With our fabric uploader you can upload your own designs, choose your fabric and order 24x7 with no setup fees. You can even see what your design would look like on a product ! Our Online Digital Printing option is designed for those who are after a fabric printing method that is simple, easy and seamless.
HOW TO ORDER FABRIC ONLINE
Drag & Drop your image or click on the SELECT button to upload your artwork – you can only upload JPG or PNG files. STEP 1
Once your file is uploaded, you'll be able to see it in the fabric preview.
Check your artwork size and DPI. You can scale your artwork up or down, simply by typing the size you want.  Keep an eye on the DPI, its resolution and quality of your file. If your artwork is low resolution and is scaled up, the print result can be blurry. STEP 2
At this point is great to see how your fabric will look on a product. Section HOW YOUR FABRIC WILL LOOK ON A PRODUCT located under fabric preview. This will help you to understand the scale of your artwork, so you can adjust it if necessary and will help you to visualise your fabric project as a final result.
Next step is to choose your Repeat type. This is the fun one! Play and see how different repeat options impact your artwork preview and distributes it across the width and down the length of the fabric.  Pick the one that suits your design idea best. STEP 3
If your file is in repeat choose Full Drop or Half Drop. To check your file repeat, click on Zoom To Check Repeat.
If you are not confident in your textile design skills, Choose Mirror option, this option will seamlessly mirror repeat any image!
For placement print, banners, table cloths etc. use Centre option to print one image on the centre of the fabric.
If you're printing seamless repeat use the zoom option to check that your file is set up correctly for seamless printing. STEP 4
Choose the fabric you would like to print on. STEP 5
Choose how many meters you wish to print simply by typing in the quantity box.
Once again glance over your design and if you are happy with it all, read and accepts our terms, and either add it to the cart or to check out right away by clicking on "Buy Now".
Once you've paid for your order, we'll start printing it while you put your feet up and relax. Once they have completed printing, your printed fabrics will be shipped to you.
Need more help? Watch our step by step tutorial on how to upload artwork to create your own fabric!
HOW TO ORDER FABRIC STRIKE-OFF ONLINE
In the 'Fabric Uploader' upload the file you would like a strike-off of. Strike-off is a small 20 x 20 cm test print of your artwork on the fabric of your choice.

Check your file size and if required you can adjust the scale of your file.  
Select the centre repeat option.  
In the fabric drop down menu please select either 'Strike-off Polyester Fabric 20 x 20cm Test Print' OR 'Strike-off Natural Fabric 20 x 20cm Test Print'.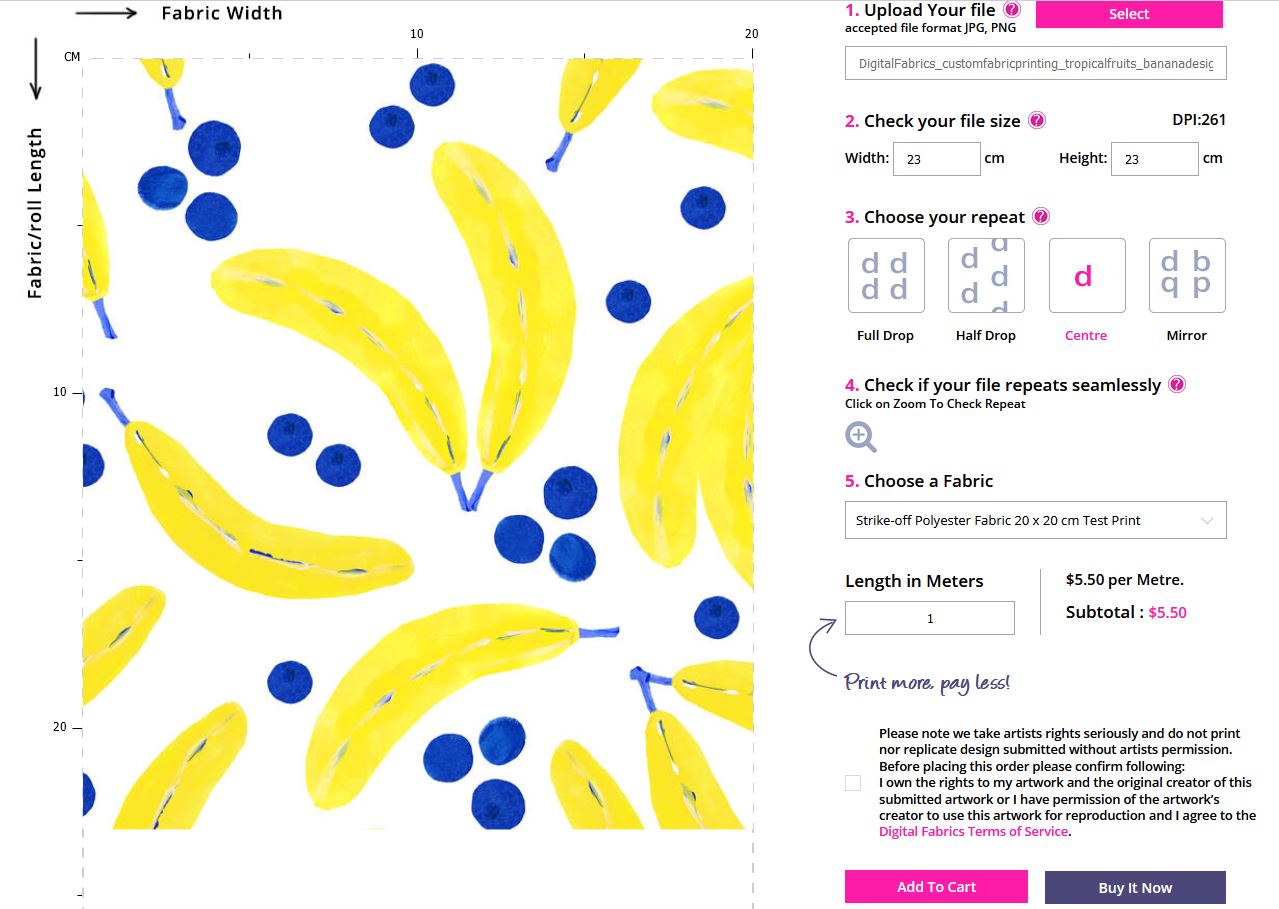 Confirm that you understand our Terms & Conditions and that you own the rights to the uploaded artwork by ticking the box below the subtotal.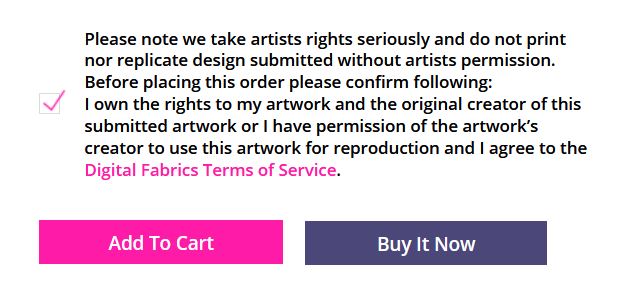 You can now add to the shopping cart! 
Once in the shopping cart check that the correct amount of strike-offs have been ordered and hit 'Checkout Now'.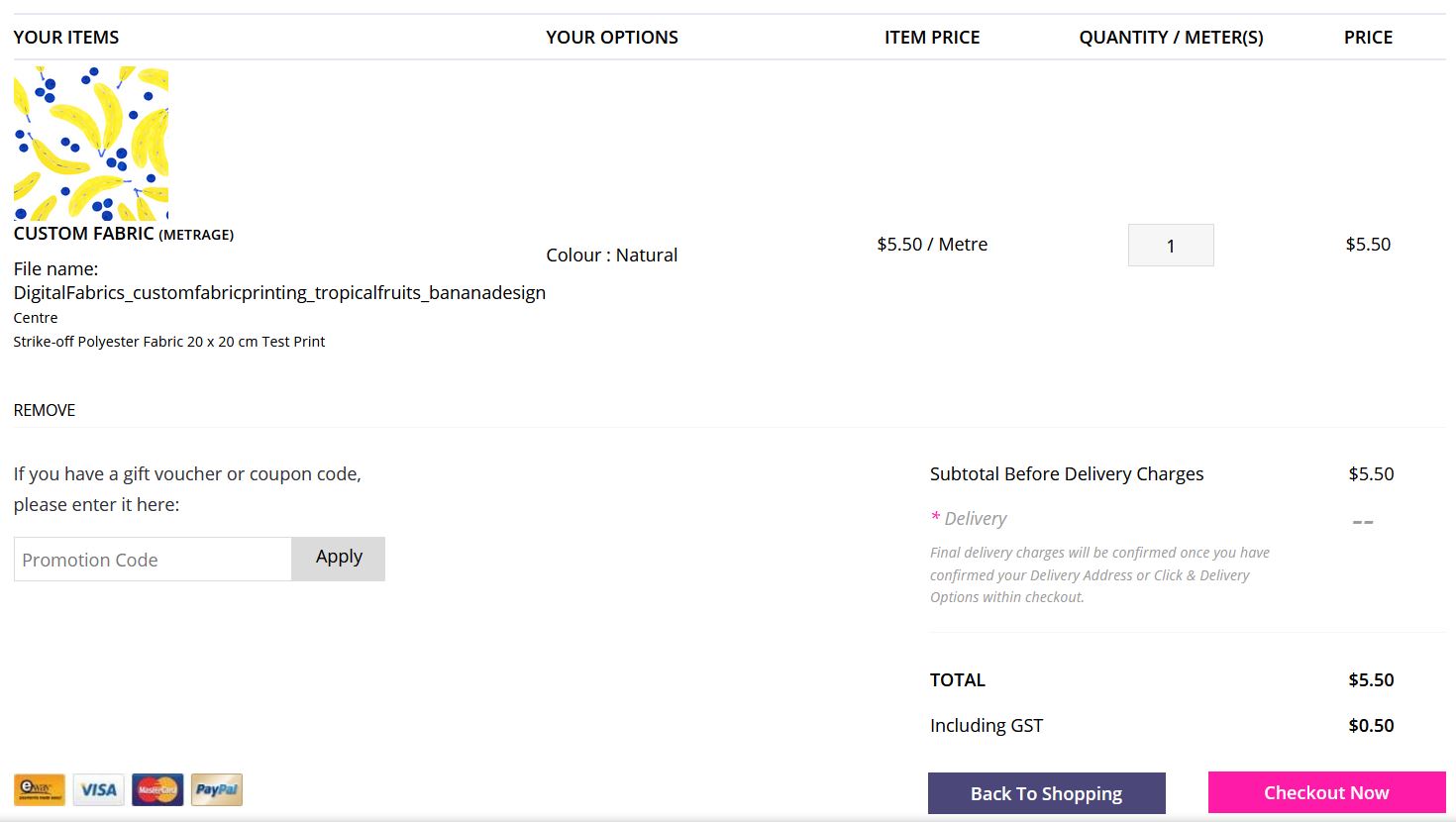 Fill out your billing details and in the 'Comments/Delivery Instructions' section specify which fabric from our fabric range you would like to print on.