How To Use Our Fabric Uploader
With our fabric uploader you can upload your own designs, choose your fabric and order 24×7 with no setup fees.    You can even see what your design would look like on a product !
Drag & Drop your JPEG image or click the box and select your image manually.
2. After your file is uploaded you will see your file preview.  Next step is to choose your Repeat type.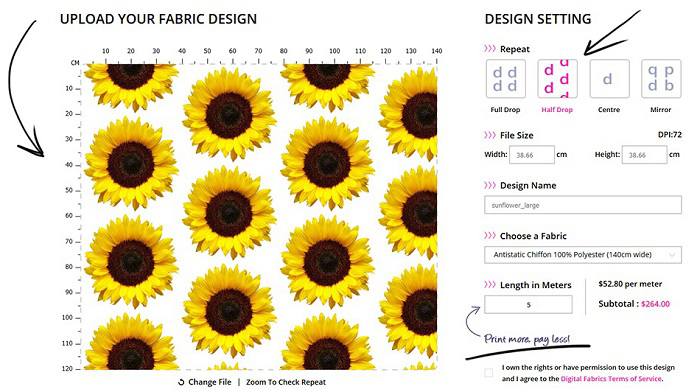 If your file is in repeat choose Full Drop or Half Drop. To check your file repeat, click on Zoom To Check Repeat.
If you are not confident in your textile design skills, Choose Mirror option, this option will seamlessly mirror repeat any image!
For placement print, banners, table cloths etc. use Centre option to print one image on the centre of the fabric.
Check File Size option to check your image DPI, width and height. Your image will be printed at that size and repeated as your repeat option.
3. Choose your Fabric, and check out!   
Choose the fabric type, all fabrics information can be found on the stock fabrics page.
Finalise your quantity
Confirm you have permission to use the design, read and agree to our terms of service.
Securely pay with your credit card and we'll get your order on the way.
Want more?   See Your Fabric On A Product.  You can see how your fabric will look on a product it give you great idea of the scale of your artwork and will help you to visualise your project final result.
CLICK HERE TO CREATE YOUR FABRIC NOW!
Fabric Uploader Tips
If your file is too large and take too long to upload reduce the DPI of your image. You can even reduce it to 72 DPI.
To upload multiple images, create a collage of your images first then upload one file only.