Bespoke Textile Wedding Signage & Decor – Digital Fabrics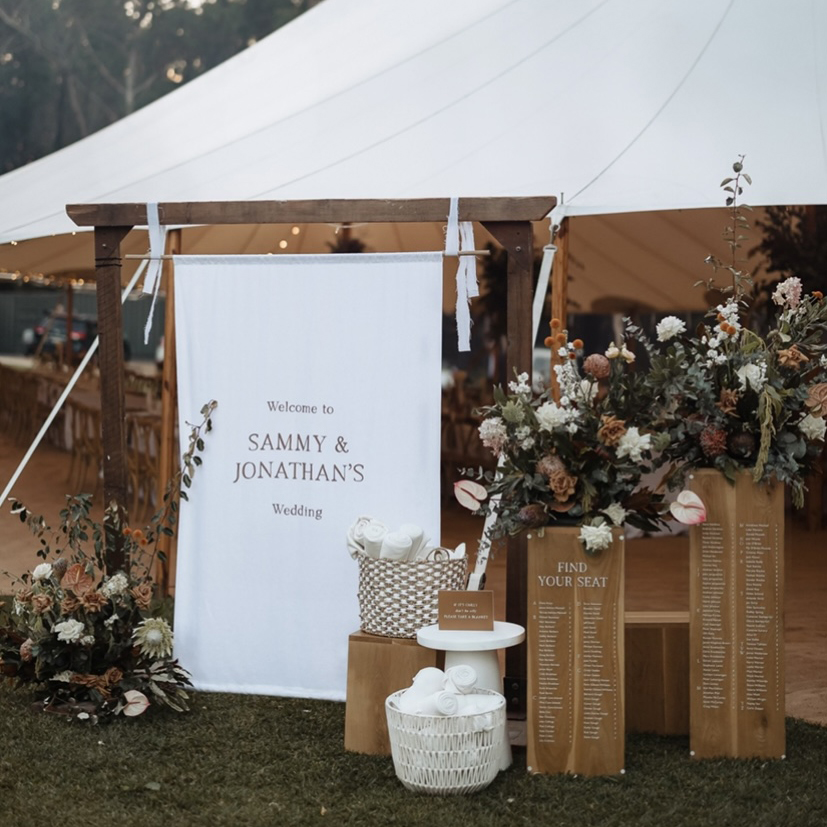 Photo by Maddison Jayne Design
CUSTOM TEXTILES FOR
WEDDINGS & EVENTS

WEDDING AND EVENTS SIGNAGE
BESPOKE TEXTILE WEDDING DECOR
Tailored to your unique vision

Sustainable linen & cotton fabrics

Printed & made in Australia in our Sydney-based studio
SAMPLE BEFORE YOU ORDER
♥
Not sure how your design will look on a product? You can get a sample printed before you order.
ECO-FRIENDLY COMMITMENT
♥
We prioritise sustainability with eco-friendly printing methods, water-base inks, and responsibly sourced fabrics.
VERSATILE FABRIC SELECTION
♥
Choose from a beautiful range of natural & polyester fabrics to match your vision.
FLEXIBLE ORDERS
♥
Whether you need a small batch or large quantities, we will accommodate your needs.
Contact us for a free quote! We welcome collaborations with event stylists, stationery designers and lucky couples who share our passion for creating extraordinary experiences. Whether you're planning a corporate event, a wedding, or crafting bespoke stationery, our custom textile signage and decor will add that extra layer of elegance to your creative ideas.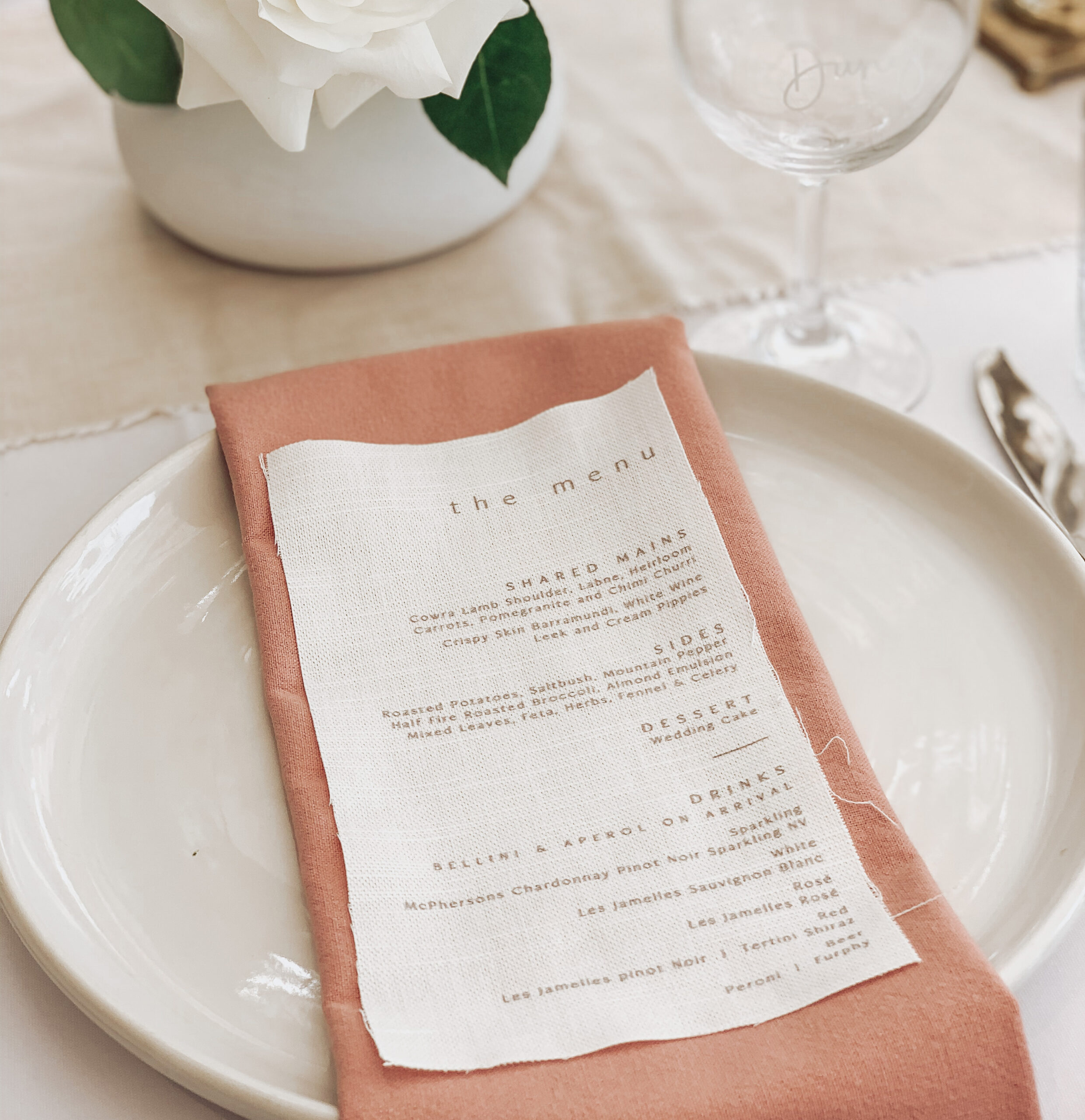 Photo by My Creative Space
CUSTOM TEXTILE SIGNAGE & DECOR
Personalised textile signage & decor is the secret ingredient to elevate your event and set you apart. Our wide range of custom textile products is designed for those who want to craft unique and memorable experiences. Explore the possibilities:
Printed table runners & tablecloth: Transform tables into works of art.
Printed fabric seating charts & bar menus: Create stunning event backdrops.
Custom printed fabric invitations: Impress with personalised stationery.
Printed textile banners & signage: Guide and captivate your audience.
Personalised napkins & placemats: Elevate every guest's experience
REASONS WHY YOU'LL LOVE US
Personalised guidance: Our one-on-one service guides you through the process from start to finish, making it effortless and stress-free to get the finish you're looking for.
Eco-friendly commitment: All our fabric is sustainably sourced and uses eco-friendly printing methods, so your big day doesn't need to make a big impact on the environment.
Versatile fabric selection: We stock gorgeous wedding-friendly fabrics like natural linens and soft flowing polyester and can print in whatever colour you need to perfectly match your colour scheme.
Flexible orders: Low minimum order quantities or bulk order pricing.
Local craftsmanship: We're an Australian-based independent business. Instead of ordering more decorations from overseas, support an Australian business. We print and produce everything in our Sydney studio.
Designs that stand out: Adding personalised textile elements to your wedding decor is the ultimate surprise for your guests - do something that they won't have seen before and make your day one to remember.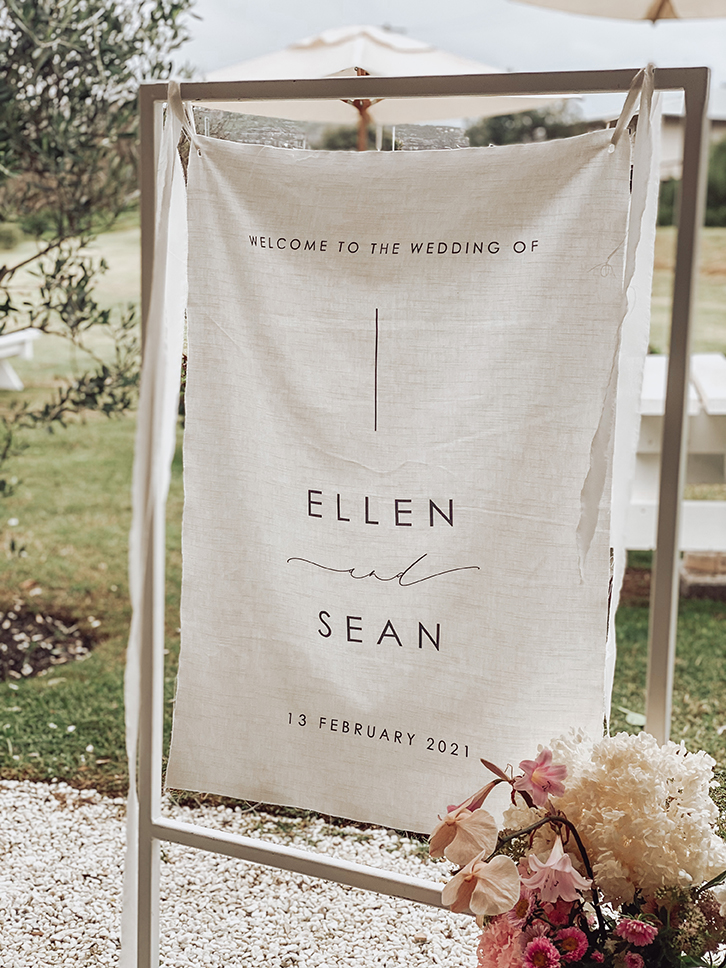 Photo by My Creative Space
You don't need to be a wedding stylist, coordinator, or industry expert to order personalised printed textile wedding decorations from Digital Fabrics. While we are proud to collaborate with some of the industry's top professionals, we also warmly welcome couples who plan to handle their wedding styling themselves. Whether you're a DIY enthusiast or a seasoned expert juggling multiple bookings during the wedding season, we're here to assist you.