Artwork requirements
ARTWORK FILE REQUIREMENTS
Please check your artwork before submitting to us, once artwork is received it will be printed as supplied, without cheking or adjustments.

For Custom Fabric Uploader we accept JPEG giles only in RGB colour mode. Resolution 72dpi up to 300dpi. If you would like to print multiple images via Fabric Uploader, create a collage of your images first then upload one file only. If you need help on how to use Fabric Uploader read about here.
Forn One on One services we accept eps, tiff, pdf or jpeg files preferably in RGB colour format. Please provide your artwork in resolution over 150dpi and up to 300dpi.
Please provide your artwork at a file size less than 1GB as our printers cannot handle files bigger than this.
Artwork should be supplied at the correct, or intended print scale i.e. if you want the print to be 50x50cm, then the file should be supplied as such. Unless otherwise instructed, files will be printed as supplied. Please be aware that increasing files to a larger scale can distort the artwork and have a less than desirable print quality.
Before submitting the artwork for printing or testing please insure you submitting the correct and the final artwork, only then we can guarantee consistent result from the strike-off to the final print.
Artwork colours can differ significantly from what is viewed on a computer screen to what translates onto fabric. This has to do with several factors some of which Digital Fabrics cannot control. We can provide a colour matching service but do not guarantee exact matching will always be achieved.
All fonts in the submitted artwork must be outlined.
If you see black on the computer screen it does not mean that this colour will be printed as black as you see it. The black colour in your artwork may not be necessary appropriate for commercial printing. If you are after pure black colour ensure that all four CMYK options are set to 100%, C=100%, M=100%, Y=100%, K=100%, in both Photoshop and Illustration when developing your artwork. For very fine details such as small text or lines, only K can be set to 100%.
To have consistent colours between files, keep all your files in the same colour mode and file format. For example, exactly the same colour in Photoshop and Illustrator will never be printed to match, as the printing software reads each file type differently. For the exact same reason don't change colour mode and file format in different versions of the same file.
White as colour cannot be printed, any areas in the image that are white will be the colour of the fabric.
Any specific instructions relating to how you need your fabric to be printed should be confirmed, in writing, well in advance of production. Things you may need to consider are artwork margins, unprinted gaps between placements/panels, increase or decrease in scale etc.
 ARTWORK FILES FOR SEAMLESS REPEAT YARDAGE PRINTING
Files should be created and submitted to the exact repeat only. No white or black boarder lines and no excess or overlapping is required. There should be no excess around the pattern in you file i.e. seamless repeating file should be cropped exactly to the repeat tile.
PLEASE DO NOT SEND MULTIPLE METERS OF REPEAT ARTWORK – our programs will not print such large files and if we have to correct this you may incur additional set up/artwork fees.
a)      Correct: File shows only the repeat tile which, repeats seamlessly on all four edges.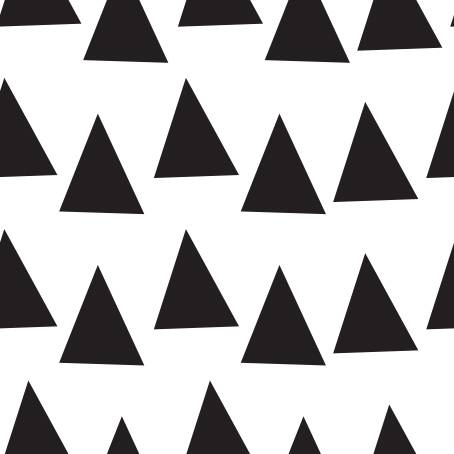 b)      Incorrect: File shows an excess or does not repeat seamlessly on all four edges.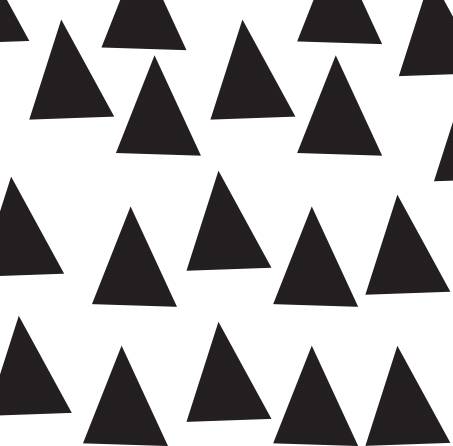 PLEASE DO NOT SEND MULTIPLE METERS OF REPEAT ARTWORK – As long as the tile repeats perfectly, we can duplicate it for the width and length required.
If you require help setting up your artwork for seamless repeat yardage printing, please check our Seamless Repeat Tutorials page for step by step instructions or contact Digital Fabrics, we have a design service to assist you.
CUSHION COVER ARTWORK SET UP

Create a new canvas in RGB colour mode, 48 x 48 cm for finished size cushion cover of 45cm x 45cm including 1.5cm seam allowance on all sides of the cushion covers.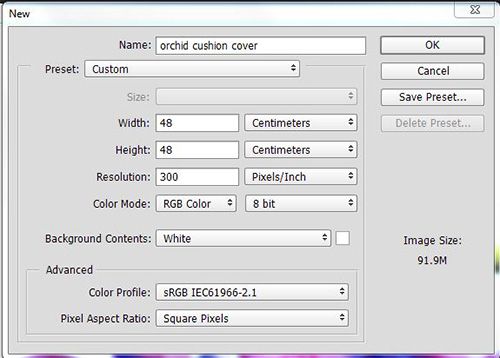 To help remember that there is seam allowance on the artwork put guidelines on all sides 1.5cm in. Place an artwork on art board, play around with the placement until you get the look you are after and be mindful that anything outside of the guidelines will be sewn in.
When you are happy with the results you can flatten your artwork and save, artwork can be saved as either a JPEG or TIFF. Repeat these steps for the back of the cushion cover, if you want a certain colour for the back, drop in the colour you want into the layer.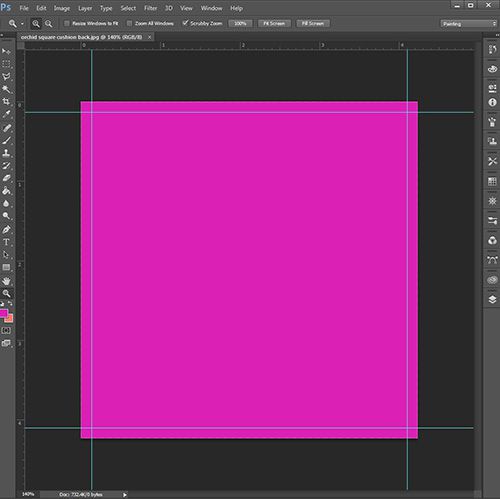 HOW TO SETUP MULTIPLE IMAGES INTO ONE FILE
Create new canvas in Photoshop, to the width of the fabric x the length required. The width of the canvas will be determined by the fabric width.   Keep in mind the printable width of each of our stock fabrics can be different and varies between 135 -147 cm. New document resolution is determined by image quality that will be collated in to one file. TIP: If you think you're using low quality images keep resolution low as well 72-150 DPI. Colour mode is RGB.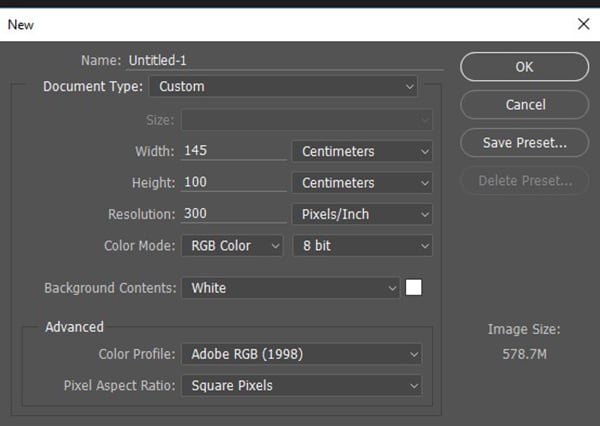 Drag and drop required files onto newly created canvas.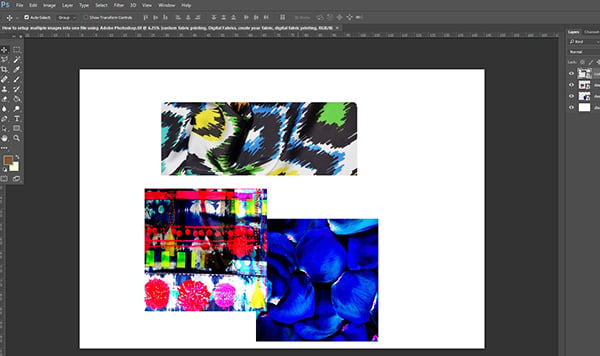 Arrange files with in canvas space as needed. Use Free Transform option, located EDIT> FREE TRANSFORM, to change the size of each image or simple type the size required in the dimension options.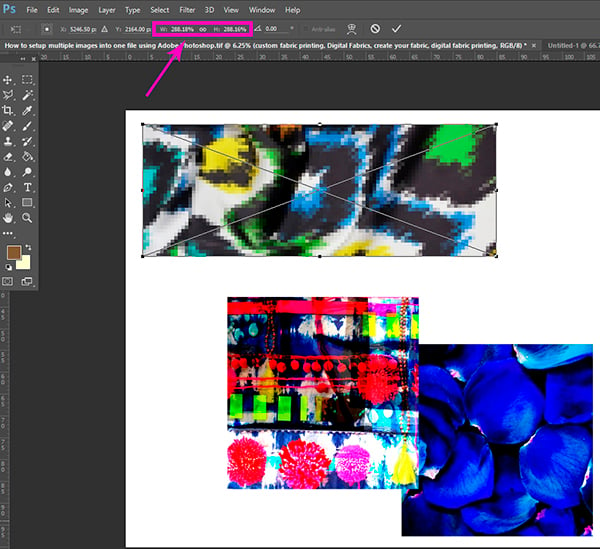 Once you determined your sizes, use the Move Tool to arrange your images to your liking within the canvas space.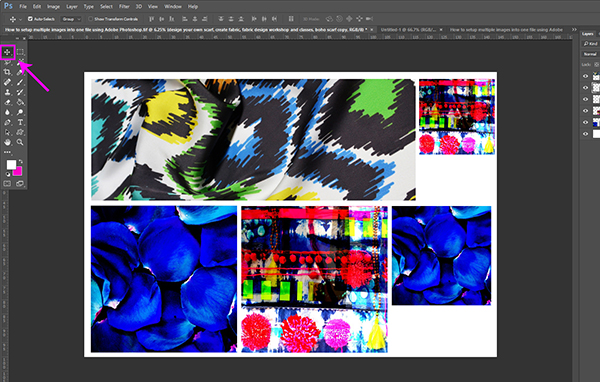 Save file as JPG at high quality.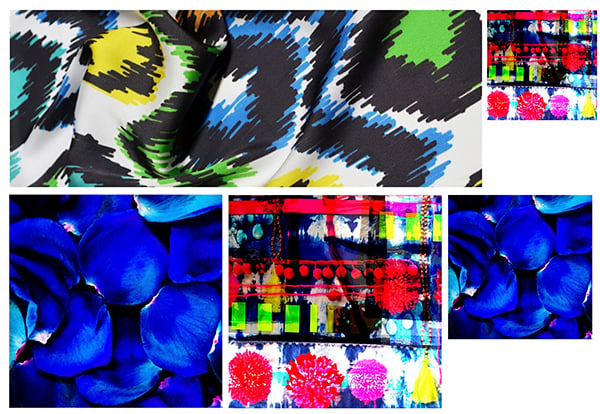 Upload your file into our  Online Fabric Uploader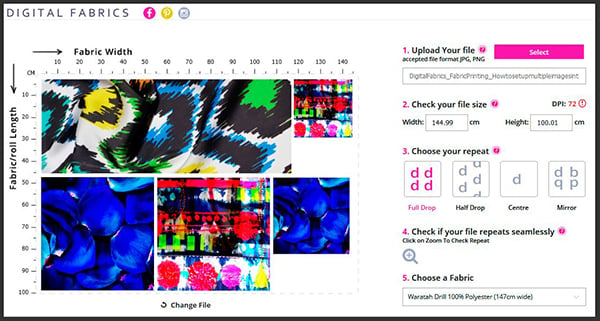 Save
Save