Swimwear Fabric Printing
Lycra printing for fashion and sports swimwear
We print lycra for some of Australia's largest swimwear brands and overseas fashion brands using the latest technology lycra fabrics. Our printing method insures the best colours and quality for your swimwear fabric. We print in rich and vivid colours that holds up excellent to washing, has brilliant durability and longevity both of print and of fabric quality.
We work with world leading suppliers in sun protective and chlorine resistant swimwear lycra fabrics. Our stock lycra fabrics has high UV rating of 50+, is soft to touch with excellent stretch, shape retention, high level of colour fastness and has excellent 4 way stretch.
When printing swimwear lycra fabric for your brand there are many factors to consider such as swimwear print design setup, print repeats, colour and lycra fabric choice.
Our understanding of deadlines and great in house equipment insures speedy turn around, excellent quality results. We distribute swimwear lycra fabrics to both Australia wide and international swimwear customers.
If you are big brand or a start-up young designer it doesn't matter – we are always happy to help and give you advice on lycra printing.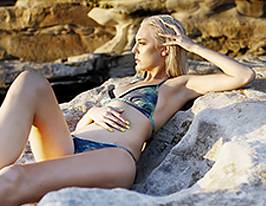 We are flexible and can work to many different concepts. We will guide you through your swimwear printing project, from a first step of a file setup all the way to the final delivery of your fabric.