Making and Sewing services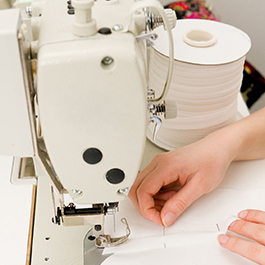 At Digital Fabrics we provide custom sewing services! One stop from your artwork to a complete product.

Not only we can custom print-on-demand your awesome artworks and designs on a big range of quality fabrics, but we also can help you with the product manufacturing.
Our 'cut and make' services provide you with finished products in a range of sizes and styles, such us cushion covers in any size or shape, men ties, scarves, pocket square, tote bags, tea towels napkins, table cloth and runners, zip pouches, back drops, banners, beach towels, bandanas etc.
For marketing items, banners and display we offer hot knifing (sealing fabric edges), rod pocket seams, Velcro, eyelets, hemming. You can be assured that the quality of our products is at a high standard.
We cut and make in house and outsource your production to local makers. We aren't limited to the finishing and product options above either. If you have a particular project in mind, that may involve some finishing or sewing of a particular nature, definitely let our friendly staff in on your brief and we can discuss with you the best way we can help out.