It's been such a joy showcasing the incredible work of our current feature artist in The Designer Project, surface designer Cass Deller and we hope you've adored being introduced to her gorgeous style. Cass creates stunning surface pattern designs which relies on the perfect pairing of her professional graphic design skills with her exceptional watercolour artistry. Her designs are beachy, playful and simply elegant, and we're so thrilled that Cass has made a selection of them available in our Fabric Shop online. To coincide with this the designer herself has also written a guest blog which we've featured below! The blog shares Cass's background and inspirations before taking you through her typical process when creating a collection. There's also plenty of snaps of her beautiful studio and designs. Keep reading to find out more about Cass Deller and her work!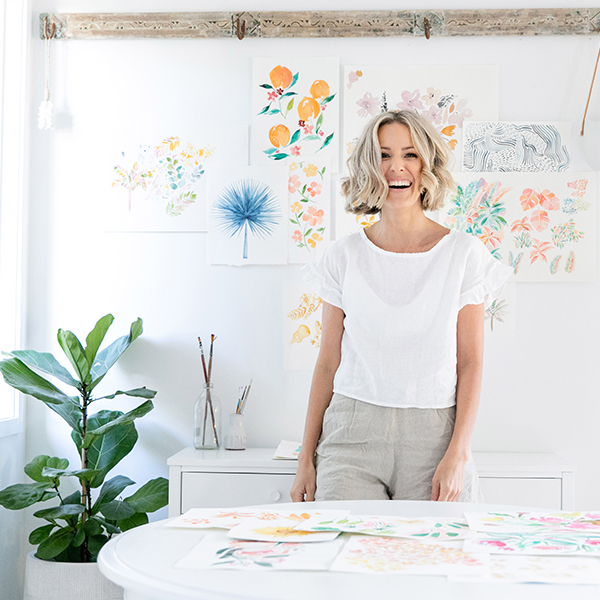 Cass Deller
Hey fellow fabric lovers! I'm Cass, and you may have seen my new collection released with Digital Fabrics, inspired by my love of design, colour and coastal living here on the Sunshine Coast, Queensland.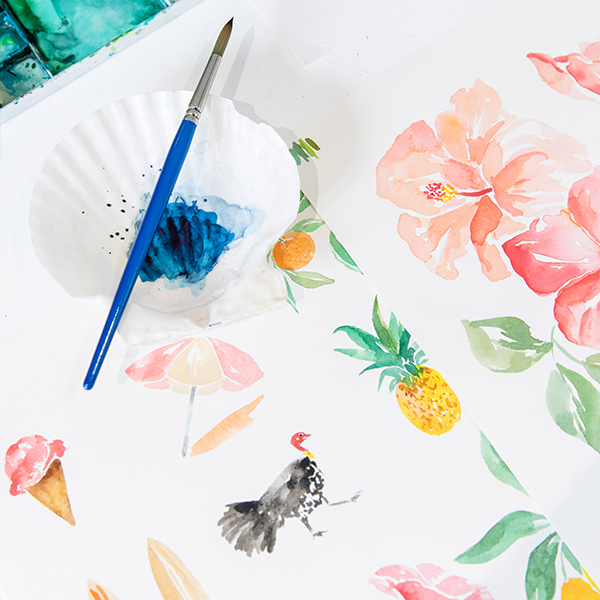 Cass's watercolour paintings
I have been a watercolour artist and graphic designer for over 8 years. For me, seeing my designs on fabric being used in beautiful unique ways is definitely the most rewarding aspect of being a designer. I have collaborated with hundreds of brands over the years and the excitement never wears off.
"Mango Floral"
The process of creating art for fabric is so unique to each and every artist, which is the beauty of each collection. My inspiration has always come from the ocean and that coastal, holiday vibe that we all love. I grew up in Brisbane, however our family holidays were always spent in Noosa. For three weeks of the year we would leave our "real" world behind and soak up the sunshine, sea breeze and sandy beaches. I didn't realise at the time how much those days would influence me in the future, but they are infused into everything I do now.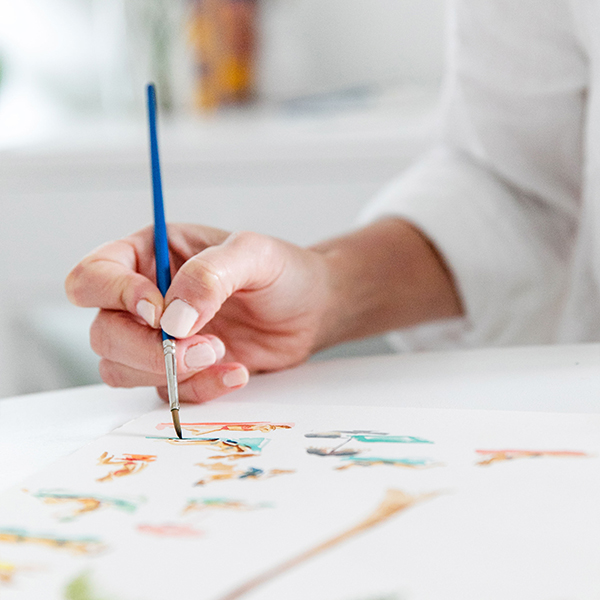 Cass painting
When my husband and I both started working for ourselves in 2013, it was a no-brainer to move up the Sunshine Coast where we could build a self-paced life of freedom, and daily beach walks. It's so easy to be inspired when we are surrounded by this beautiful lifestyle every single day.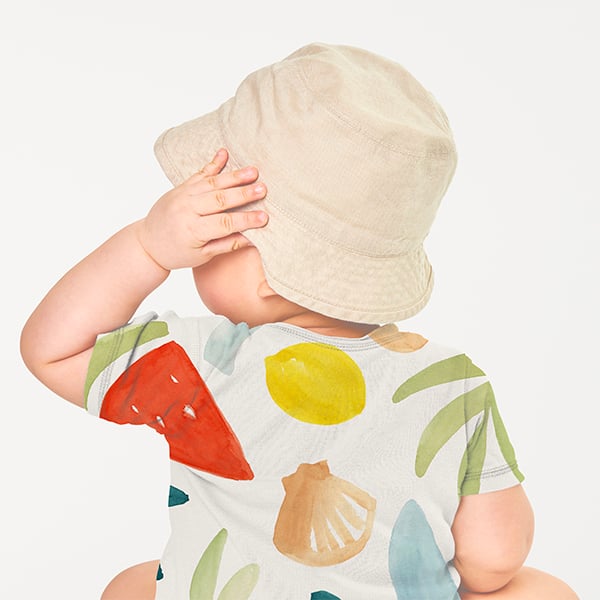 "Mediterranean Palette" baby romper mock-up
With each collection, they always start with a feeling or a vibe. The feeling of summer, or of motherhood, or of the simple things in life. I then take these feelings and thoughts and relate them to a subject matter or theme that I'm inspired by at the time. This could be anything from palm trees to lines in the sand.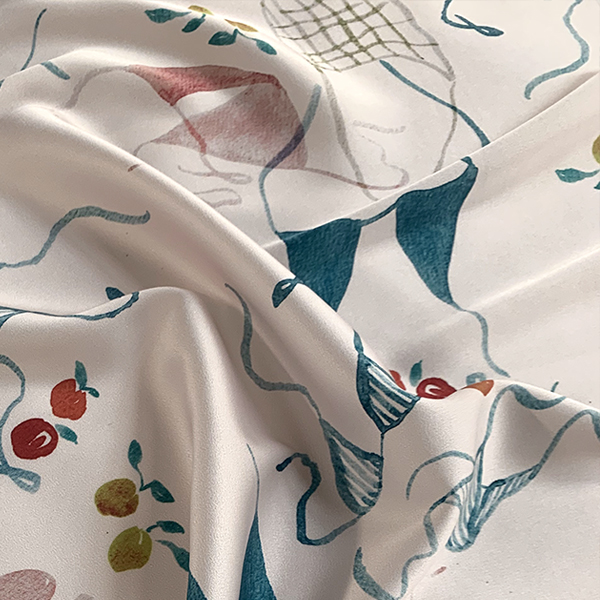 "Beach Sesh"
I will usually collate a moodboard to gather my thoughts and ideas. The moodboard can consist of Pinterest imagery, photographs and real life elements. I love that each collection can feel so different. From the mooboard I start to sketch. This sketching stage is usually just elements and ideas which I then form thumbnails around how the pattern could be formed. This really helps me when it comes to the process of creating the pattern on-screen.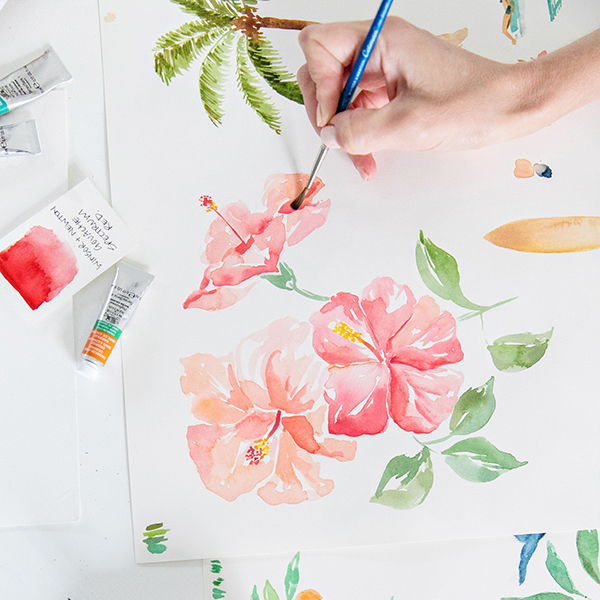 Cass's watercolour paintings
Once I have a general idea and direction for the patterns I will start to illustrate and paint the elements – my favourite part. Once I'm happy with the elements, I scan them into the computer where I edit them, experiment with colour palettes, and turn them into repeat patterns.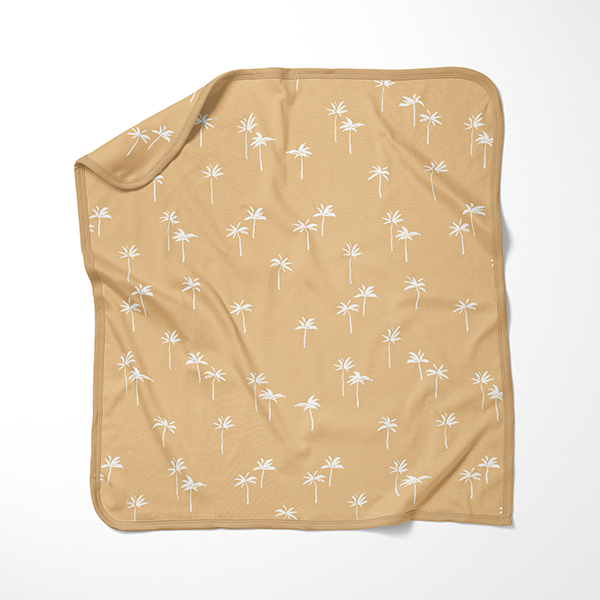 "Miami Palms" baby blanket mock-up
Being able to intertwine the traditional art of painting and the more modern techniques of design is such an art form within itself, and I love that I can integrate both into my work. I also love that I can teach my process to other creatives through my online courses and coaching offers. Seeing other designers dive into the world of textile and surface design is such a joy for me.
You can find more of my work at www.cassdeller.com.au or on Instagram @cassdellerdesign.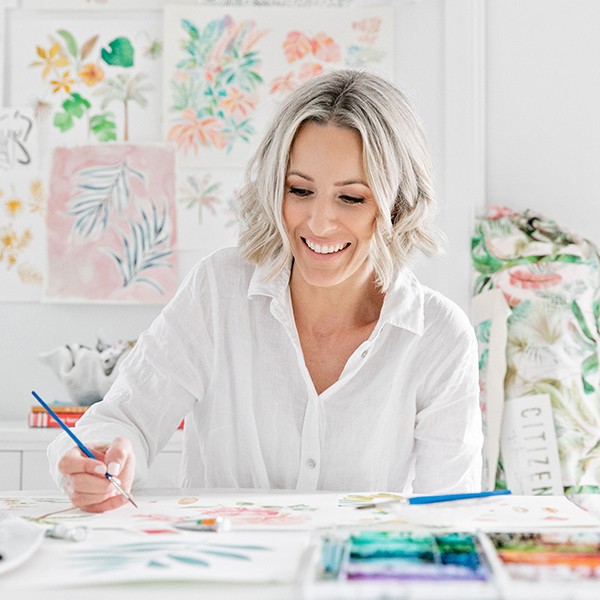 If you want to collaborate with us on The Designer Project and become part of this creative club, please apply! Send us an email with your portfolio and why you would like to be part of this initiative, and we will be in touch!