Nailed It. Creative business success story
Here at Digital Fabrics we love finding a new and interesting success story on a brand or business that is inspiring to the creative community. We thought it would be useful and informative to find out how these creative businesses nailed it, lessons learned on the way and tips they might have. We have asked them to share important "How to's" and growth hacking tips for start-ups and emerging designers. Read it, get motivated and nail it yourself!
This time we have a Sydney based Textile designer to get your creative juices flowing and your mind ticking! We are chatting to Roberta Montorfano the artist and designer behind the Textile Studio: Betta Designs, a brand that is full of bohemian delight and florals to swoon over. She is also one of our workshop teachers!
We had the pleasure of asking her a few questions about how she is nailing it and what she has learnt along her journey so far and what she plans for the future of her business.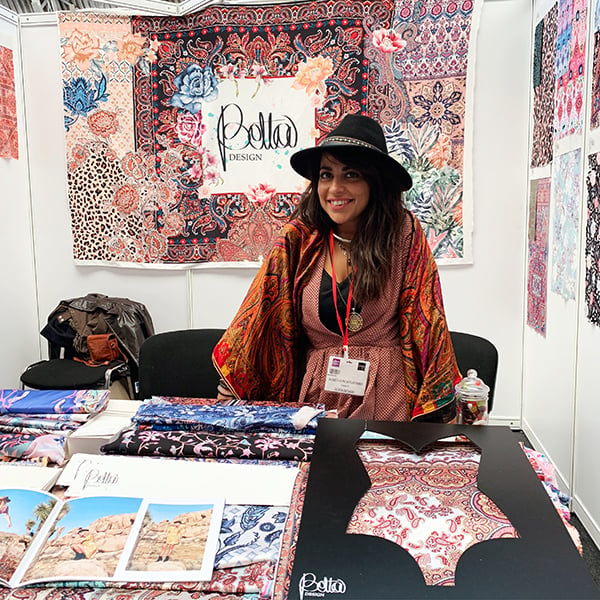 Who is behind Betta Designs Studio– tell us a bit about who you are, what you do and what services does Betta Designs offer?
Hello, my name is Roberta – I am a dreamer, pattern lover, artist and full time textile print designer!
My background is half Mexican – from my mothers side; and Italian- where I was born and spent most of my life. I have always been a curious soul wanting to see the best and colourful side of life, trying to find the best way to communicate myself and who I am through art and patterns (that you can also wear if they are textiles!!)
With Betta Design we offer collections of exclusive textile prints services:
– Collections of exclusive designs ready to go prints in high resolution Photoshop files.
– Custom design for any particular print idea and request
– Creation of different colorways and print manipulation
– Mood boards and trend research
– open to any artistic collaboration ideas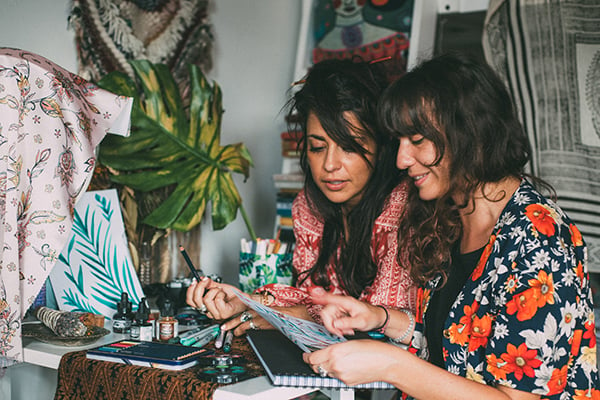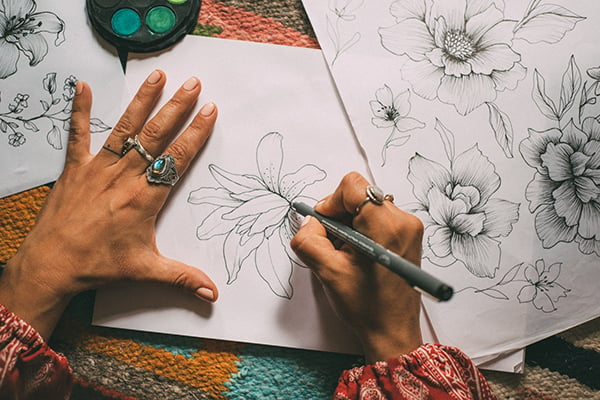 What did your creative journey look like and how did you begin designing textiles? At what point did you start your textile studio 'Betta Design Studio'?
My journey with Betta Design has been very natural, looking backwards I can see all the dots connected to each other.
I have always wanted to have a pencil in my bag to draw and colour something since I was young; art and anthropology have always been my favourite subjects at school and when I had to choose my University career I decided to keep art as a 'hobby' and studied "languages and cultural mediation" (dreaming of becoming a some sort of National Geographic photo journalist).
While I was trying to study Chinese I found a job opportunity as a sales rep for a textile studio in my hometown, which required me to travel a lot around the world (Brazil, Japan, USA, China, Europe…) When I soon after realised what I was selling and how inspiring and creative was the textile design world I automatically pursued my textile design career as well. So after working for a very well-known local print studio in Italy for few years, I decided to challenge myself:  travel and move to grow and learn and seeking new dreams.
Betta Design Studio was born in my room in Bondi in 2014 after a strong desire of sharing my passion for pattern and print ideas, art and textile.
You have a very interesting background and heritage, do you think you can tell us about this and how this has inspired you and in what way do you believe it has translated into your work across the years.
My background is very interesting, two countries that have such a strong art identity:
I grew up surrounded by colours, patterns, textile. I come from Lake Como that used to be the Italian capital of silk, my dad has always worked in textile producing made in Italy silk scarves and ties. Our house was full of Mexican art and style and handmade beautiful traditional designs, it has been always around me.
I have always felt so lucky to be who I am and to be born from such a rich mix of roots.
My strong curiosity for art and the desire to create combined with my passion for travelling and exploring art and cultures brought me into textile and my passion grows every day more and more.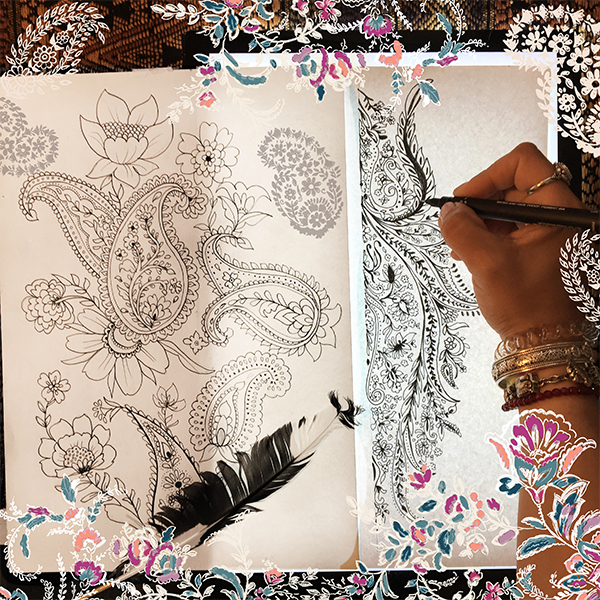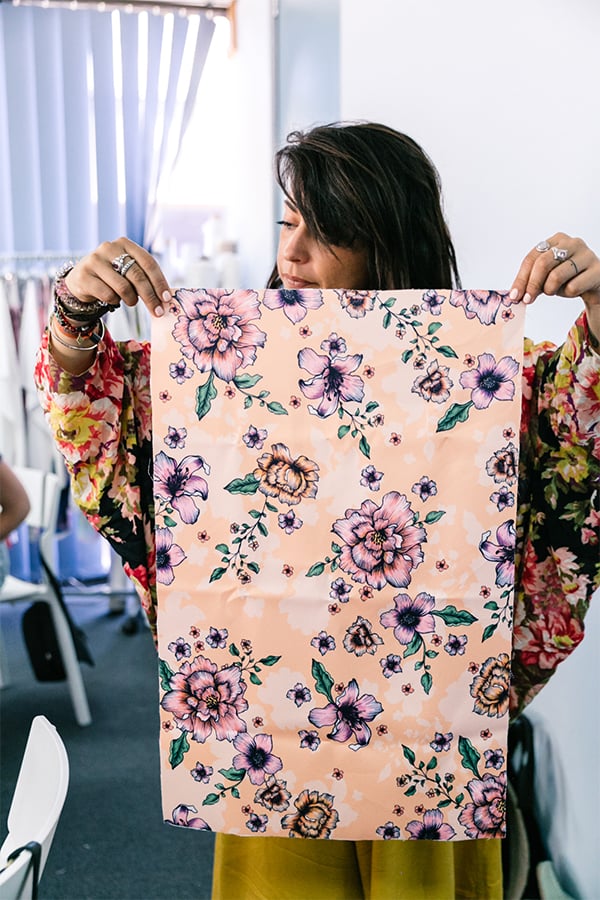 What does a day look like in the Betta Design studio? Do you have a routine to follow or do you work in a more ad hoc way?
It's very hard to describe what a typical Betta Design day looks like because it really depends on what is going on. Let's say that Betta Design never stops even at night, a bit unpredictable each day because there are so many tasks and exciting things to do every day: finding new ideas, preparing files, creating new prints, lots of admin sometimes, resourcing new projects, new opportunities, traveling and showcasing our designs around as well as painting and drawing and colouring the world with patterns!
This is what typically happens in a day but I have to say that at night is when I am more productive and full of ideas (it's 12.52am right now!)
Florals and botanicals are clearly a huge inspiration to you, was this always the case and where do you get new inspiration from?
Styles can change from day to day, when an inspiration or a new idea comes you can only follow it. I love to change a lot: animal prints, bohemian, borders, florals, abstract prints, a bit of geometrical sometimes, tropicals.. there are infinite ideas in our minds!
Actually florals are not my best style. I love drawing florals, especially botanicals or watercolours but I am more a bohemian type. I like to design different sort of style depending on the request, the trends and ideas. But my soul is gyspy, so ethnic and bohemian prints are my favourites!
Obviously I love drawing florals, that's why we run the Floral Workshop together!!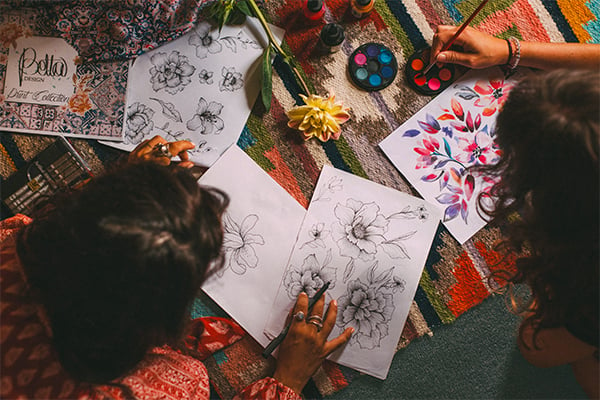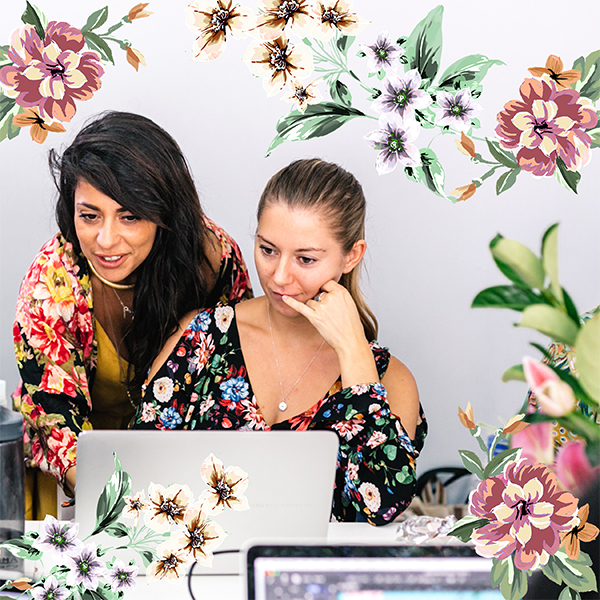 What does your creative process looks like? Can you take us through your design development steps and which is your favourite and why?
There are different ways I develop a print, a creative process is quite personal and different from each textile designer.
Betta Designs never stops – my eyes are everywhere I can see patterns all around me: it could be watching a sunrise, on the bus, walking around the park full of trees and flowers, at the market or looking at a tile outside your friend's house. Inspirations can come from anywhere!
I remember one of the first print I created it was in my first or second collection: a water effect digital print. Very bright and vibrant and blue! I started from a photo that I took during a coastal walk in Tamarama, a photo of perfectly smooth waves from the top of the rock. I still remember that moment, the perfect combinations of shades of blues and whites. Then I got home and I started playing with it in Photoshop and I created a print that I called 'Splash' (I used to give actual names to my prints). That print was sold to a great swim local label.
This is my favourite part of the design development process –  The natural one, when the idea just comes by itself and you create something that is new and interesting.
Going back to your question I was getting too emotional; whenever the inspiration comes from (a catwalk trend or a picture you took from a flower on your balcony) the design process is quite standard:
– Creation and preparation of the elements. This is my favourite step, usually the most creative one. Drawing and preparing the elements, choosing colours and movement.
– Designing the print: display the elements and put them in repeat. This is the most "technical process".
– Try different colorway options and check the file at the end.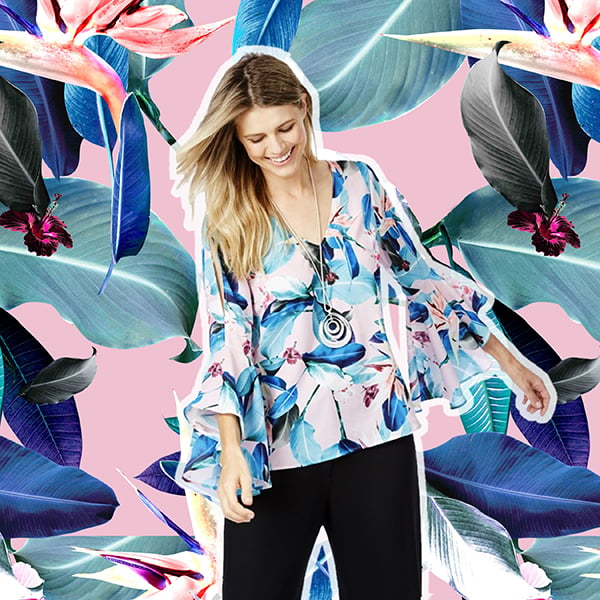 Can you share your go to online resources for textile design trend research and inspirations?
I tend to use more books for inspiration but as in online resource I manly keep myself updated on trends on wgsn.com on weconnectfashion.com and blogs, I use Instagram and Pinterest to share and get inspired.
You are represented at some of the international textile trade shows, what goes on at the shows and what do you get out of them.
Yes, we have tried some trade show, the most recent one was the London Print Textile Fair. Trade Shows are a great opportunity to connect with other customers and it's a window for new opportunities and to grow. We are also represented by agents in Australia, US and Europe.
If you were to start your creative journey all over again, would you do something different and if so what would it be?
You know when they say "it was meant to be"? – I strongly believe that we have a path to follow and mine led me here where I am now. So no, I would not change a single thing of what I did so far. Textiles is more than a passion and is a way of living. My creative journey has been very natural for me and I hope I will always stay as exciting and inspiring as it currently is every day.
 What skills do you think are necessary to have in order to become a textile designer that specialises in developing fabric prints for the fashion market?
– Definitely a strong passion for patterns and colours
– love to create and drawing skills
– strong eye and observation skills to constantly look around yourself and always inspire and get inspired
– strong knowledge of Adobe software (Photoshop, Illustrator, InDesign..)
– lots of patience and determination to keep believing in yourself and your art because it's worth it!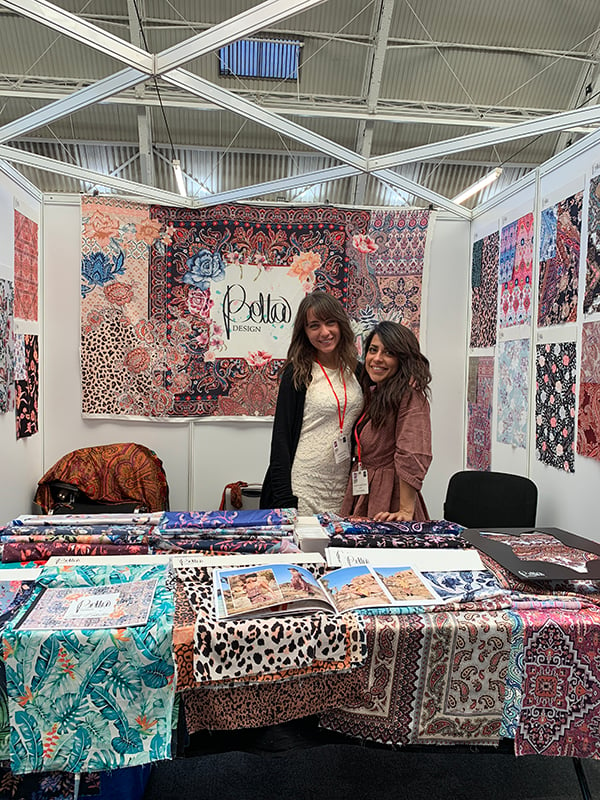 What words of wisdom do you have for others wanting to do what you do?
It's not an easy industry like many other creative carriers. It's challenging to constantly be creative and share hoping that someone else will like what you have drawn (and eventually wear a dress with your design).
So many times I have asked myself what I was doing and why, but I could never stop because my imagination was bigger than any fear of failing. And failing is actually a good thing sometimes. Whatever your passion is just follow it, it's never going to be wrong as long as it makes your soul smile.
 "Creativity means enjoying any work as meditation; doing any work with deep love." 
What would you like to see in the future of Betta Design Studio, any dream collaborations, projects or ideas that haven't come to life as yet?
In the future of Betta Design I can see so many things that I don't even know where to start. So I try to stay optimistic while trying not to overwhelm myself with expectations either. I would love Betta Design to keep learning and keep sharing prints around and get inspired by collaborating with different people and projects hopefully around the world and I will do my best!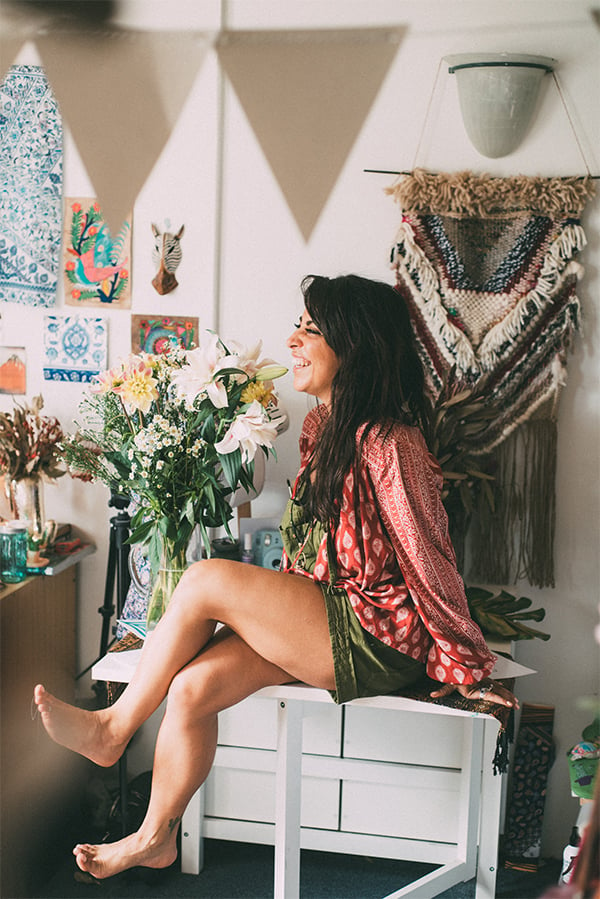 Thanks Roberta, what a fun and colourful read full of inspiration.

You can follow along with what Roberta from Betta Designs is upto Website, Instagram, Facebook