For our latest installment of The Designer Project, we'll be featuring the work of artist Andrea Maurer with not one…but TWO amazing textile collections – 'Coming Home' and 'Warm Winter' ! 
The 'Coming Home' collection is about Andrea coming home to herself in motherhood.  She realised that her motherhood wasn't holding her back, but is in fact the source of inspiration if she lets it. Think of a beautiful array of flowers that have been given the space to flourish, each tender delicate leaf turning out rewards the sun proudly in its unique but confident way. It means allowing some failed shoots, embracing the broken damaged leaves and imperfections. This collection of prints combines her findings in nature, her sketchbook scribbles, digital interpretations all in soft dreamy colours that bring her happiness. It's Andrea coming home to herself.
The 'Warm Winter' collection was inspired by warm European summers dreamt up during our winter. Imagine brick line alleyways with the flowers in bloom and the smell of baked goods being baked and the cosy insides of a home with in season fruits and vegetables. Andrea wanted this collection to take her there and bring warmth through its colours.
We think these two collections are utterly perfect for fashion projects! Think of stunning dresses and most luxurious garment sets. They would also be perfect for sweet homewares such as table linens and perhaps even tea towels!
Happy days is a fun floral print consisting of loose sketchy flowers finished in watercolour in warm hues.

Oddly Calm is a print that was her form of meditation one day. She hopes it brings calm to you when you see it. The design features a series of watercolour squares in a perfectly imperfect odd arrangement.

Wattle is a cute little block print featuring a wattle sketch in muted soft tones.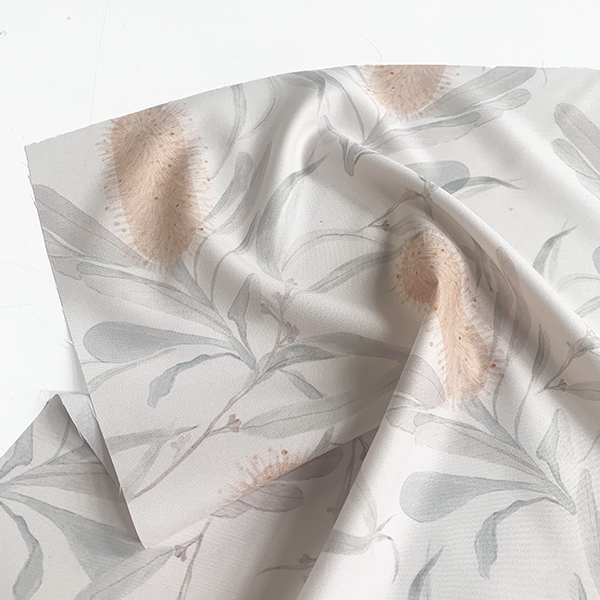 Coming Home is a soft watercolour print featuring gum leaves and native banksias

Summer is a linear repeat of local leaves foraged on my walk and hand painted. This print is finished in a vibrant summer peach tone!

Flourish is a loose line, watercolour print, featuring the most stunning floral motifs in an olive green tone/

Neutral Native is a series of hand sketch native plant elements in soft muted colours

Golden Bloom is a warm golden print featuring native plants hand picked and digitised – inspired by Indian block prints.
Peachy Watercolour is a warm peachy print consisting of loose watercolour swirls, flowers and leaves.

Soft Leaves is a vintage inspired print consisting of loose watercolour leaves in warm sunny tones.

Sunflower Fields is a lovely ditsy sunflower floral in warm yellow and peach tones.

Wildflowers is a watercolour confetti floral in pink and lilac hues.

Winter Fruit is inspired by warm sunny kitchens in the cooler months, this print consists of citrus fruit and sunflowers painted in watercolour.

Winter Pantry  was inspired by the comfort of the kitchen in winter and painted in a loose watercolour style.
We truely hope you love these beautiful collections as much as we have, and can't wait to see what you create- the ideas are endless! Each of Andrea's designs can be found in our Fabric Shop online.