Snippets. Chats with Creatives.
Here at Digital Fabrics we love everything print, pattern and colour and we love to know what makes print designers tick.
This series we are focusing on textile designers as our creatives to get into the nitty gritty of the thing we love the most, textiles and surface design! We have asked a different set of questions relative to this and as always we hope to inspire others by sharing snippets of these creative stories.
Today we are chatting to Amber Davenport, a British illustrator and surface pattern designer with a flair for hand painting bright and colourful artworks inspired by travel, botanicals and her surroundings.
She aims to make people happy with her artwork and accessories and we have to agree that she does! Her style is unique and she captures scenes in such a wonderful way with brushstrokes, patterns and colours used and details captured.
She has worked with Urban Outfitters, Birchbox, Target and OhhDeer and been featured in some great publications including Mollie Makes, Brownpaperbag and Artistic Moods. Her work is aesthetically pleasing and works in a variety of spaces and we had fun asking her the snippets questions: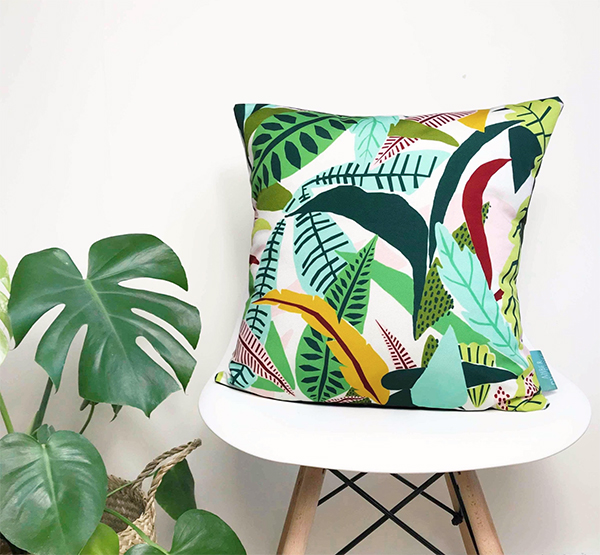 Tell us a bit about yourself, your brand/label name what your creative practice is, how and when you began:
I'm Amber, I'm an Illustrator and Surface Pattern Designer from England. I sell my Illustrations as prints via my website and through companies such as Urban Outfitters, Target and Paperchase. I also create surface patterns for a range of different products including Cushions, Tote Bags and Wall Hangings. My business started in my bedroom in 2016 whilst I was studying Textiles at University in Manchester. Fast forward 3 years and my hobby and passion project has turned into a full time dream as a shop owner and Freelance Illustrator! Since graduating University last year I work from my studio at home where I'm kept company by my three cats and endless potted plants.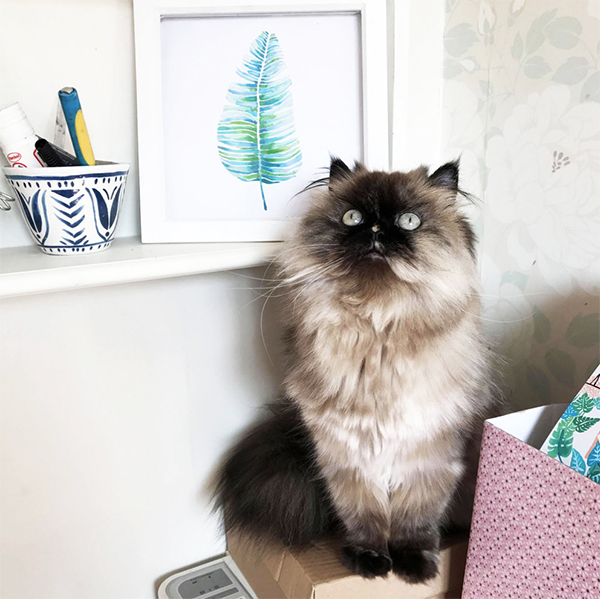 Where do you call home and what is your favourite thing about where you live?
I live in a Warrington in the North West of England, it's great because it sits between two great cities; Manchester and Liverpool.
What 3 words best describe your creative style.
Botanical, Naïve and Colourful.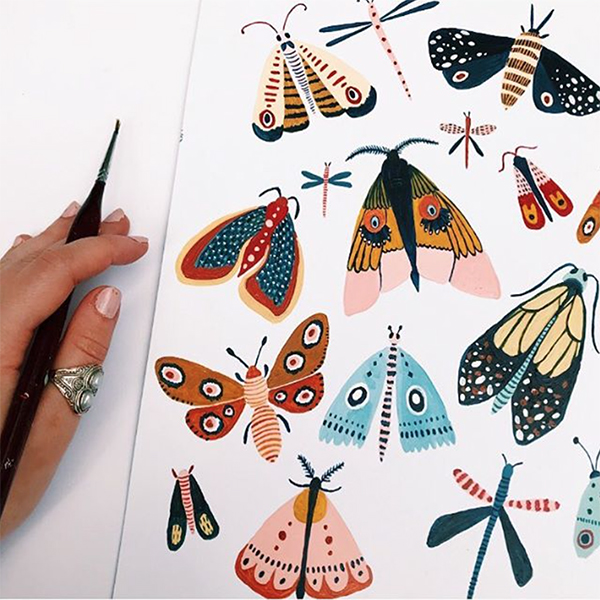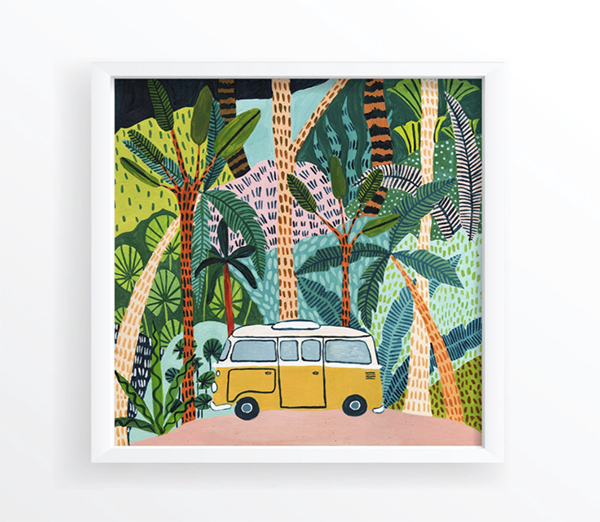 Tell us about your creative space, what are your tips for keeping a creative studio space organised? What would your dream space look like?
My studio is currently packed into the spare room of my home. It has very good natural light and is filled with plants as continuous inspiration. It's great because I always have my cats to keep me company although sometimes I do get a bit of cabin fever, its so important to leave the house at least once a day! I'd love a bigger studio as I'm currently surrounded by boxes of stock with limited space to spread out. My dream studio would be a large white room, a blank canvas, filled with lots of desk space. Id love a designated area for packing stock and another area where I could paint and be messy!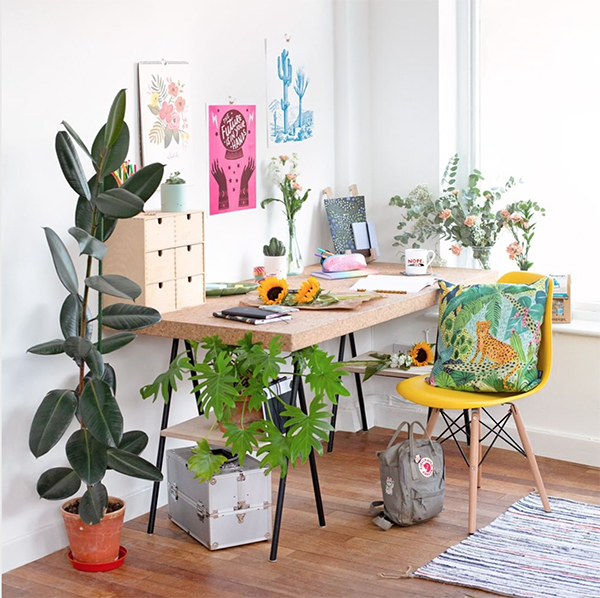 What does a typical creative day look like for you? Do you follow a routine or are you project led? 
Typically, in the morning I focus on replying to emails, updating my website, sorting content for social media and heading to the post office with lots of prints! These areas are the parts of my business I enjoy the least so I try to get these things done first so I can enjoy the rest of my day. After lunch I sit down at my desk and paint, whether it be for personal projects or client led projects. I love this part of my job and I get totally lost in it, sometimes I don't leave my desk until the early hours of the morning.
Tell us about how you get your creative juices flowing, what is your process? Do you have a source of inspiration you want to share with us?
I love to travel, I recently got home from a four-month trip to Malaysia, Australia, New Zealand, Fiji, Hong Kong and Thailand. So at the moment I'm definitely ready to burst with ideas! Obviously I cant afford to travel all the time, so when I'm not travelling I like to visit Botanical Gardens and watch lots of David Attenborough documentary's, on repeat!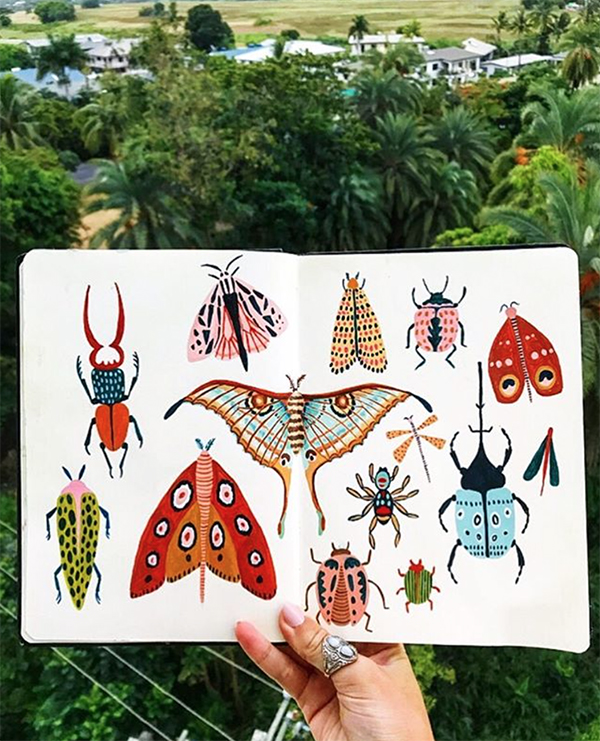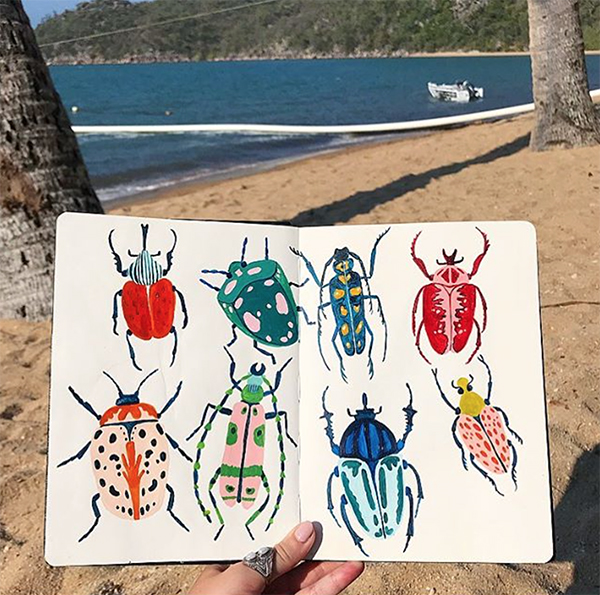 Do you have a favourite medium and/or method to work with, if so what is it and why?
Acrylic and Gouache paints. I also like to collage with painted bits of paper, screenprint and sometimes like to papercut too! I'm a very hands on designer, I've never really been interested in digital design as the process isn't as fun for me.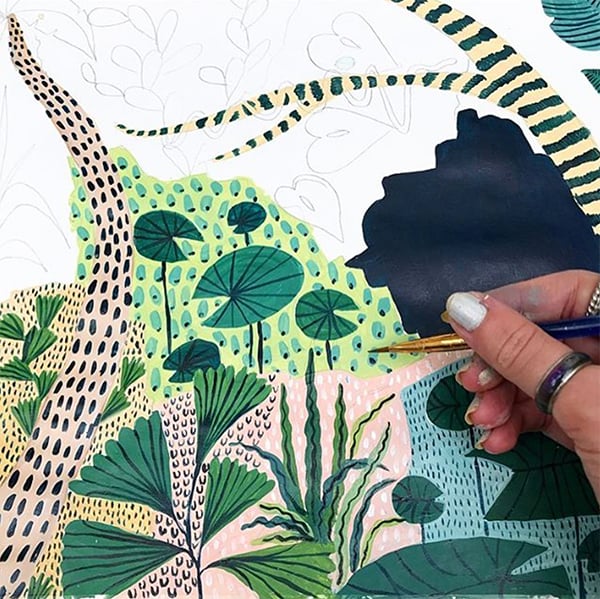 What would you say is the biggest challenge when running your own business, what is your favourite and least favourite part?
Time management! Its difficult juggling marketing, accounts, post office trips and replying to emails when all you really want to do is create. These things don't come naturally to me so I have a habit of pushing them aside. My favourite part is completing personal projects. I consider myself so lucky that I get to create the art that I want the majority of the time. Some days I get to paint whatever I feel like in that moment, I find that sometimes these pieces become my best sellers and that's just the best feeling ever. My least favourite part is the uncertainty of running your own business, my monthly income varies and this is quite daunting. I suppose organization and self motivation is key to feeling like you're keeping on top of everything.
Where would you like to see your work featured?
Id love my surface pattern to be featured in Anthropology, it would just be a dream. Aside from that I would love to grow my brand enough so that I could start selling wholesale to high street stores. I'm currently working on expanding my product range to include more of my Surface Pattern Designs so if I could pull that off id be so happy.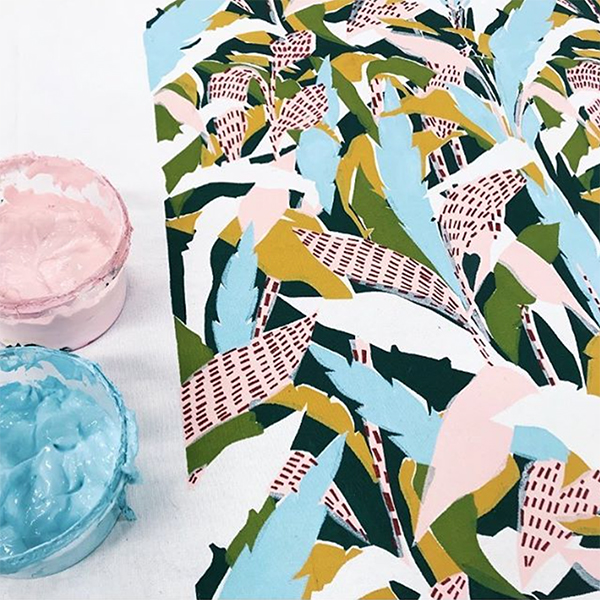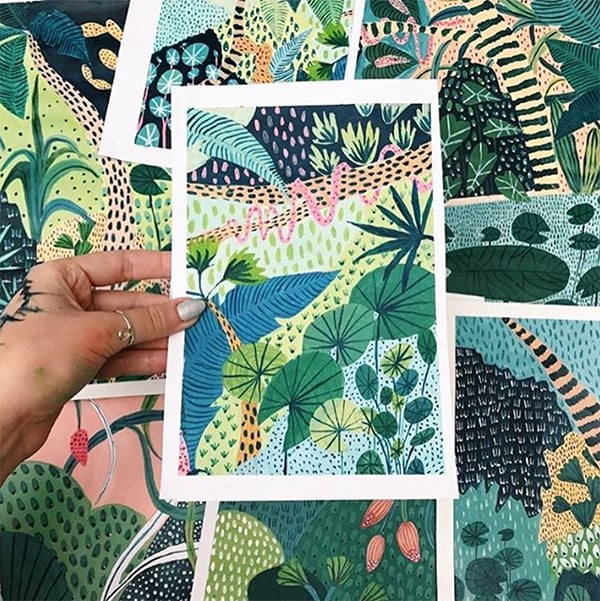 You can read more about what Amber is upto Website, Instagram, Facebook.