We are so thrilled to share the next artist in focus for The Designer Project along with her stunning range of vivid textile designs that are guaranteed to whisk you away. Introducing Anna Markula and her collection 'Summer Nights'! Anna is a professional ecologist (wow!) who has spent years working on incredible projects in the field all around the world. After having her daughter, Anna decided to pursue a more creative career, and with the ocean as her muse, she created Girl and the Deep Blue Sea. Anna now creates unique pattern designs, custom illustrations and photographic prints. Girl and the Deep Blue Sea is the perfect fantasy escape filled with tropical vibes, lush iconography and playful designs.
Anna's latest collection 'Summer Nights' perfectly captures the essence of warm nights with fragrant floral air and a salty ocean breeze, and is available now in our 'Fabric Shop' online. Below, we've put the focus on each of Anna's designs, providing a little insight into each and sharing the types of projects we think they'll be great for, so keep reading!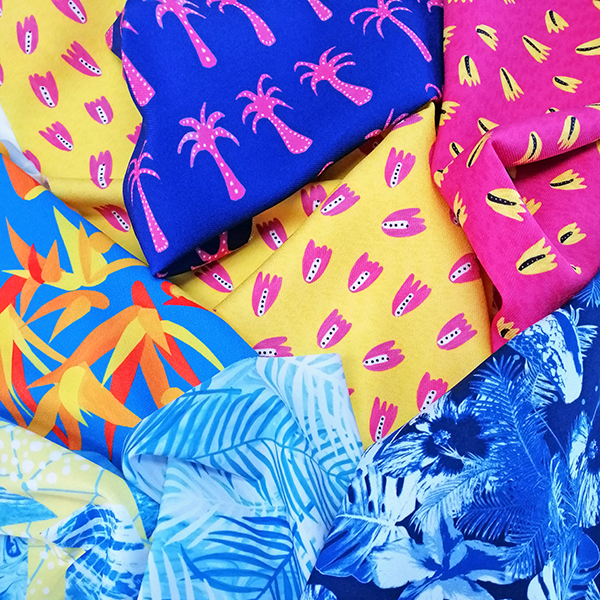 'Blue Lagoon' is a gorgeously ornate print featuring photographic motifs with a tropical theme, including hibiscus' and shells. The mid-scale artwork pairs the detailed design with a minimal colour palette to ensure it feels timeless.
'Blue Lagoon' would be a fantastic choice for a training swimwear, rash west or accent cushions.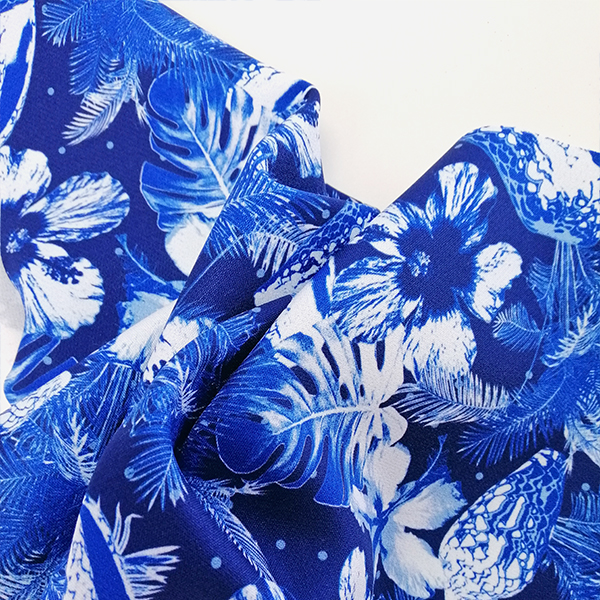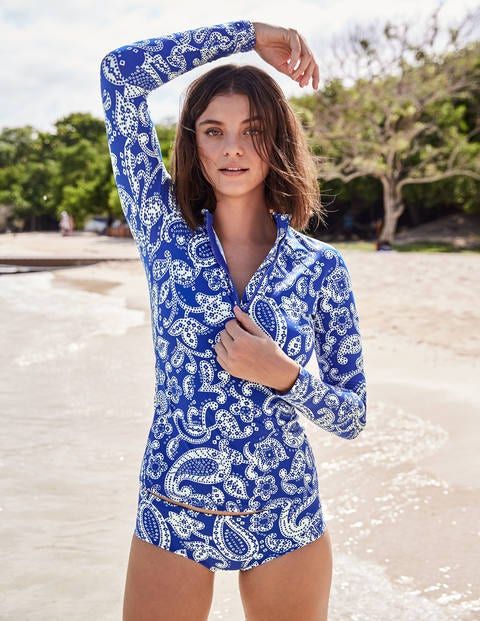 'Bird of Paradiso' is a playful textile print pairing graphic shapes with a bold colour palette. The design has been created using hand-cut paper motifs and is inspired by Birds of Paradise flowers.
'Bird of Paradiso' would be the perfect print for a fun Summer playsuit!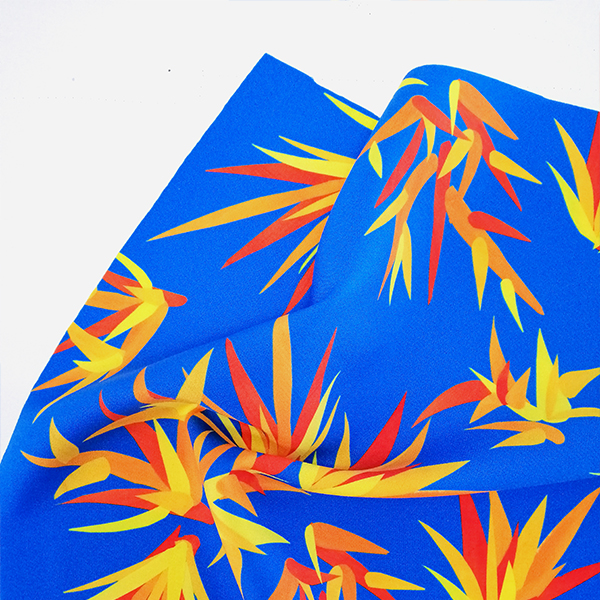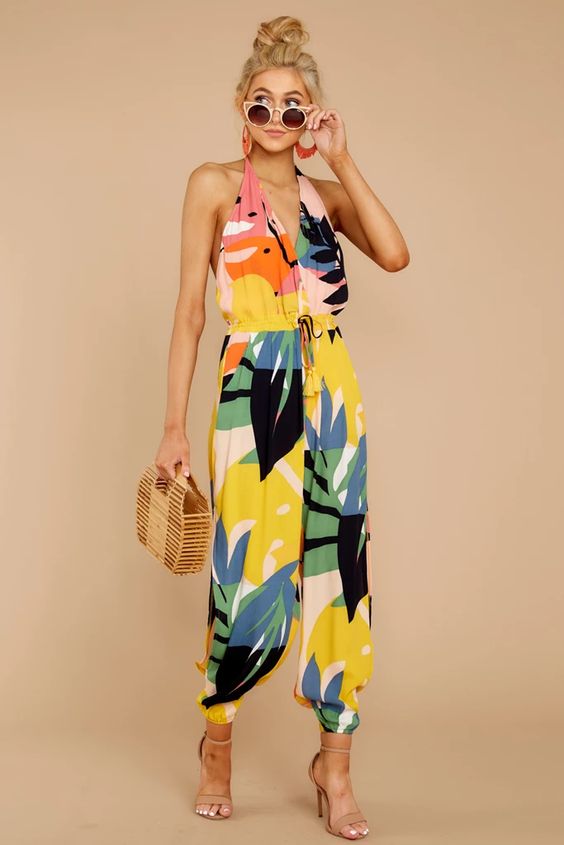 'Blue Diamonds' is a bright, abstract design inspired by days spent at the beach. The detail rich artwork achieves this look by layering different techniques including underwater photography, shibori and watercolour paintings.
'Blue Diamonds' would be a great choice for statement activewear garments such as rash west or a pool party outfit.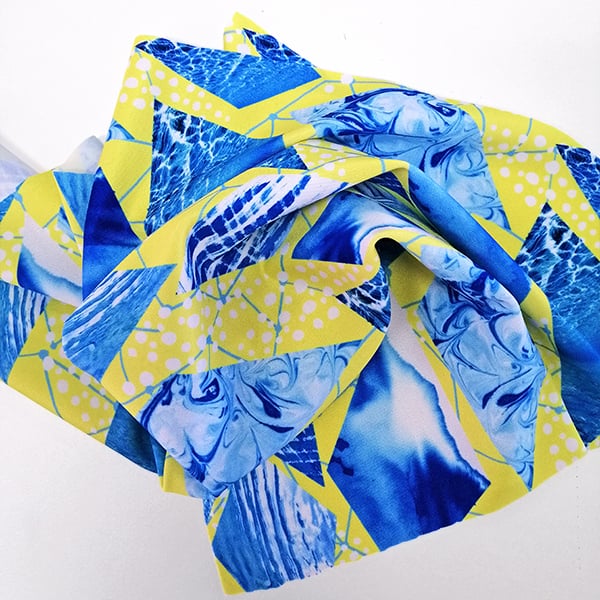 'Palm Swirl' is a beautifully hypnotic design featuring hand-painted palm leaves with a marbled background. The mid-scale print instantly calms with it's soft colour palette and gentle flow.
We think the 'Palm Swirl' print would create an incredible table-set or upholstery fabric, the perfect flourish for a coastal inspired interior.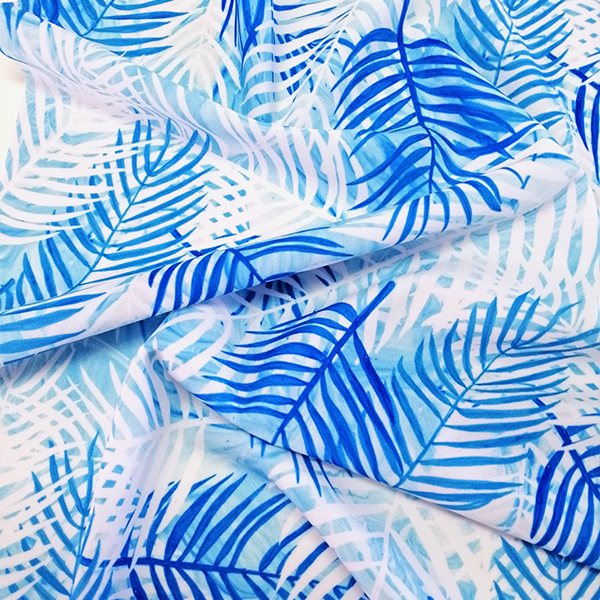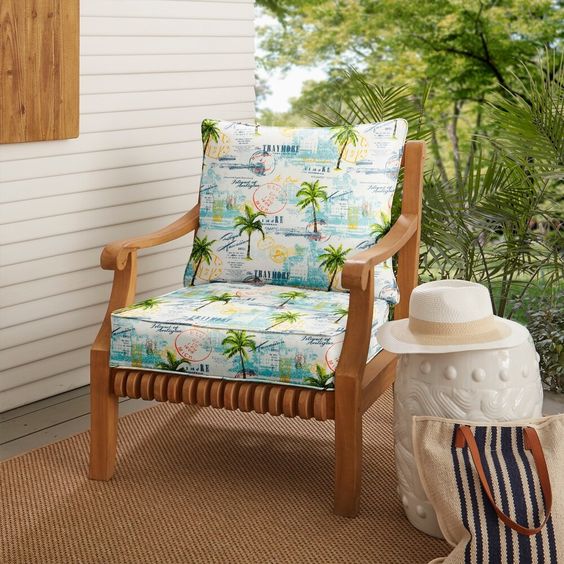 'Pink Flutter' is a fun and graphic print featuring quirky motifs and statement pink background. The small-scale artwork has been created using hand-painted elements ensuring that the design has texture throughout.
'Pink Flutter' is just asking to be made into the cutest possible low-back one-piec kids swimsuit for Summer!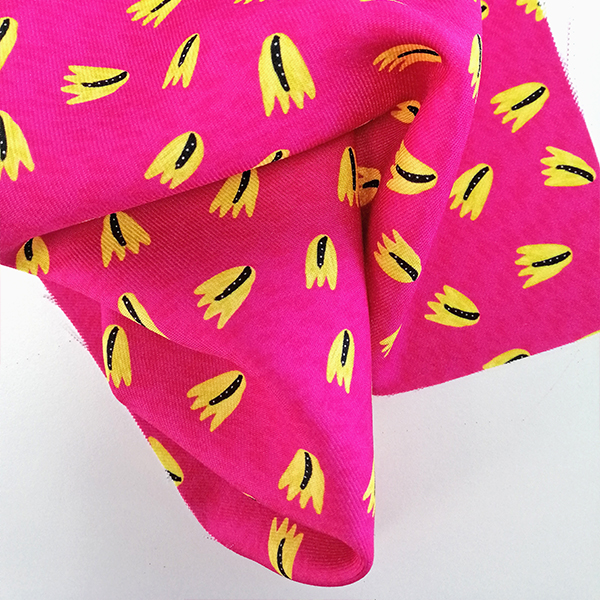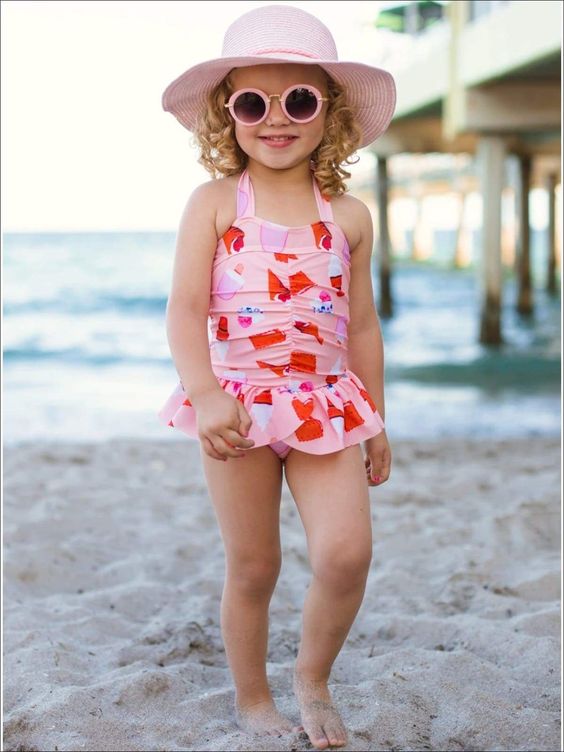 'Pink Palms' pairs a simplistic layout with a striking colour palette to create a design which feels fun! The design features hand-painted palm tree motifs which are approximately 5cm in height.
We would love to see 'Pink Palms' used for a retro feeling bandana or ponytail scarf!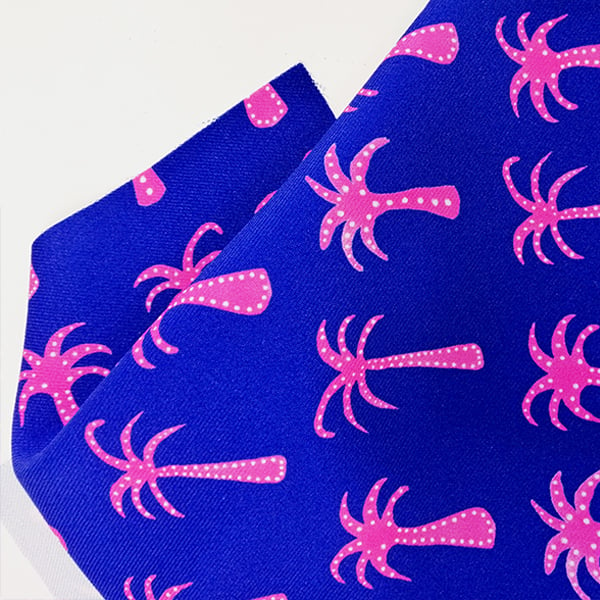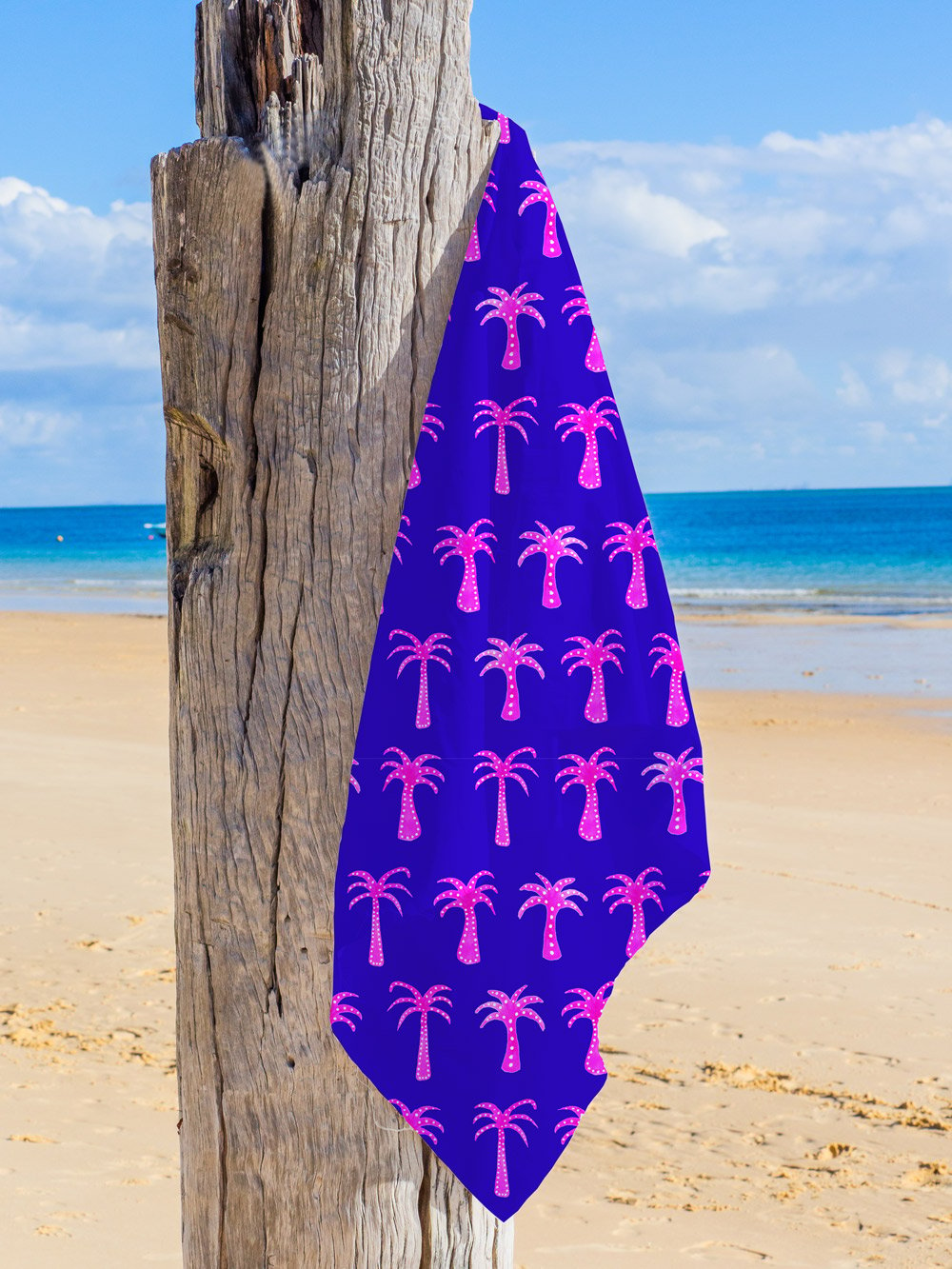 'Yellow Flutter' is a playful design featuring hand-painted, abstract motifs nestled in a bed of sun yellow and is sure to put a smile on your face. We think this small-scale print is a fantastic statement design for your wardrobe.
'Yellow Flutter' would be an ideal choice for a retro feeling bandana or ponytail scarf!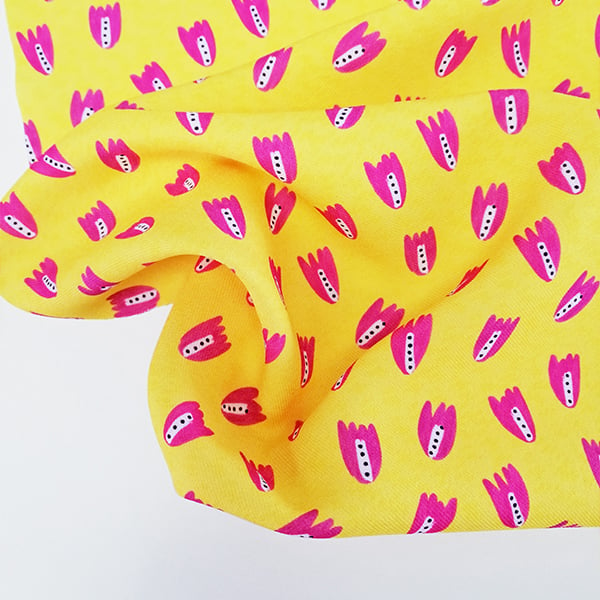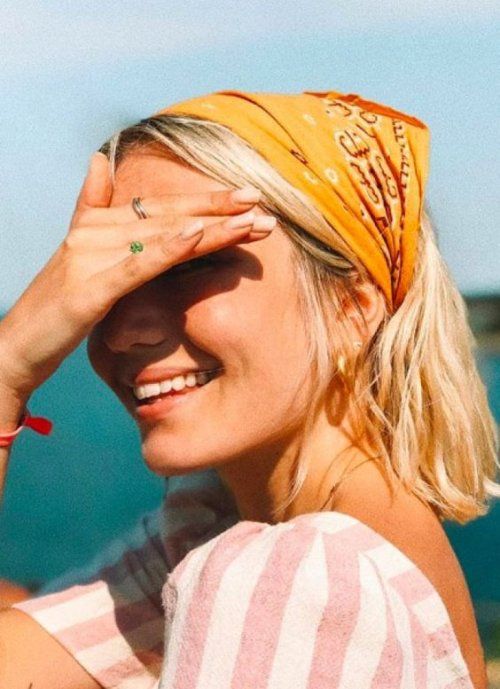 We are so excited to have Anna taking part in our The Designer Project and can't wait for you to all fall in love with her designs just as we have. Each of the designs featured in the 'Summer Nights' Collection are available to print onto any of our stock fabrics and our suggestions above are ideas only, the possibilities for each of the designs is truly endless.