What a joy it's been sharing the incredible talents of artist and designer Tina Dinte through our current instalment of The Designer Project! One Blu Eye is the recent brainchild of Tina's, expanding her creative practice to develop the surface design focused studio. Tina has developed a unique method of pairing her fun illustrations with her detail rich paintings and has made a range of her gorgeously intricate designs available as print-ready artwork in our Fabric Shop online. To coincide with the launch of Tina's designs the artist herself has written a guest blog which further explains her one of a kind approach to creating surface patterns and what inspires her work. Keep reading to find out more about Tina Dinte and her spellbinding designs.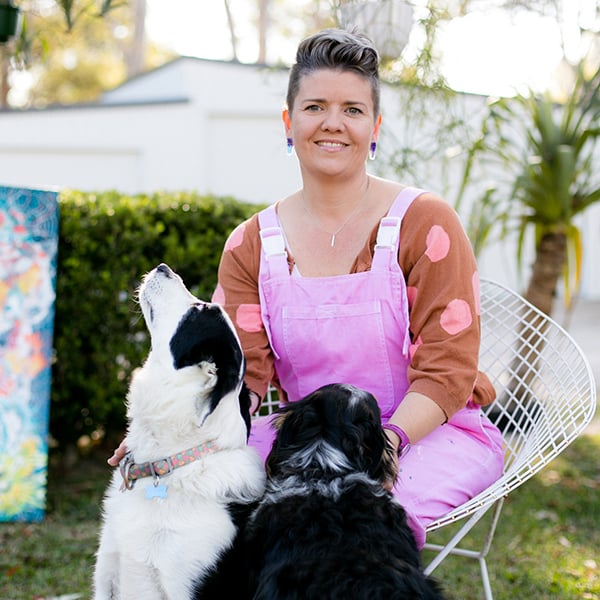 Tina Dinte and her dogs
My name is Tina and I am a full-time artist based in the bayside suburbs of Brisbane. Traditionally trained as a graphic designer and with a true love of drawing that emerged as a child, I've developed a style of painting that throws out the brushes, instead 'drawing' with paint onto the canvas with squeeze bottles. Each set of bottles has different paint consistencies — thick / normal / thin. The metal nibs enable me to do all the fine detail, just like I would do with a sharpened pencil when finessing drawing. I can produce paintings with wonderful textures and depth using areas of solid colour, different line thicknesses, stippling and blending of paint.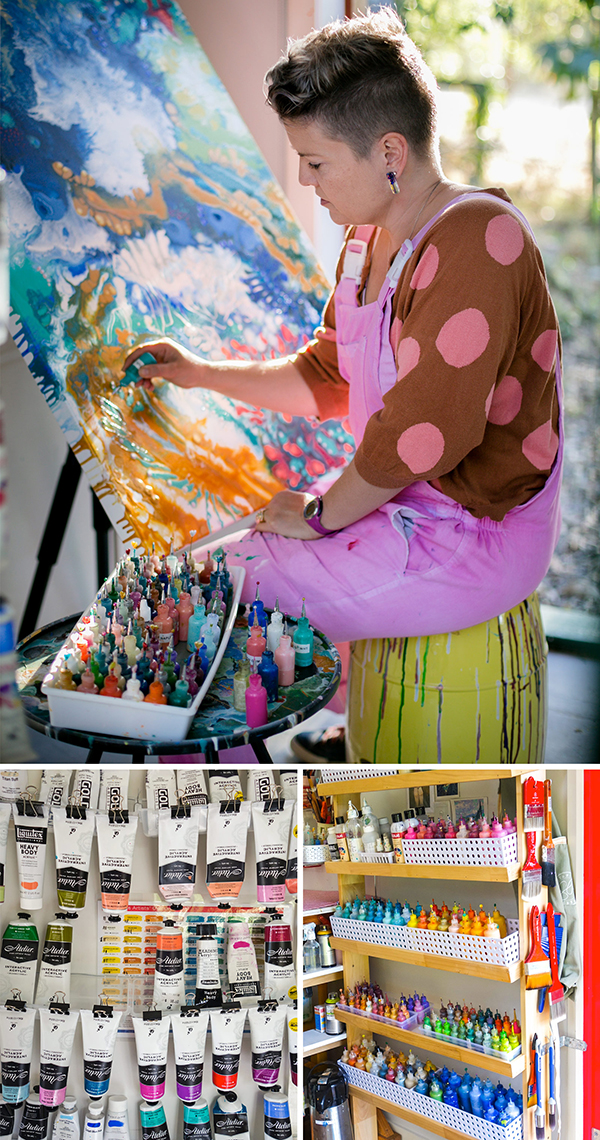 Tina and her unique style of 'drawing with paint'
The subjects in my paintings are inspired by my bushland property, daily adventures, conversations with strangers and my large collection of books. The intricate details in my work come from studying everything around me – patterns and textures in nature, the linework of a building, the squiggly lines of coral, the typography of landscapes, the flow of moving water and even the movement of animals running.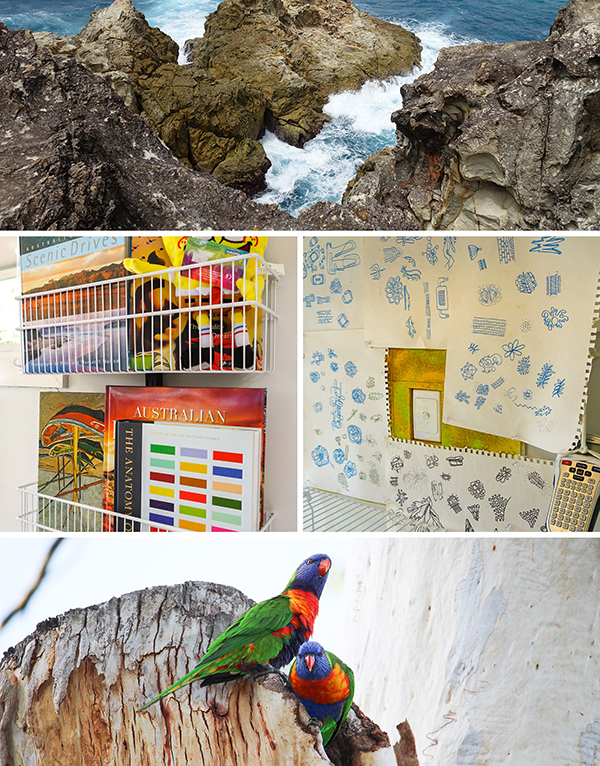 Tina's creative inspiration
When I first set about creating a range of surface designs, I came up against the question 'how do I turn my extremely intricate artworks into a repeatable pattern?'. Seriously, it was impossible! However, after over a year of experimentation (and lots of failed designs), it came to me in a dream that I needed to create a 'vessel' for my paintings. I set about developing a series of digital illustrations (aka. the vessels) and overlaid my artworks inside them. And voila, I can create a unique repeatable pattern that is a combination of hand-drawn digital artwork and bespoke painting.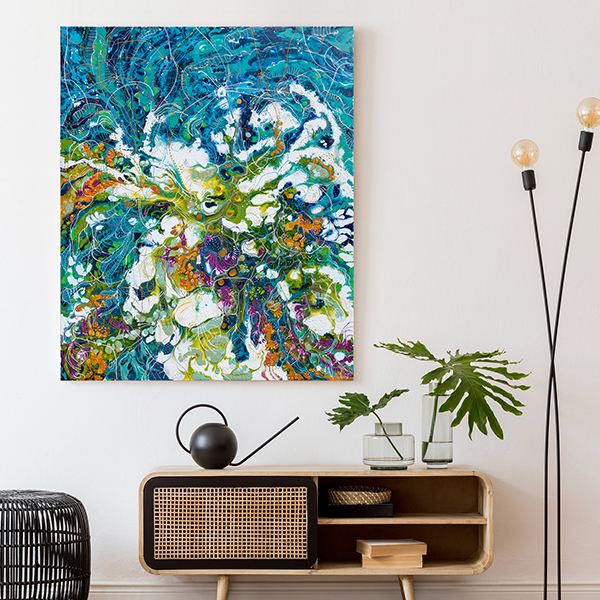 Tina's original artwork "Nourishment in the Sea"
"Dalia Dragonfruit Blooms" is the first in my exotic fruit series. The digital illustration isn't meant to be realistic but representational of a dragon fruit with its seeds and deep red colour. I teamed the illustration with a close up of my abstract painting titled "Nourishment of the Sea". The name of the design was inspired by the floral type bloom from the top of the dragon fruit.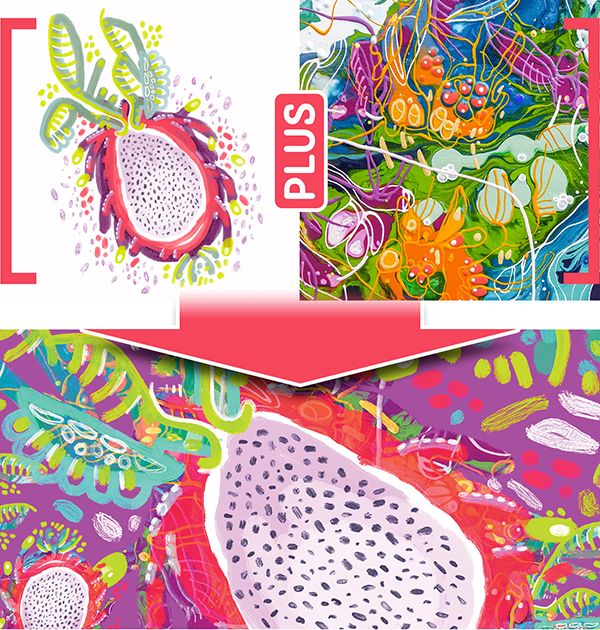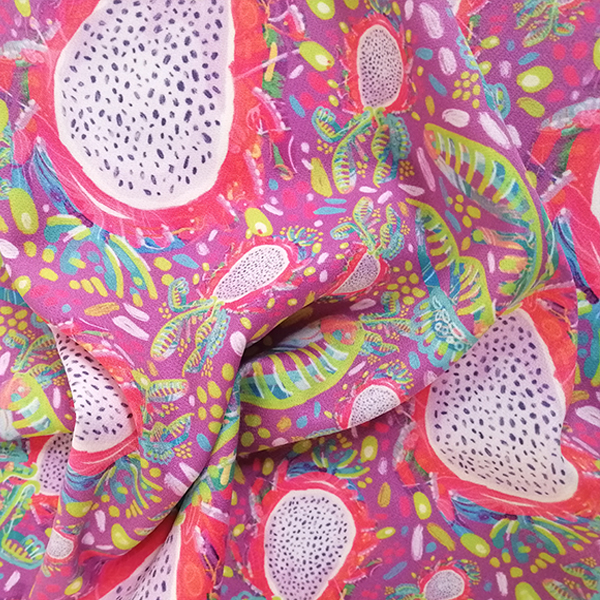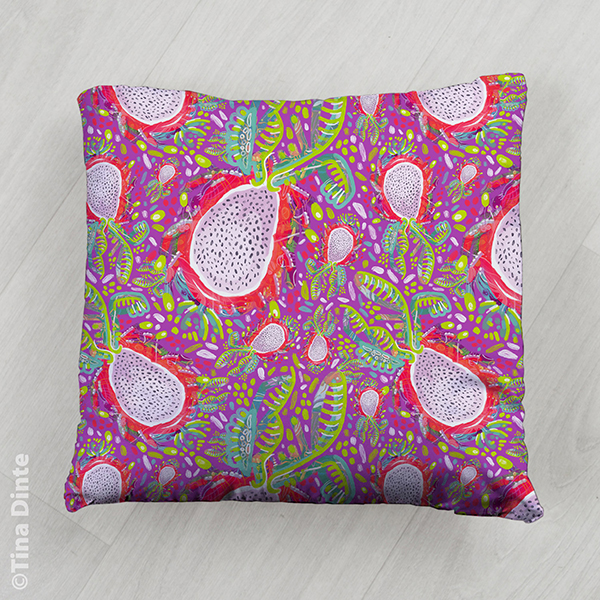 "Dalia Dragonfruit Blooms"
"Pastel Blue Blossoms" is a pastel-coloured abstract piece inspired by a visit to the Queensland Art Gallery. The digital illustration was drawn whilst sitting in the gallery surrounded by amazing iconic artworks. The super imposed abstract has been taken from my original painting titled "Australian Aurora Burst".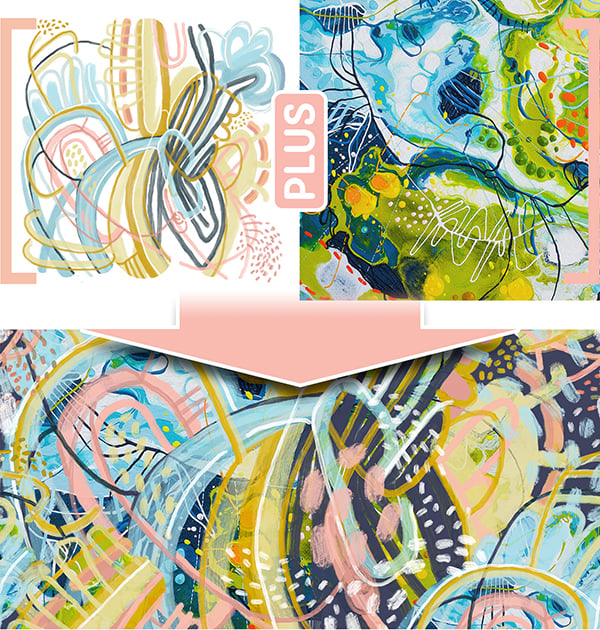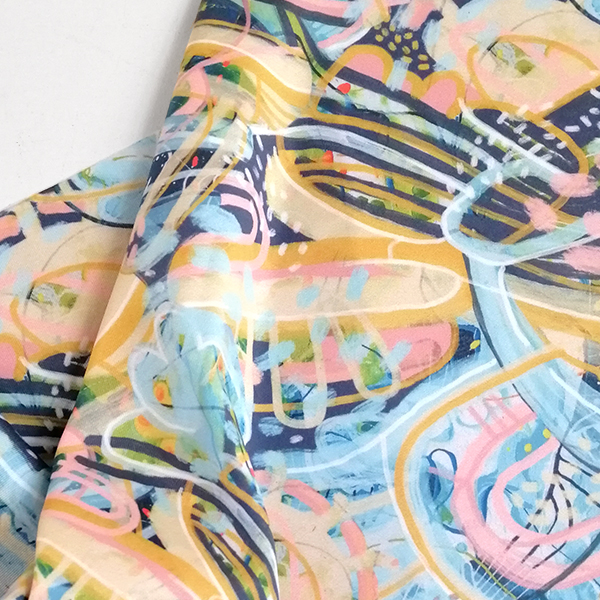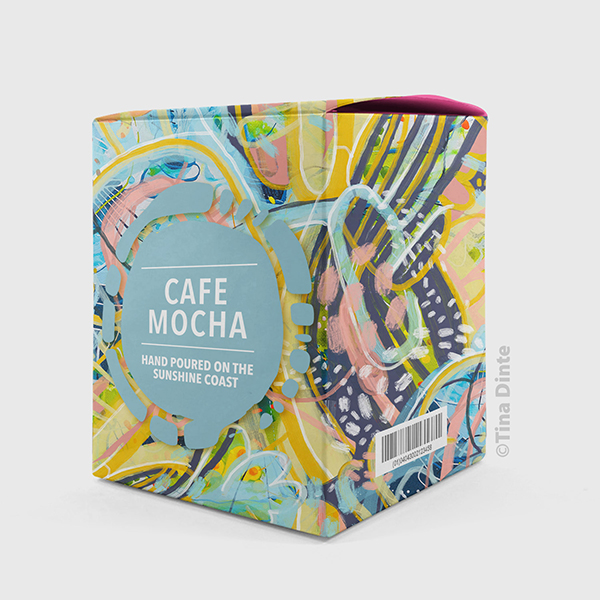 "Pastel Blue Blossoms"
I am super excited about my debut range of designs under the One Blu Eye umbrella. As time goes on more designs will be added as I am inspired to create different artworks every day. Please follow my journey on my new Instagram account @one.blu.eye! You can also check out my extensive range of original artworks at @tinadinte_artist.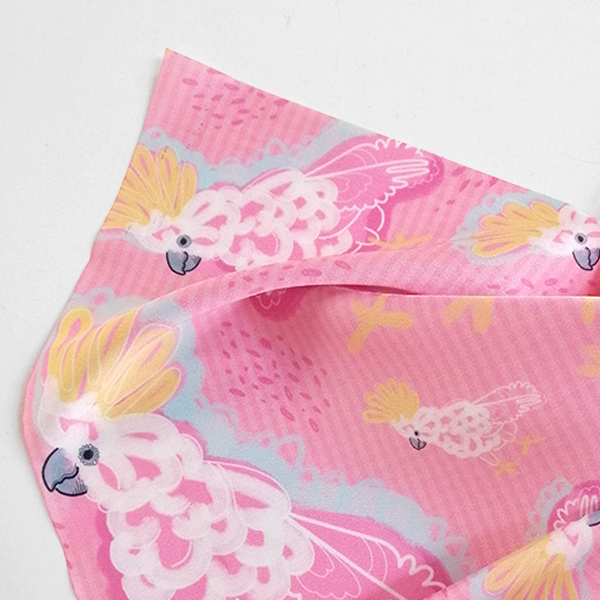 "Cheeky White Cockatoo"
P.S. Why the name "One Blu Eye"?
This is an easy one to answer… my rescue dog Tully has one brown eye and one blue eye. Every time we go for a walk I always hear from passers-by "Oh look, he has one blue eye". And because I love my boy to bits, I decided to call my illustration practice after his quirky feature, just like my quirky illustrations!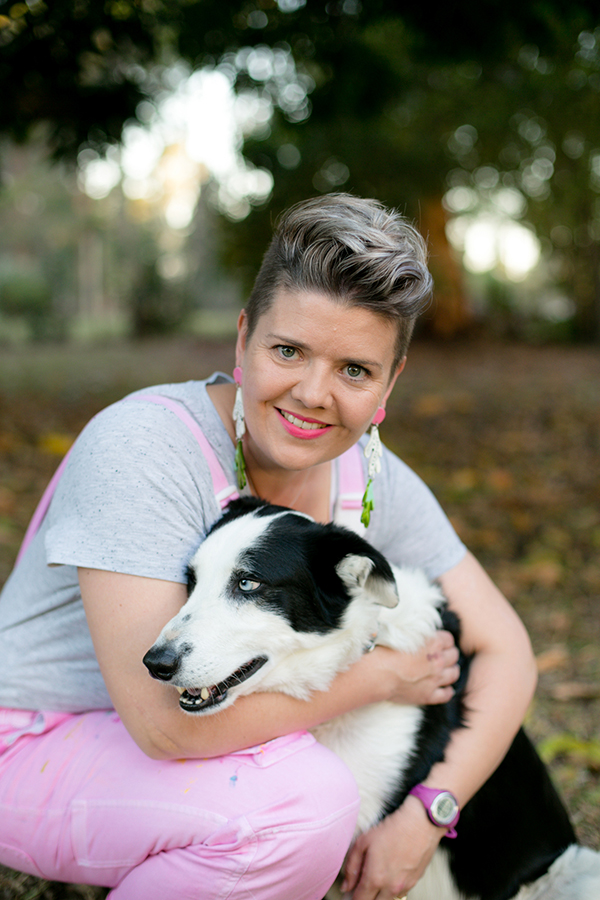 If you want to collaborate with us on The Designer Project and become part of this creative club, please apply! Send us an email with your portfolio and why you would like to be part of this initiative, and we will be in touch!