We've been absolutely thrilled to have paper artist and surface pattern designer Ariane Nijssen of Aribombari take part in our latest instalment of  The Designer Project and have adored showcasing her work! Ariane has made a range of her unique, detail-rich designs available in our Fabric Shop online with artwork that is suitable across both fashion and homewares applications. Ariane has also put together the blog below which details the different steps she takes to create her comprehensive body of paper-based materials, which are then transformed into her gorgeous designs. Keep reading to find out more about Ariane's fascinating process!
Hello, I am Ariane Nijssen and I would like to tell you about how I create my patterns.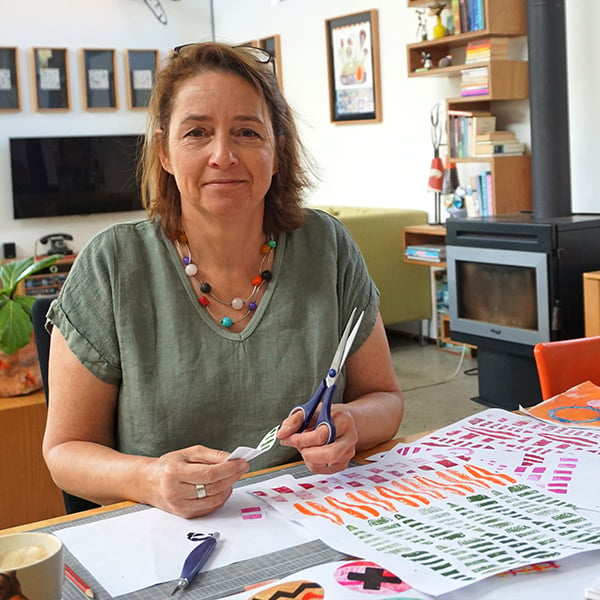 Ariane Nijssen in her home
I have recently joined Digital Fabrics as part of their Designer Project, so it seems like the right time to tell you about how I transform my ideas into digital files ready for printing on fabric. My patterns feature colourful, textural mini collages that all started as mono printed pieces of paper.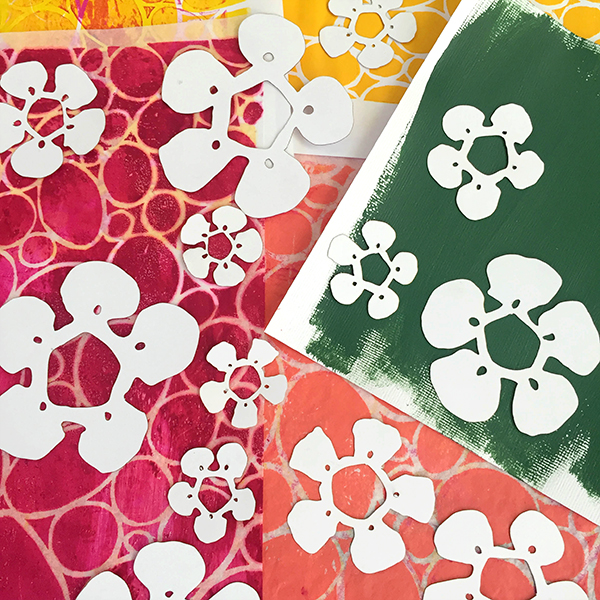 Hand-made printed and paper-cut elements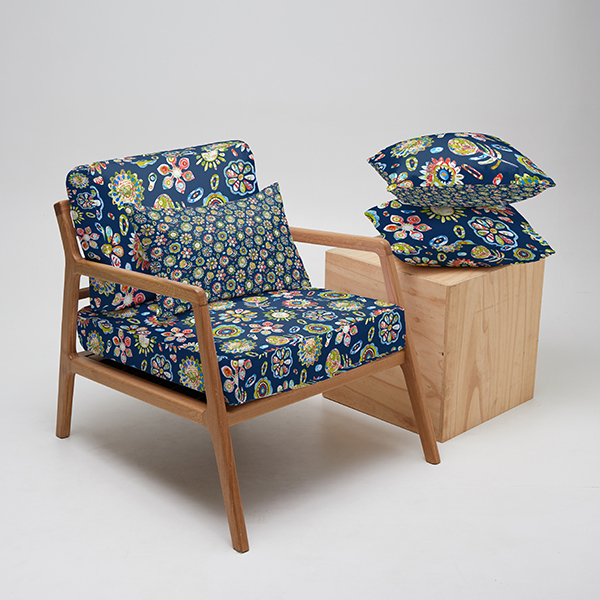 "Flower Power" homewares mock-up
It's quite a process actually and that is what I like! It all starts with coming across shapes and textures around me; in my garden, my neighbourhood and even in my kitchen. I work out how I can get these ideas printed using a home-made gelatine plate. I sketch the patterns that I like and create stencils from them. Or I collect leaves or other objects that I know will work as masks or stencils in mono printing.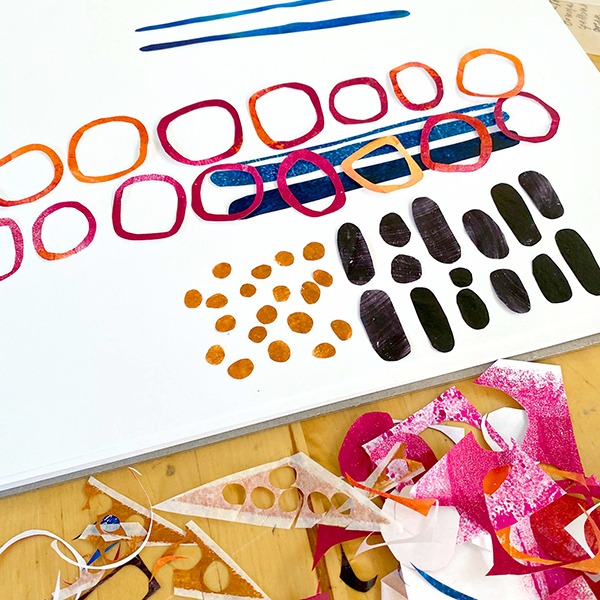 Hand-made printed and paper-cut elements
Most weeks I aim to spend a few hours printing, using the stencils I have made and layering older prints. I end up with interesting, colourful pieces of paper that are ready for collaging.
"Fish Market" design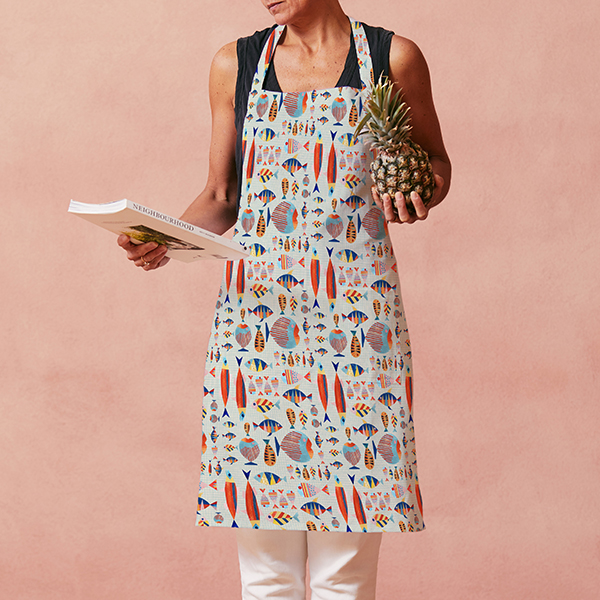 "Fish Market" apron mock-up
Side note: gelatine printing is absolutely fantastic! Affordable, available, and lots of fun. But I have to warn you too – it is addictive! You'll end up with stacks and stacks of prints! If you want to know more about gelatine printing, have a look at Pinterest.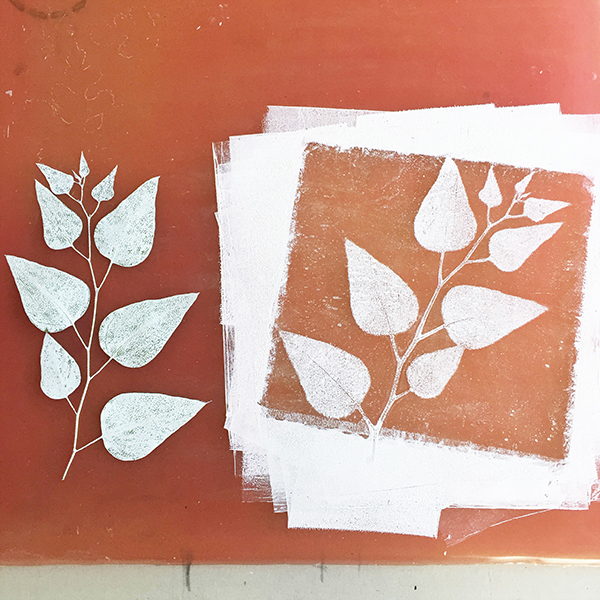 At home gelatine printing
My collage process starts by choosing a colour palette and selecting matching prints from my stash. With those, a pair of scissors and a scalpel I kind of 'paint with paper' to create mini collages. I actually mostly do this at our dining table, which means that I have to stop working when my family is ready for dinner. I actually started collaging as a simple way to be creative in between family commitments – it is easily packed away and started again.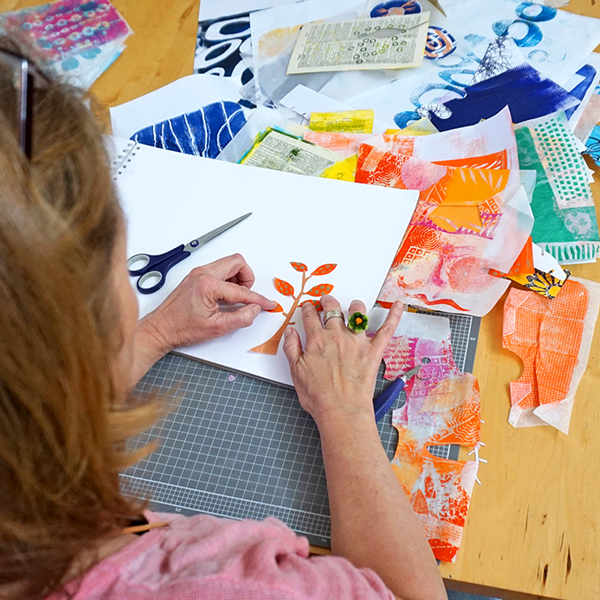 Ariane creating designs use her paper art
Once I have the mini collages ready, I scan them and use Photoshop to create the patterns that are ready for printing on fabric.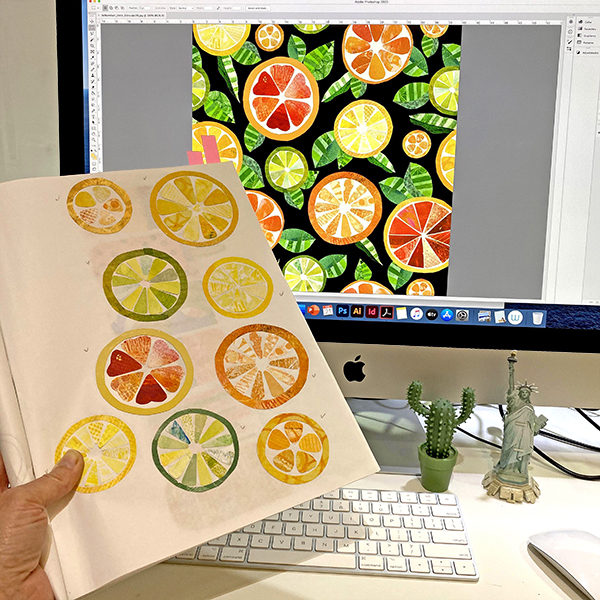 Development of "Zesty Citrus"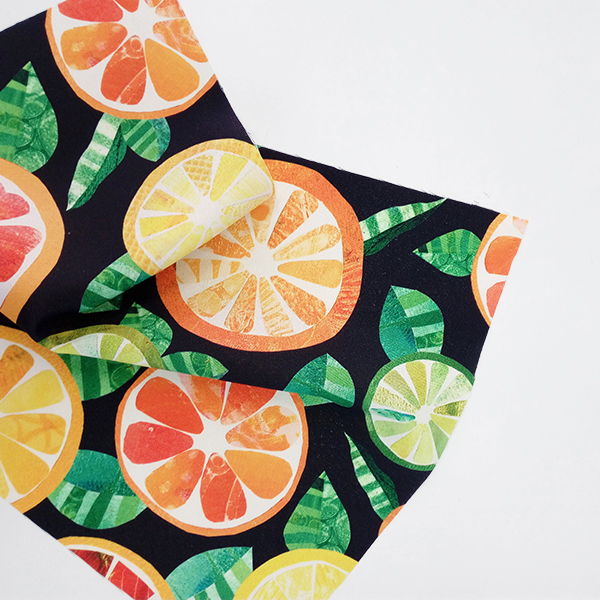 "Zesty Citrus" design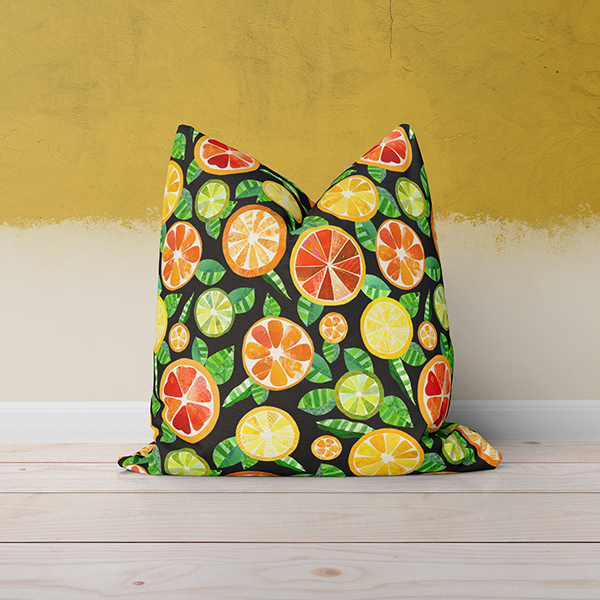 "Zesty Citrus" cushion mockup
I hope you like my quirky colourful patterns as much as I like creating them. If you would like to see more of my work (some designs are stand alone pieces, not repeat patterns for fabric printing), you can find me on Instagram @aribombari123.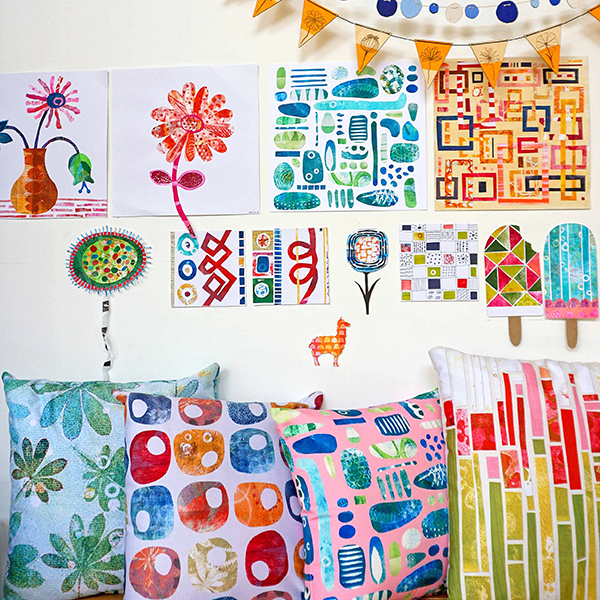 If you want to collaborate with us on The Designer Project initiative and become part of this creative club, please apply! Send us an email with your portfolio and why you want to be part of this and sure, we will be in touch.