It's come that time again to introduce our newest feature artist in The Designer Project and we are so excited to announce that the amazing Geneva Richards will be our designer for the month of April! 
Her style is strong, feminine but not bold or girly which you can clearly see in her 'Assortment of Life' Collection She is drawn to bright colours, animals and motifs that make her happy, and surrounds herself with things that inspire her. She finds inspiration everywhere and anywhere, from her rural upbringing in New Zealand, charismatic Australian birds, dreamy colour palettes, iconic retro wallpaper or even an interesting texture. 
Each of Geneva's designs can be printed onto any of our fabrics, which means you can order custom designer fabric that's tailored to you. Keep reading to find out more about Geneva Richards beautifully unique designs!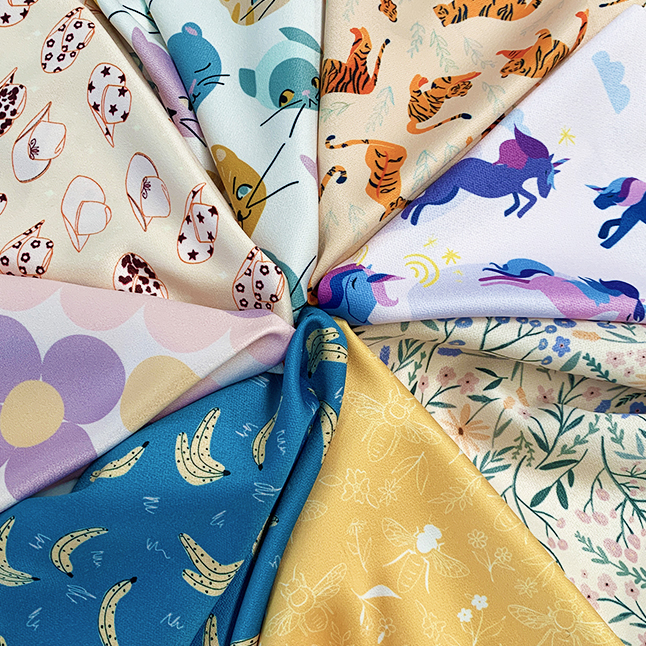 'Howdy Partner' was mainly inspired by Lady Gaga's album Joanne – hence the sparkles! Geneva wanted to go all out cheesy retro cowgirl and we love it!  
We think 'Howdy Partner' would make the funkiest furniture, perhaps it will be your next statement armchair?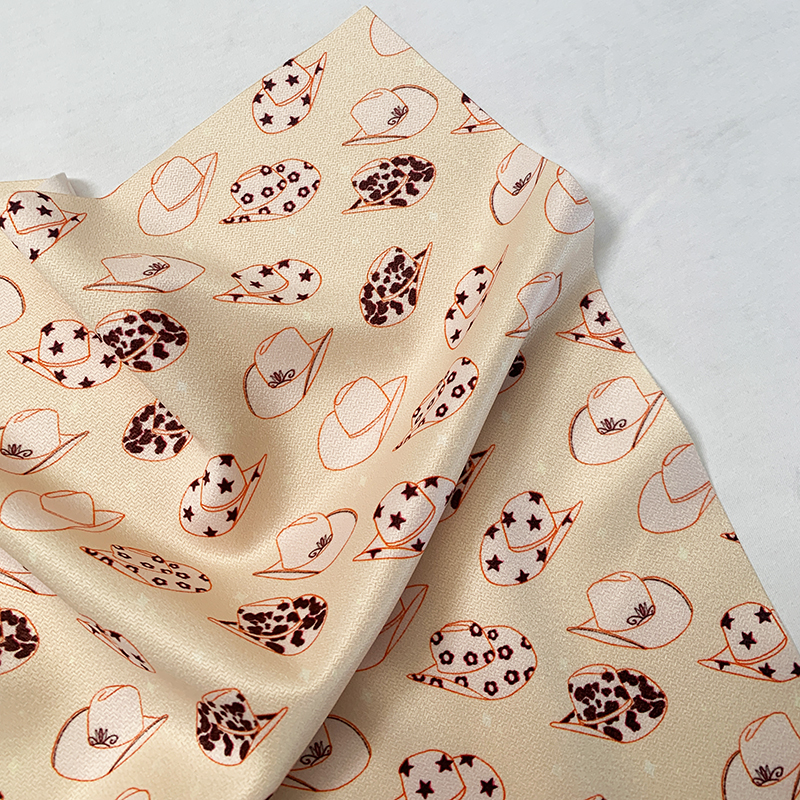 'April Showers' is something a bit delicate while still maintaining Geneva's signature bold lines with a lot of texture. Each leaf and flower was drawn using Procreate's scribbly pencil brushes before turning it into a repeat. 
'April Showers' would work perfectly for any and all fashion DIY projects or even upholstery.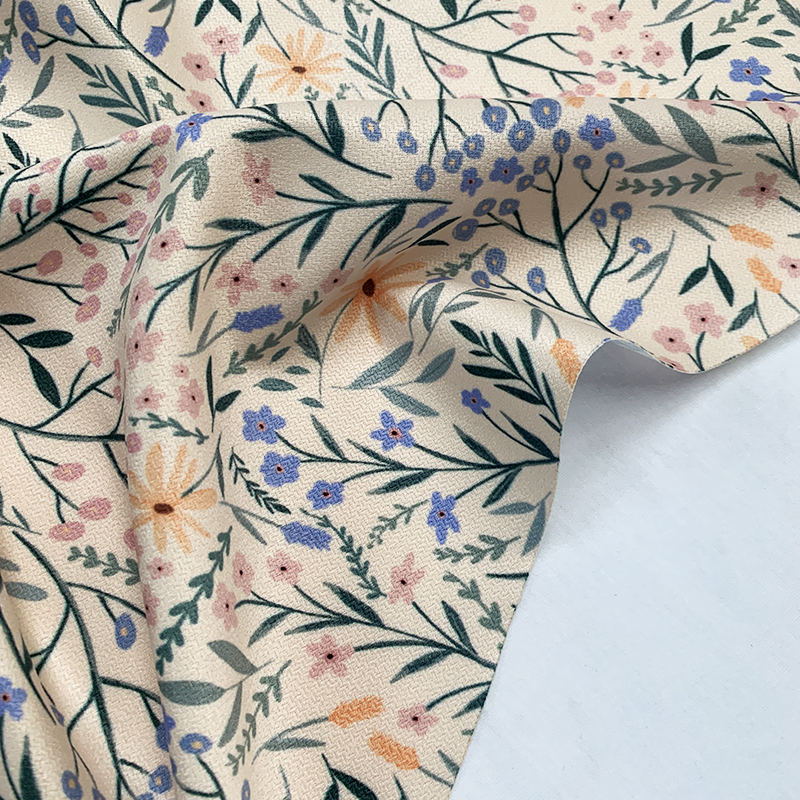 'Honey Bee' is inspired by delicate florals imagined with an almost cartoonish line art. The idea was for the bees to be a bit unexpected and quirky so the design stands out amongst a floral arrangement.  
We would love to see 'Honey Bee' as a super sweet pyjama set or even some kidswear!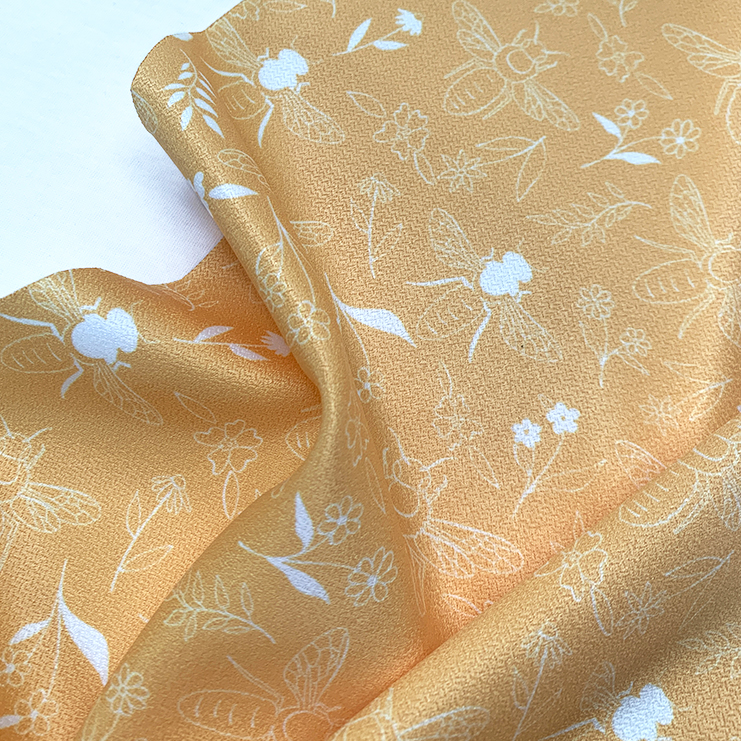 'Just Bananas' started as some scribbled up rough banana shapes – and I mean scribbled! This design was made completely in Affinity Designer and we think the messy and free process really comes through in the finished design.  
We think 'Just Bananas' would work perfectly for bedding and blankets. Snuggling up with some cool bananas on a cold day!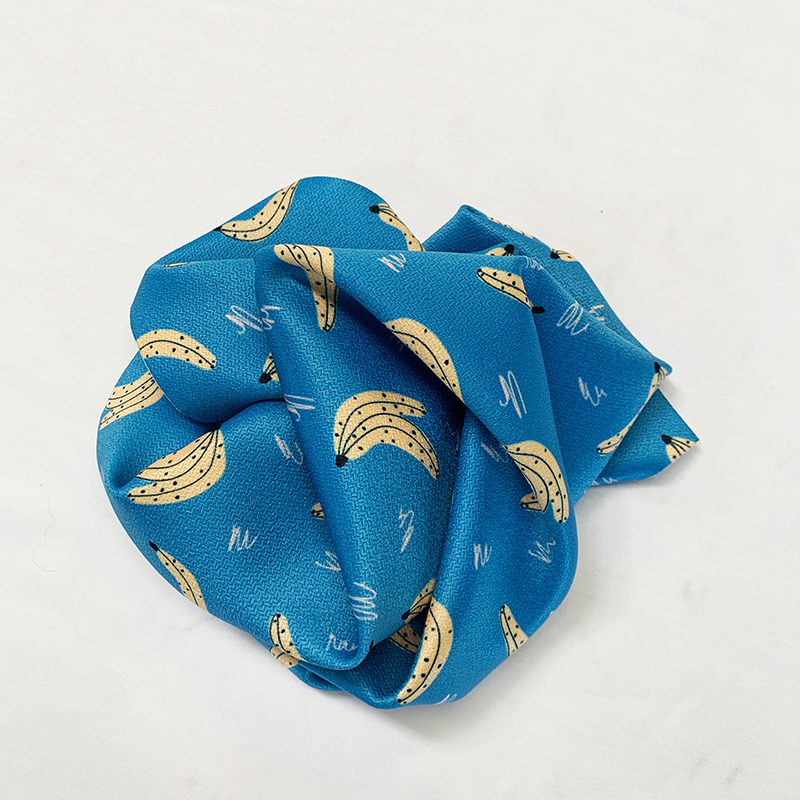 'Tiger Queen' features the tiger motif which was one of Geneva's very first illustrations and he's become part of her signature style – he has appeared as a print, in patterns and even re-imagined as a leopard! We love how it's been paired with some beautifully simple leaf motifs. 
We think 'Tiger Queen' an amazing design that can work for such a range of projects, whether it be a stylish pair of pants or some new cushions for your home.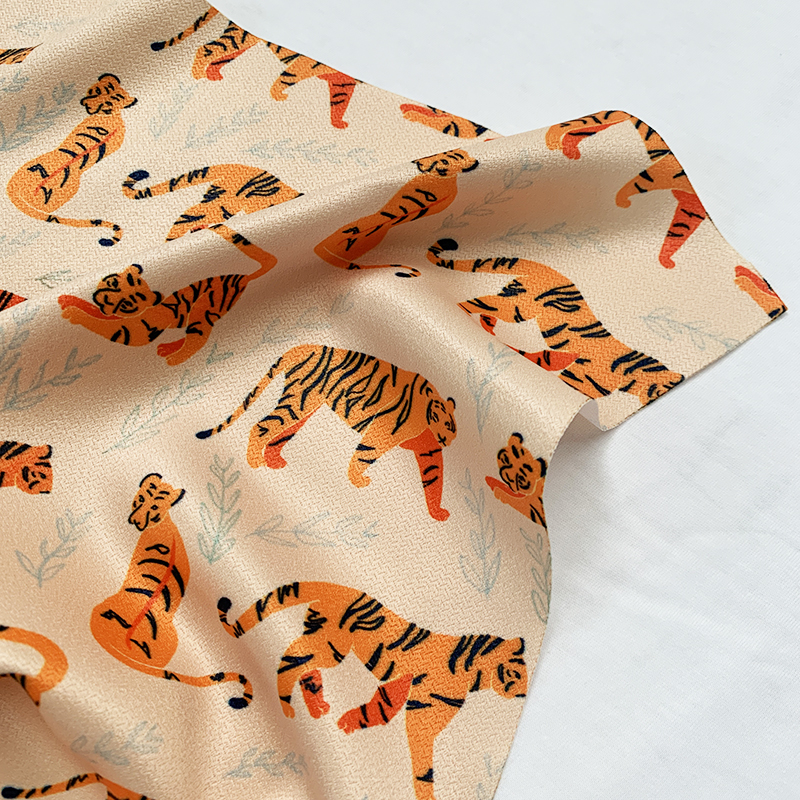 'Magical Unicorns' started as a loose sketch before being digitised in Adobe Fresco and made into a pattern using Illustrator. Full of smooth, graceful shapes and dreamy pinks and purples, accessorised with a punchy yellow so it appeals to your inner child without being too 'my little pony-ish' 
'Magical Unicorns' is such a dream design for all kids projects! Some fun new clothes perhaps? Or maybe some adorable curtains for their bedrooms.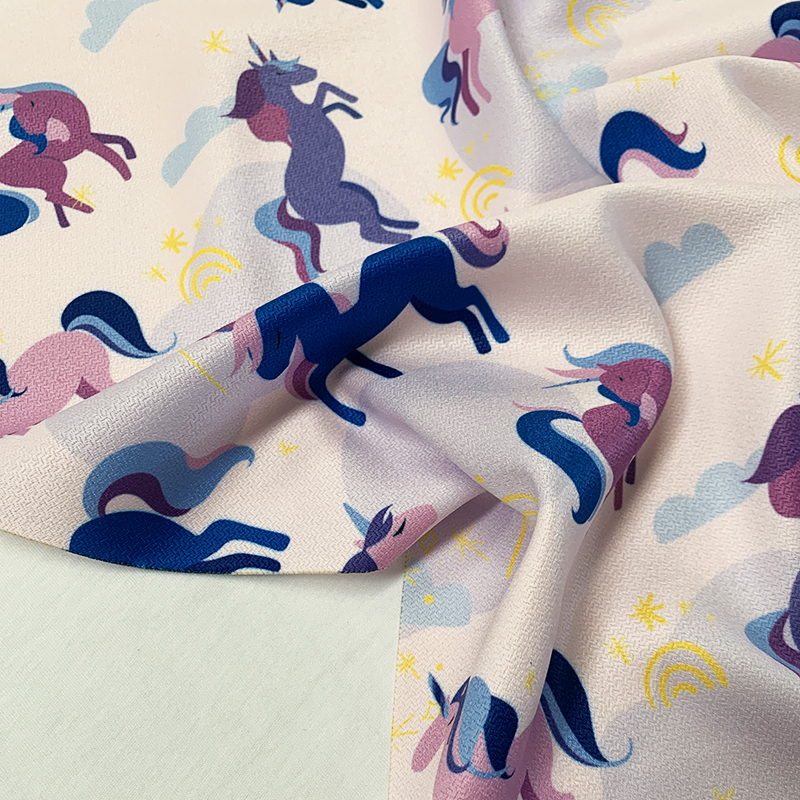 'Retro Blooms' is a wonderful exploration of lilac with a bit of an unexpected pairing of yellow which provides a fun contrast. The shapes are directly influenced by ugly retro wallpaper of yesteryear. It's a bit of a merge between trendy modern colours and retro shapes and the simplicity makes the juxtaposition work.
We love how 'Retro Blooms' can work for a range of different projects, both fashion and home!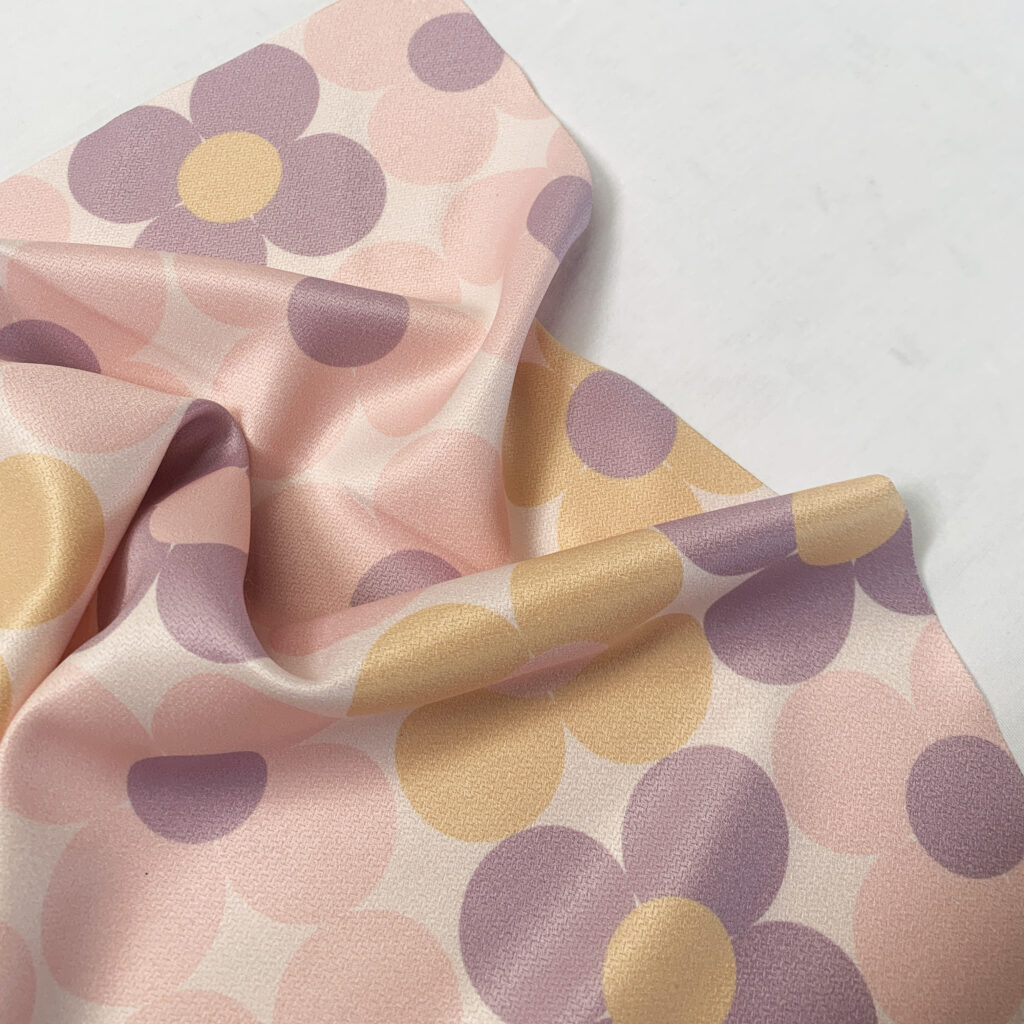 'Kitty Kats' features an array of adorable cat heads! These cats started as vector blobs which were then given ears and silly little faces to turn them into cats. Each shape is a little wonky and Geneva wanted to give them wonky colours as well so they have a fun cartoon feel and a little bit abstract!
We think 'Kitty Kats' would look so cute as some cozy pyjamas or even a funky fun dress. It would also look adorable as a lovely warm blanket or bedding!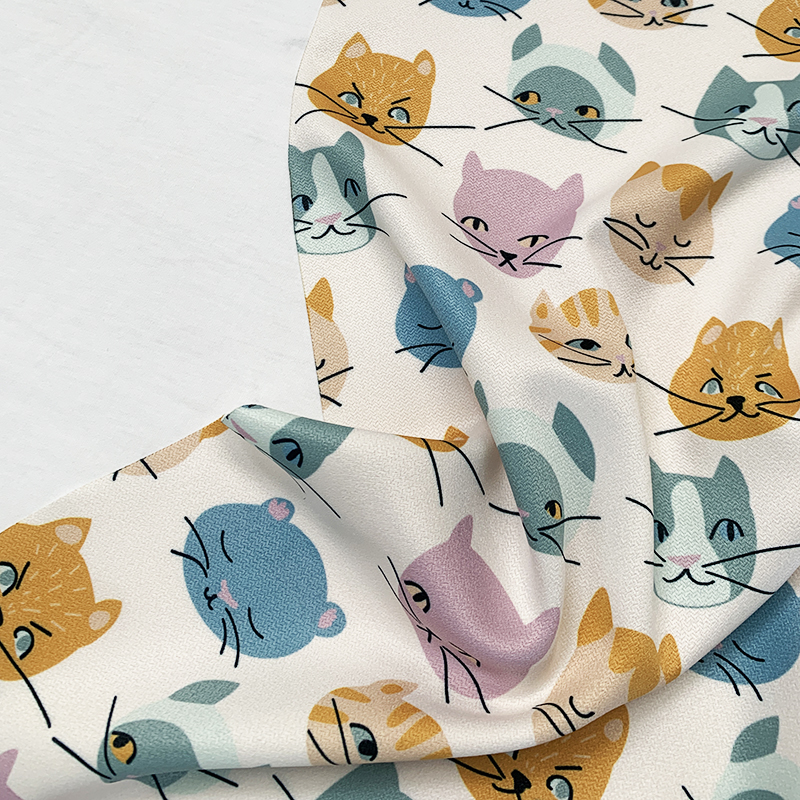 All of our project ideas above are suggestions only as the sky's truly the limit with Geneva's stunning 'Assortment of Life' collection! Each of Geneva's designs can be found in our Fabric Shop, so head on over and elevate your next DIY project!