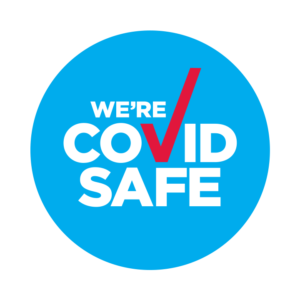 First of all, we want to thank you all for your continued support during these times. Living through the pandemic isn't easy, missing family and friends, job losses, lockdown restrictions. Thank you for being with us on this crazy ride.   
We are just like you in this unfamiliar territory trying to keep going and carrying things on as normal as we can while keeping our staff and customers safe. We are a COVID safe business and can assure you that Digital Fabrics is open for business and will continue to operate and support our clients, community, and friends through these difficult times.   
The current COVID restrictions have resulted in the reduction of our manufacturing capacity due to people working mostly from home, rather than from our studio. The expected turnaround for orders is now a little longer. Standard printing orders will now have a turnaround time of 7-10 working days and making orders 2-4 weeks depending on quantity and the fabric availability.  Sample Packs dispatched within 3-4 working days via Aus Post (standard) and Express orders on request only.

For the time being, we also had to streamline our stock fabric range, with stock availability varying depending on demand, so not all fabrics are currently available. If you are after a particular fabric that is not in stock feel free to get in touch with us. 
To further implement social distancing, we have stopped offering clients visits and order collections from our warehouse.   
We offer order delivery via Aus Post and courier services, however, please keep in mind, delivery times of your order might be affected, as we know many logistics services are under tremendous pressure. If your project is urgent, please contact us before placing your order to discuss express order availability.   
Please remember that we are just a phone call away and are constantly responding to all web enquiries as quickly as possible.