Nailed It. Creative business success story
Here at Digital Fabrics we love finding a new and interesting success story on a brand or business that is inspiring to the creative community. We thought it would be useful and informative to find out how these creative businesses nailed it, lessons learned on the way and tips they might have. We have asked them to share important "How to's" and growth hacking tips for start-ups and emerging designers. Read it, get motivated and nail it yourself!
We are back for 2019 and we have a fabulous designer to get your creative juices flowing and your mind ticking!  To get the year going we are chatting to Stavroula Adameitis, the artist and designer behind the fabulous label 'Frida Las Vegas' an Australian brand known for its bright colours, pop art themes and humorous work with a big kitsch kick and homage to the 80's. We had the pleasure of asking her a few questions about how she is nailing it and what she has learnt along her journey so far.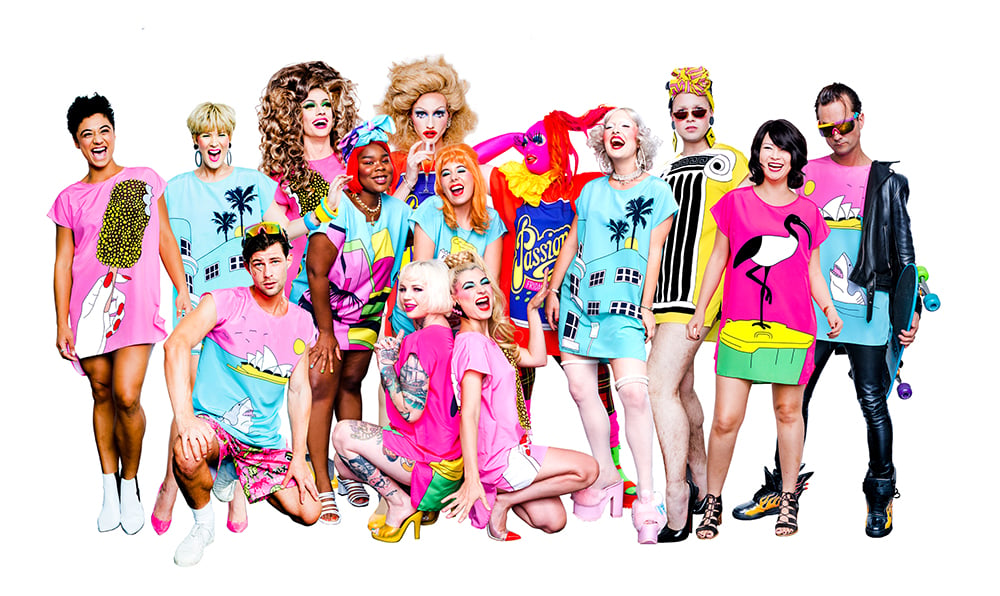 Firstly, please tell us about how Frida las Vegas was born and how you came up with the very fun name?
The name 'Frida Las Vegas' was given to me by a dear friend when I unceremoniously signed up for an OKCupid.com profile some time in 2012 and didn't want to use my real name on screen. I stayed on the platform for a grand total of 10 minutes before getting creeped out and leaving the online dating world forevermore but I noted the name 'Frida Las Vegas' had a catchy ring to it. I felt the combination of artistic feminine expression a la Frida Kahlo with a side order of tack-a-rama Las Vegas glamour really summed up who I was and what I wanted to express, so it was perfect to create work under this name a year later!
Your artwork is uber unique! What messages are you trying to share and what does your brand represent?
Thank you! My work is super nostalgic and reflects my personal obsessions with icons of popular culture, architecture, fashion and memory – many of which are distinctly Australian, which I feel is missing from the pantheon of Pop Art. Glamour and humour are central to the FRIDA LAS VEGAS ideology as these terms usually contradict themselves and I don't think they necessarily should.
Visually, I'm interested in creating a universe that exists in its own timewarp, like a mash-up between art deco linework, 1980s Memphis Milano graphics and 1950s atomica. Ultimately my brand represents the self-actualising power of positivity, colour, confidence and humour.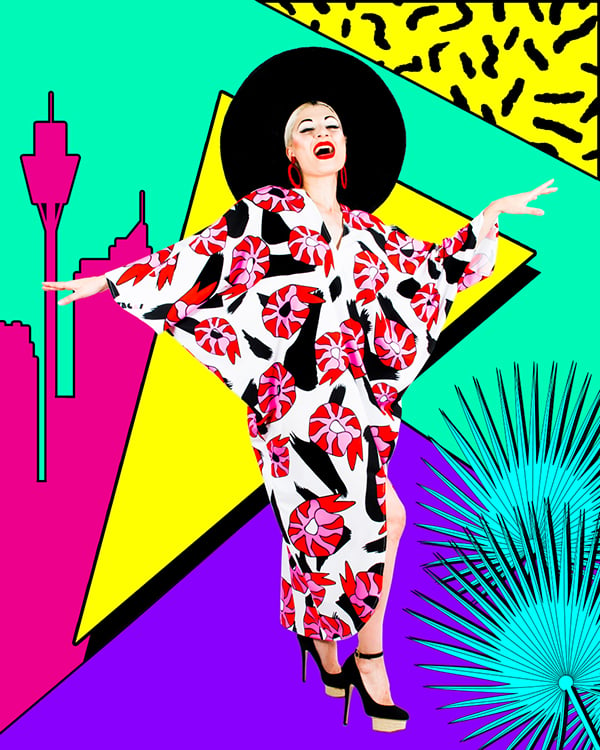 Your colour palette is bold and bright, do you ever see this changing or is it integral to your work?
My colour palette is somewhere between a Barbie Campervan and a bag of mixed lollies and I can't see this changing too much across mediums. I connect with bright colours on a deep level as they give me energy.  If I ever use black as a major colour, I'm pretty sure will only be used as a background for multicoloured neon lights!
Do you work on Frida las Vegas full time? If so how did you make the transition and what experience have you found most valuable on the way? What advice can you give to fellow creatives thinking about making the leap?
Presently, I work freelance and split my time between clients, agencies and my own work under the FRIDA LAS VEGAS label. It's all a juggle but I love constantly learning and evolving. There's no roadmap through a career and I'm excited to see where the path twists and turns as new technologies and opportunities present themselves in the future. It's important to stay open and flexible, regardless of your medium or industry.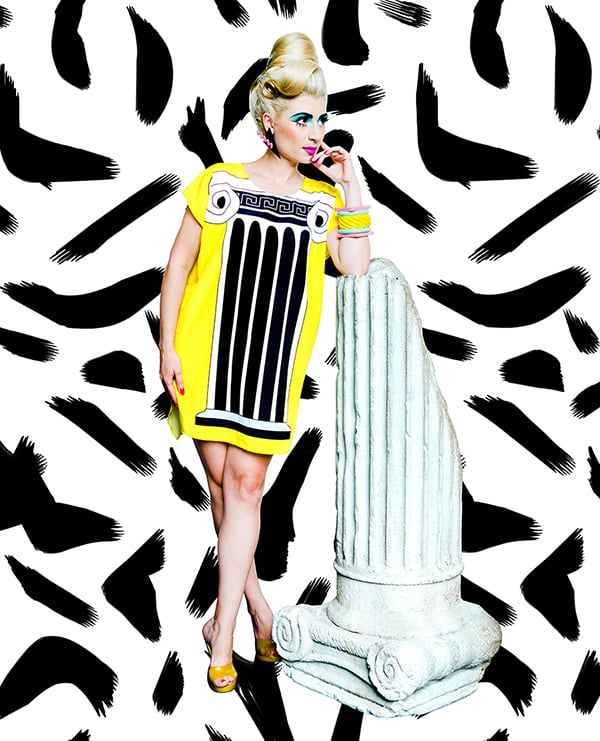 Do you think you have a specific demographic, if so who are they and what do you think they love most about your work?
Anyone who appreciates vintage-inspired styling, a keen sense of humour and a love of colour is probably going to connect with my work. I've been told by customers that wearing FRIDA LAS VEGAS makes them feel fabulous and confident, which is the ultimate double-whammy compliment in my books and also the reason I do what I do!
Sydney is a BIG source of inspiration for you (obviously, because she's fabulous dahhh-ling). Can we expect to see any work inspired by any of our other glorious Aussie cities?
I adore Sydney and feel incredibly inspired to call Sydney home, but am equally pumped to explore the mythologies, signs, symbols, faces and places of other Australian locales – especially the Gold Coast (so gloriously tropical and tacky!) and Adelaide always holds a giant slice of my heart, as that's where I grew up and spent my first 25 years on the planet.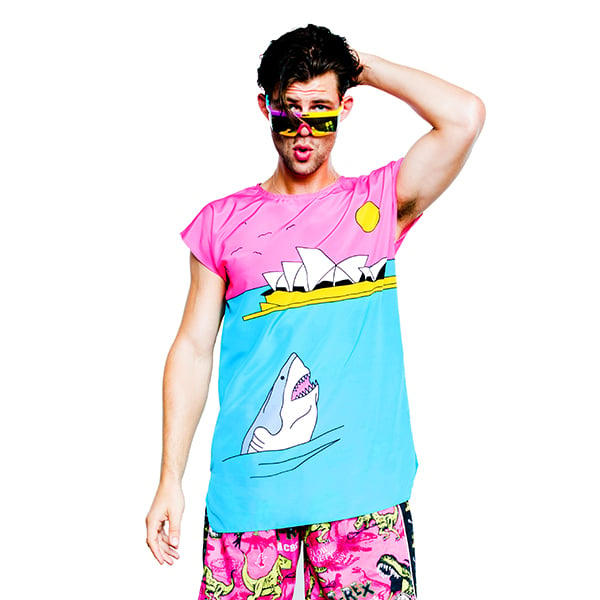 Who are your biggest inspirations and who tops your dream collaboration list?
I'd love to collaborate with Black & Gold or Home Brand, but this is definitely a pipe dream as they are both very elusive and exclusive! Fashion-wise, I love the work of Elio Fiorucci,  Jeremy Scott, Thierry Mugler, Gianni Versace and 80s Barbie, amongst others. Cinema is also a massive passion, especially costume and set design – which is truly creative across the spectrum and allows filmmakers and their teams to construct entire 'worlds', something I find really appealing.
Ethical manufacturing is clearly very important to you (yass!). As another local business supporting the ethical fashion movement we'd love to hear what your motivations with this cause are.
Ethical manufacturing makes perfect sense. From a production perspective, it's more efficient to foster relationships with local suppliers whom you can jump on the phone and workshop ideas with in the same timezone rather than dealing with overseas companies by email. My artwork celebrates Australia in all its forms, so it's only fair my clothing truly reflects that celebration in how it is produced and constructed. I'm a big believer in practicing what you preach!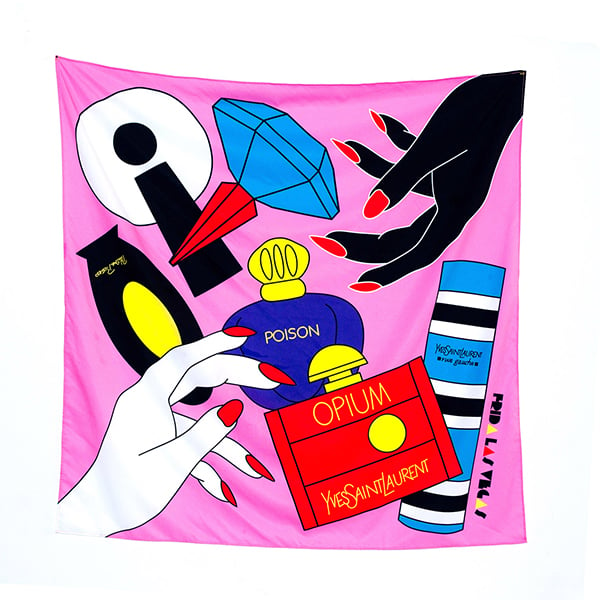 You recently entered the world of fashion with a product list growing fast! What led to you designing and creating these pieces and what might be next?
I'm always motivated to design what I personally want to wear and can't find on the market. I'm not interested in trying to reach a mass audience, which gives me freedom to follow my instincts and design without boundaries. Presently I'm on the hunt for the perfect swimsuit that is fun AND flattering, with no luck from what's on the market – so I'm working on making that happen!
What projects are on the horizon for Frida Las Vegas for 2019? Can you share any juicy plans or new product launches?
I'm working on an exhibition of neon and acrylic art that I'm MEGA pumped about, which is shaping up to be an extravaganza of extreme 80s glamour!
What is your advice for creatives at the beginning of their journey? Perhaps they are not sure on the product to create or the path to go down. If you could go back and give yourself advice, what would it be?
The best way to do is by doing. Skill up. Tool Up. Bar a few established professions, the concept of a career with a capital C is 100 per cent in flux right now – so stay ahead of the game with real, practical, hands-on skills that render you valuable and flexible for a changing world.
Find your own unique style. Don't seek to emulate the work of one or two of your favourite artists. Instead, find inspiration from the random things that TRULY speak to you. Aim to 'channel' your influences rather than 'copy'. Creating a style is all about how you mix up the mediums, styles, symbols and feelings of the things you love to create a product that is more cohesive than the sum of all its parts. Do this with your own personal flourishes.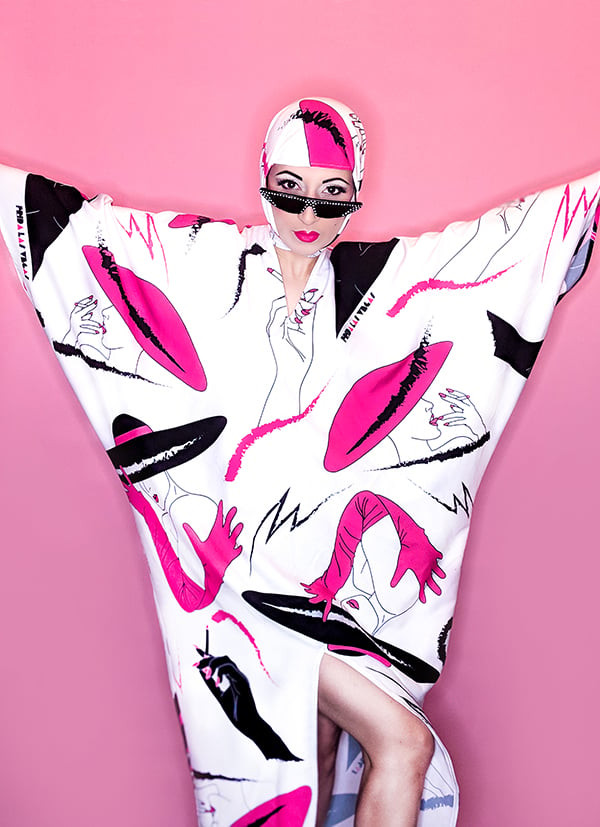 Social media now consumes so much of our time and mental space, how do you manage this area and do you have any tips on how to stay relevant and fresh?
Social platforms are purposefully addictive by the nature of their interface design. With minimal 'exit points', it's important to maintain boundaries with yourself and not get lost 'in the scroll'. I strive to share my work in a tone that is authentic, relatable and not-too-serious. If a photo or video takes more than a minute to write a caption, I don't post it because it means I'm probably thinking about it too much. Ultimately it's important to not take social too seriously or let it define you – we are all human, not numbers!
As a business owner these days you have to have the ability to wear lots of hats, what is your favourite and least favourite hat to wear and why?
Posting orders at the post office isn't my favourite part of the process but I'm trying to find beauty in the banal and see it as a chance to leave the computer and stop 'n' smell the (Cadbury) Roses!
Thanks Stav, what a fun and inspiring read!
You can follow along with what Stavroula from Freda Las Vegas is upto Website, Instagram,