Have you seen the latest print designs bursting with colour that have made their way into our Fabric Shop? These new delights are by artist and designer Katy Dee who is the powerhouse behind print-based label Shiztastic. All of Katy's designs begin as an original artwork, using typically hand-painted and collage elements. Once the original pieces have been scanned, Katy then begins the process of layering, manipulating and arranging the elements in both Photoshop and Illustrator to create gorgeously playful prints. Her designs draw heavily from nature, kitsch and 80's fashion and the simple joys which can be found in daily life and travels. Below we've the put the spotlight on each of Katy's designs which are now available online, sharing ideas around what we think each design would be perfect for!
'Pink Chintz' is a big, bold floral design inspired by vintage wallpaper. The design features Katy's favourite colour combination of red and pink, and with a design like this, it's easy to see why this pairing is so adored. 'Pink Chintz' is a mid to large-scale design and provides a fun pop of colour for any wardrobe or space.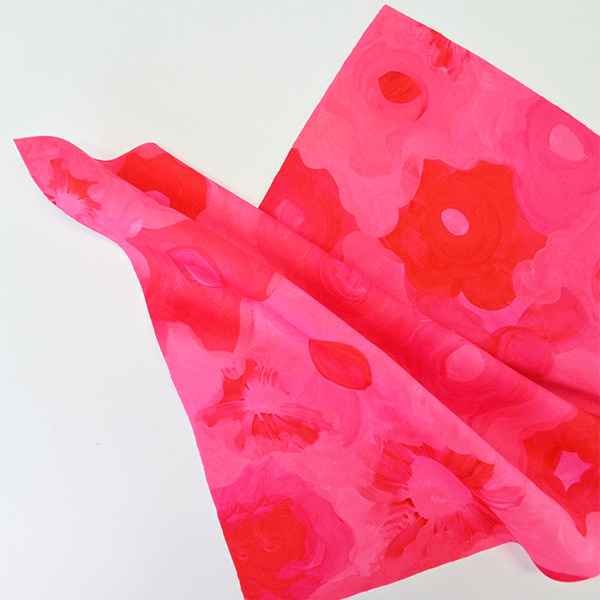 We're getting strong female power suit vibes from this abstract floral, and think more is definitely more!
Next up is 'Picnic Fun', which is a playful print design full of fruity motifs that are in season all year round! This large-scale design features gorgeously hand-painted elements collaged together on a classic rug style background.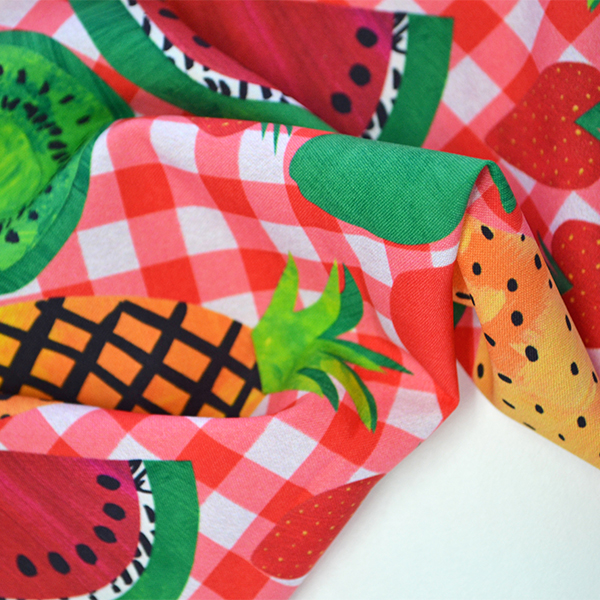 We think 'Picnic Fun' and a summer dress are a match made in heaven!
Move over leopard print, there's a new kid on the block! 'Wild Thing' puts a funky twist on an animal print classic by using textural hand-painted brushstrokes and a statement colour palette. This is a mid-scale print that's easy to wear.
We would love to see this design used for a half circle or A-line skirt and think it will work well either paired with a plain or patterned top. Dress this design up or down, either way you'll make a statement.
Prepare for nostalgia! 'Painted Love' is inspired by the 80's and a love for double denim. This fun take on a striped design is a mid-scale print and is suitable for both fashion and interiors.
With the design's retro energy we just can't un-see high-waisted pants with rolled ankle cuffs!
'Untangled' features a beautiful colour palette of blues and pinks and inspired by a whimsical land of mazes. This mirrored print is simply stunning and so easy to get lost in it's design. This large scale print is suitable for both fashion and interiors.
We're wanting this magical design to carry us away into a slumber that is just as dreamy, and think chic loungewear and pajamas are the perfect way to use this print.
'Leaf Glitter' is a bold mid-scale botanic print with a retro feeling colour palette. Inspired by camping trips in the woods on a sunny winters day, with an imagined forest floor full of brightly coloured leaves and plants.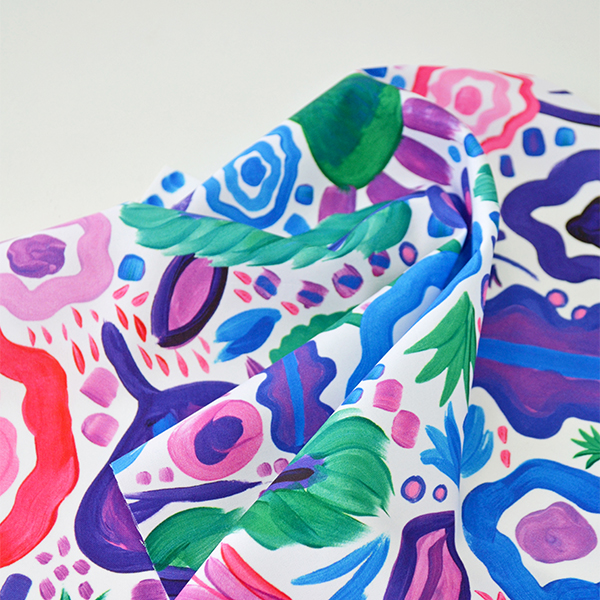 'Leaf Glitter' is just begging to be turned into a fabulous kimono, ideal for those days where the weather is a little undecided.
'Sunset Garden Party' pays homage to Katy's mum's garden, remembering it at sunset during an English Summer. The sun is setting, birds singing, and it feels as though all the charming flowers and plants are singing along too. This monochrome mid-scale print is a timeless design full of beautifully hand-painted textures and elements.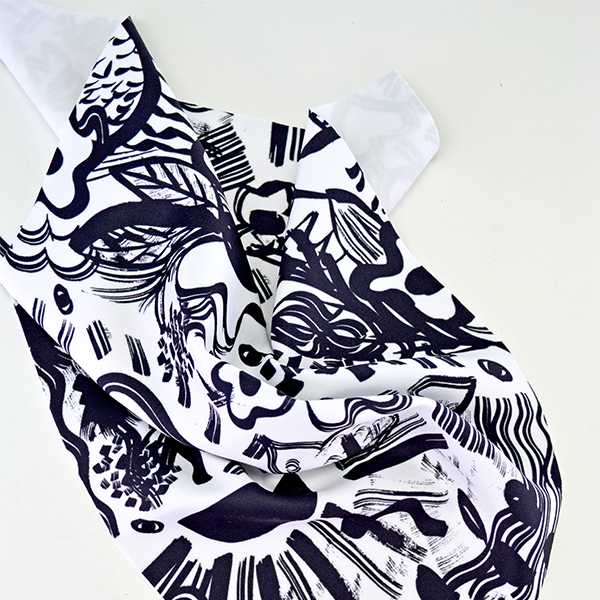 'Sunset Garden Party' would be a stunning choice for a shirt dress with it's simple colour palette and bold graphic feel.
We couldn't be happier with Katy being the first artist involved in The Designer Project, making a selection of her designs available in our Fabric Shop online. The possibilities are endless with each of these designs, and can easily be translated across both fashion and interiors. Our suggestions above are just initial ideas to get those creative juices flowing and can't wait to see the versatility across all the creative projects you use these fabulous designs for!