We are so excited to share with you that designer and artist Tracy Hall is our new The Designer Project feature artist! The Canberra-based creative combined her natural artistic abilities and hand-drawing techniques with her graphic design skills to create her bespoke business Trace of Colour. Trace of Colour focuses on creating gorgeous surface pattern designs and we couldn't be more thrilled that Tracy has added a series of her beautifully detailed designs to our Fabric Shop online!
Tracy's designs are inspired by the beauty found in the everyday and the natural world, and are all hand-drawn before being refined and put into repeat digitally. Tracy's intricate illustrative style and her affinity for using both neutral and vivid colours creates a body of work which is rich and versatile, with each design telling it's own story. Below we've shared a little bit more about each of the lovingly created designs and the types of projects we imagine them being perfect for – keep reading!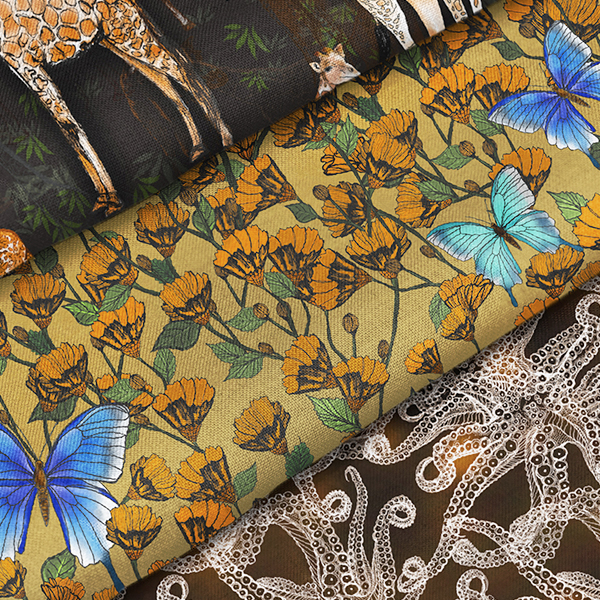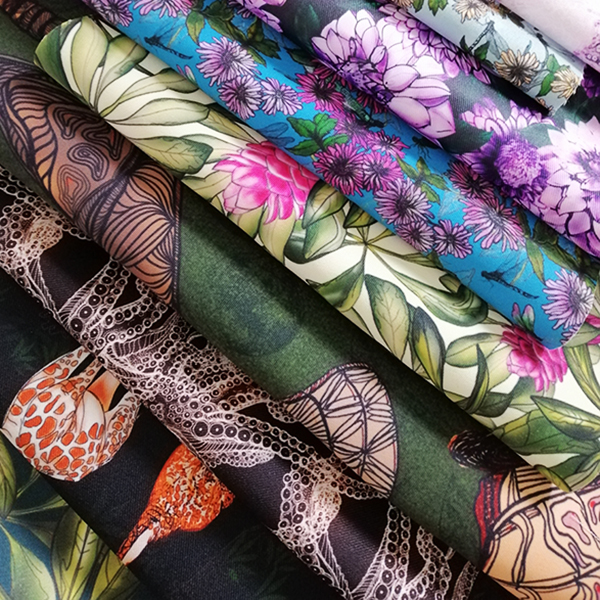 "Bouquet of Dahlias" features soft pom-pom like flower motifs inspired by Tracy's own patch of dahlias in the garden. Unlike Tracy's dahlias, these stay in bloom all year round!
We think "Bouquet of Dahlias" would be a fantastic choice for statement decorative cushions.
Tracy's "Dragonfly" designs are personal favourites for the artist and were inspired by dragonflies zooming around the garden. The design features delicately drawn dragonfly and flower motifs and is available in three colourways "Dancing Dragonflies" (pale blue background), "Dragonfly Garden" (purple flowers) and "Dragonfly Green Garden" (green background).
The "Dragonfly" designs are a perfect choice for a flowy summer dress!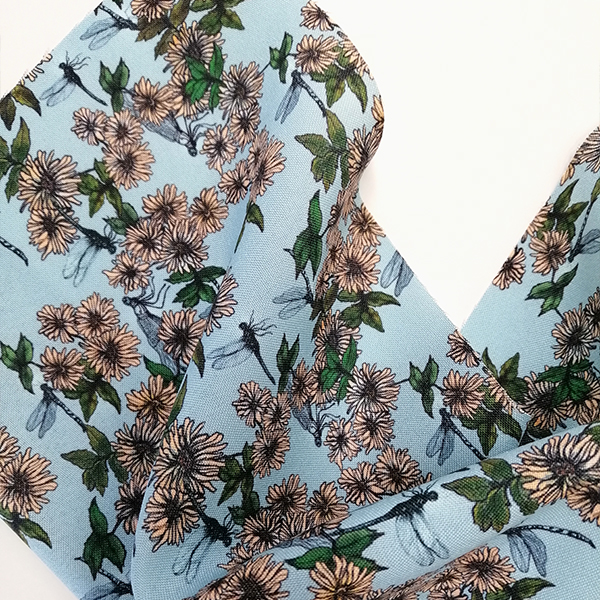 "Brilliant Glowing Jellyfish" is a glorious celebration of vibrant colour and soft magical forms and transports you to an underwater party. The bold design was inspired by Tracy's fascination with the ocean and its weird and wonderous creatures.
"Brilliant Glowing Jellyfish" would be a fantastic choice for men's boxer shorts or briefs.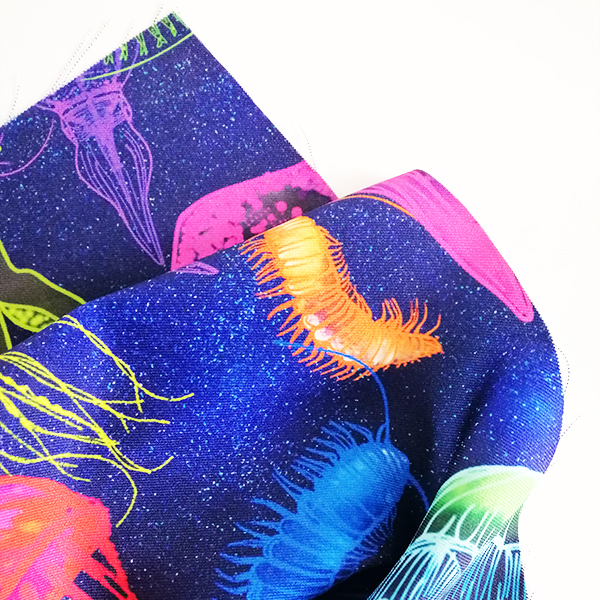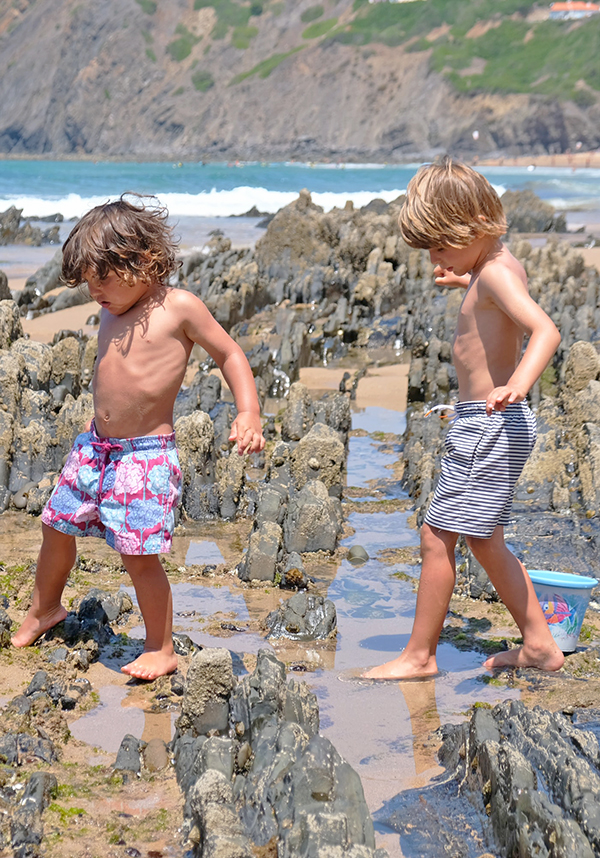 "Maypole Flowers" is a stunningly bright and colourful design which features clusters of quirky bouquets set against an intoxicating vermillion backdrop. The design is a perfect choice for those who love adding colour to their outfit or space.
We think "Maypole Flowers" would be an incredible design to use for swimwear.
"Tapestry of Butterflies" is also inspired by Tracy's garden and captures the change of the seasons, with flowers beginning to bloom and butterflies fluttering amongst them. The design pairs warm autumnal colours with pops of cyan and blue which gives the artwork a contemporary feel.
We think "Tapestry of Butterflies" could be used to create a gorgeous blouse, swimwear or dress, it also will be great for upholstered footstool or ottoman.
Be swept away by Tracy's "Tower of Giraffes" design, which features majestic giraffe motifs nestled amongst a deep and brooding background. This a mid to large-scale design with the largest giraffe motif approximately 20cm in length.
"Tower of Giraffes" could be used for a super cute children's tipi design.
"Lush Tropical Paradise" brings the tropics to you! The very lush design features carefully drawn bird and leaf motifs. The selective use of colour allows for hints of red and pink to really pop against the green rich artwork.
"Lush Tropical Paradise" would be a great choice for halter neck dresses, blouses, jumpsuits.

Tracy's "Octopus Lace" designs were inspired by a visit to the local aquarium where she was particularly intrigued by the tentacles and underside of the gorgeous creatures. Tracy's approach to illustrating the octopus motifs results in the intertwining of their tentacles appearing like fine lace. The designs are available in two colourways, "Octopus Lace" (soft pink background) and "Octopus Lace Dark" (rich brown background).
The "Octopus Lace" designs would be a gorgeous choice for tableware, activewear, wide-leg pants, jumpsuit, dresses and tops.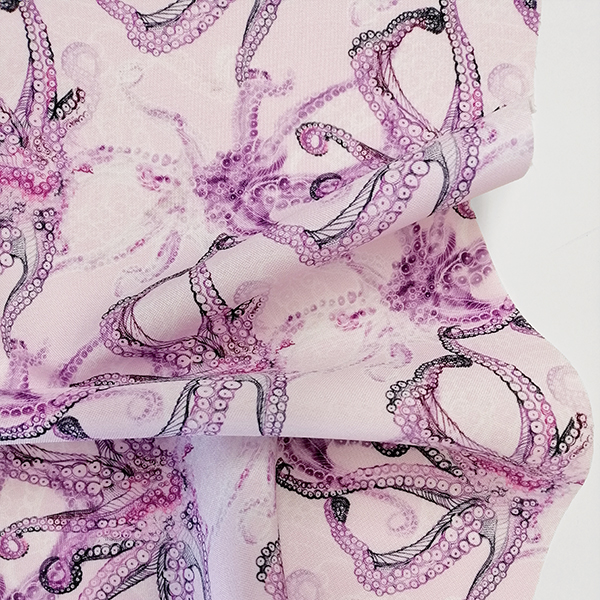 "Tropical Paradise Leaves" is a timeless rendition of a tropical style print with beautifully drawn botanic motifs. Tracy adds pops of pink to the otherwise warm, neutral colour palette which gives the artwork dimension and personality.
We think "Tropical Paradise Leaves" would be a stunning choice for decadent feeling curtains.
"Zebra Heard Stripes" was inspired by a dazzle (herd) of zebras stampeding through a savanna. The result is a fantastic monochrome print which puts a spin on classic striped designs.
"Zebra Heard Stipes" would be a great choice for a co-ordinate two-piece outfit or women's suit, leggings, board shorts, swimwear, jumpsuit and rashvest.

"By The Light Of The Moon" features intricately drawn moth motifs set against a textured olive green backdrop. If you look closely in the background you can see hints of the moon captured at it's different phases.
"By The Light Of The Moon" would be an excellent design to use for gorgeously upholstered footstool or ottoman.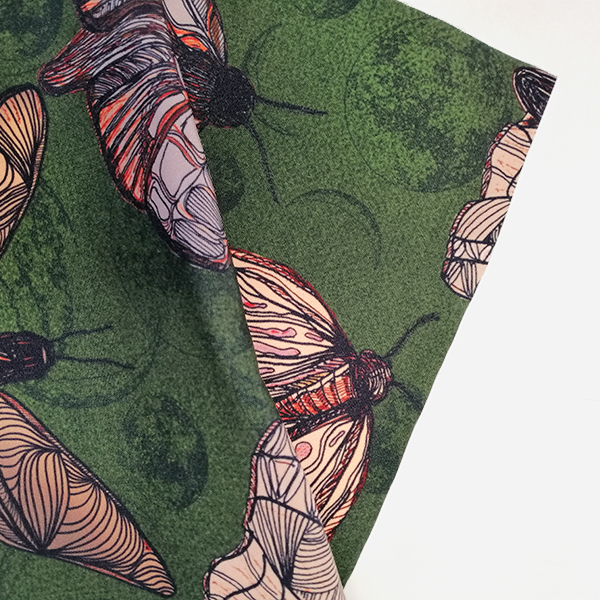 We're over the moon that Tracy is taking part in The Designer Project, with each of the designs show above being available to print onto of our stock fabrics. Simply head to our Fabric Shop, select the design you would like to print and then choose which of our fabrics you would like it printed on – it's that easy!