Last week we had a wonderful opportunity to provide work experience to a student from one of the local colleges. Despite her young age Rachael demonstrated good knowledge of Adobe Photoshop and Illustrator, great imagination, creativity and made the whole week extra pleasurable and fun. Rachael was working on stripy fabric prints designs and was very happy to share her fabric designing process with us.  We are sure this will help many people to understand how fabric design process works and steps required.
Brief
I was given a design brief to come up with 3 different stripe design prints relating to the current trends for women's wear in summer. I needed to explore stripe designs and its versatility, playing with negative and positive spaces, sizes, mix & match and texture. The design was also going to be inspired by crystal rock colours.
Mood Research
To support the ideas I made two mood boards both displaying two different moods and stories. I used Pintrest as a starting point for developing ideas. I found different summer stripy trends and categorised the images into: bold, thick stripes- conveying a heavier look; and thin, light stripes- conveying a more peaceful look.
Colour research
I also found images of crystals and looked at the many different colours. I really liked the lighter blues and pinks. I found darker crystals that had a different mood to them. The darker colours consisted of dark purples and blues. Once I had found my two different moods I linked the two ideas together: the crystal colours with the stripy designs.
Moodboarding
I made two different mood boards displaying two different unique styles on Photoshop, The bold stripes and dark colours & simple and relaxing.
My first mood board conveyed a peaceful, simple and relaxing mood with small thin stripes, using light and dark pinks. I thought that the light pink colours would work well with detail in the stripes. I went with the whole crystal, spiritual idea and I was really influenced by henna. Henna is traditionally used in Indian weddings, but today henna can be found at most local markets. I thought about combining the two ideas: busy stripes and floral henna style flowers.
My other mood board was going to contain more of a bold strong stripe designs with darker purple colours.
Defining colours
Once I had made my two mood boards I wanted the colours on my Photoshop document to match the final design on fabric. For this I had to go through a Pantone formula guide colour book to find colours that I liked and when I found a colour that matched I would write down the number. In Illustrator I made boxes with the exact colours, with their number. I printed them out and checked to see if they were the correct colours. Depending on the fabric, the colours print slightly differently.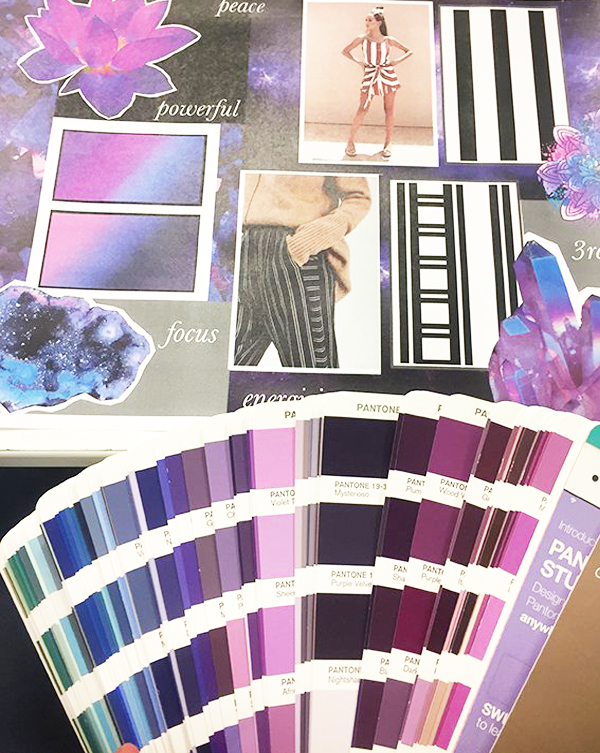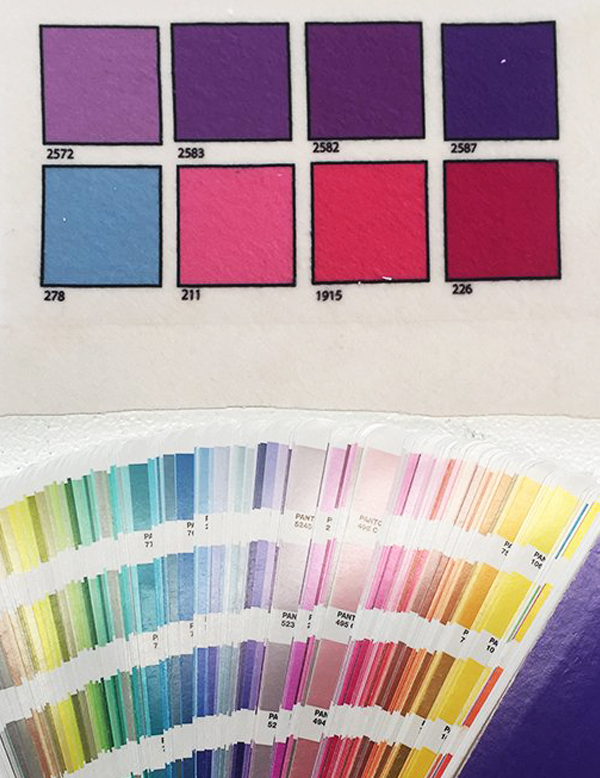 Design experimentation and development
Simple and relaxing
I wanted to make a design that incorporated stripes with a henna style floral. I wanted to have a detailed design with not too over-the-top with colours. I started to draw up some ideas on paper. I really liked having colourful flowers with black and white stripes crossing under them. I made an Illustrator document with the idea. After some fiddling and small changes to my design I thought the background being one colour would be really boring. I wanted to make a colourful, but not too bright background. I thought about something like an army camouflage pattern, just to make it a colourful but not overpowering the stripes and flowers.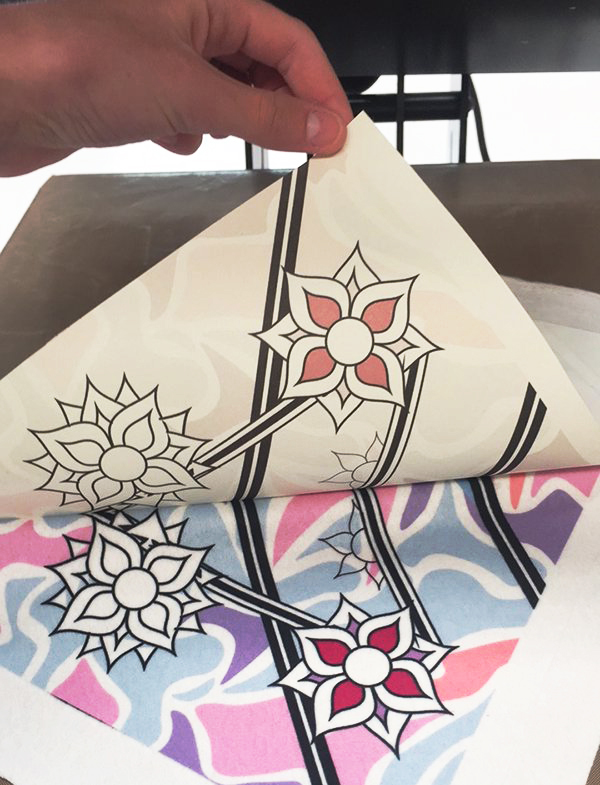 The bold stripes and dark colours
I decided to make a print with my second mood board The Bold Stripes and Dark Colours. I thought it might be more interesting and fun to experiment with darker colours on fabric. My design contained a purple and light blue theme but I wanted to add more colour to my design so I added some pinks.
My final three designs looked like this.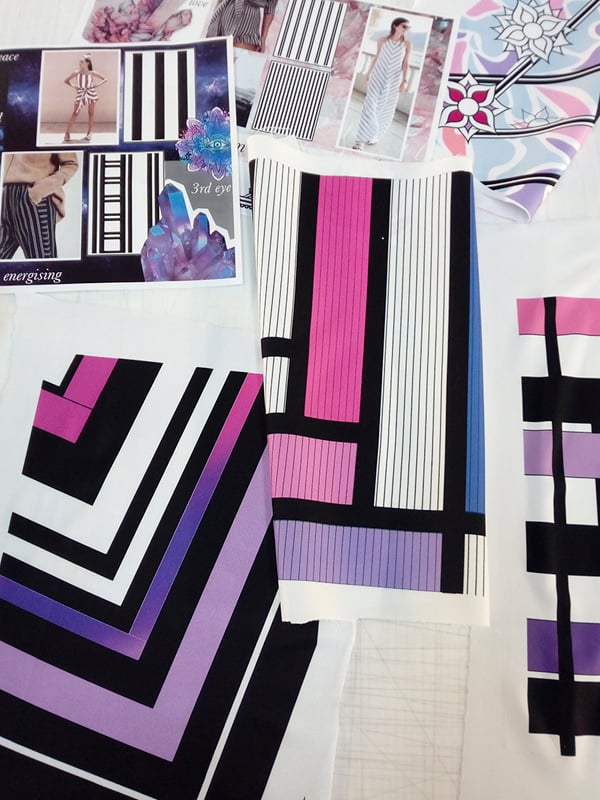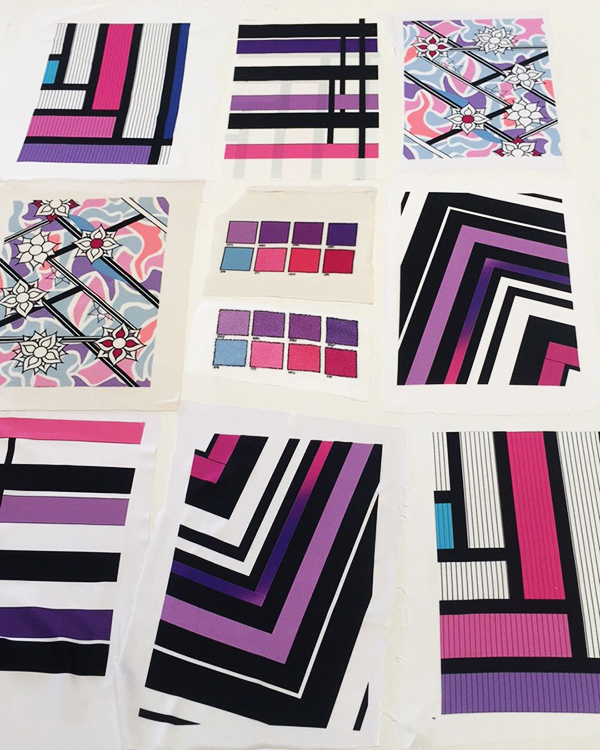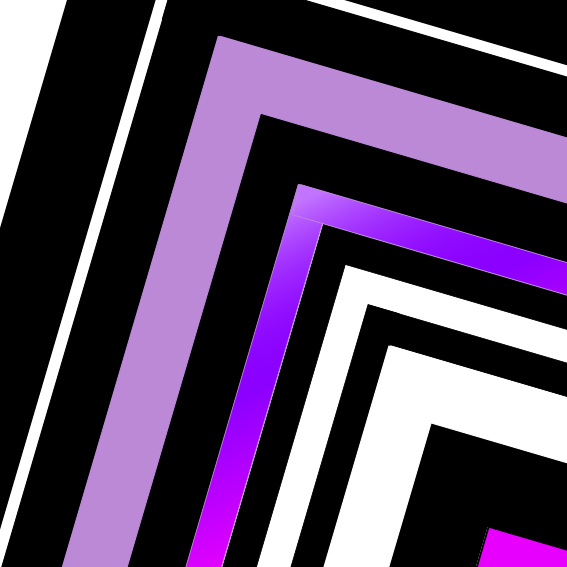 We are hope you have gotten inspired by this whole creative process. Stay creative!
Save
Save
Save
Save
Save