It's been such a treat sharing these beautifully unique designs by designer Geneva Richards, who's based in our home town of Sydney's Inner-West. We hope that you've enjoyed her designs as much as we have!  
To coincide with Geneva's "Assortment of Life" collection being made available to all of our customers through our Fabric Shop online, the artist herself has put together a guest blog which further explains her one of a kind approach to creating surface patterns and what inspires her work. 
Keep reading to find out more about Geneva Richards and her wonderful prints!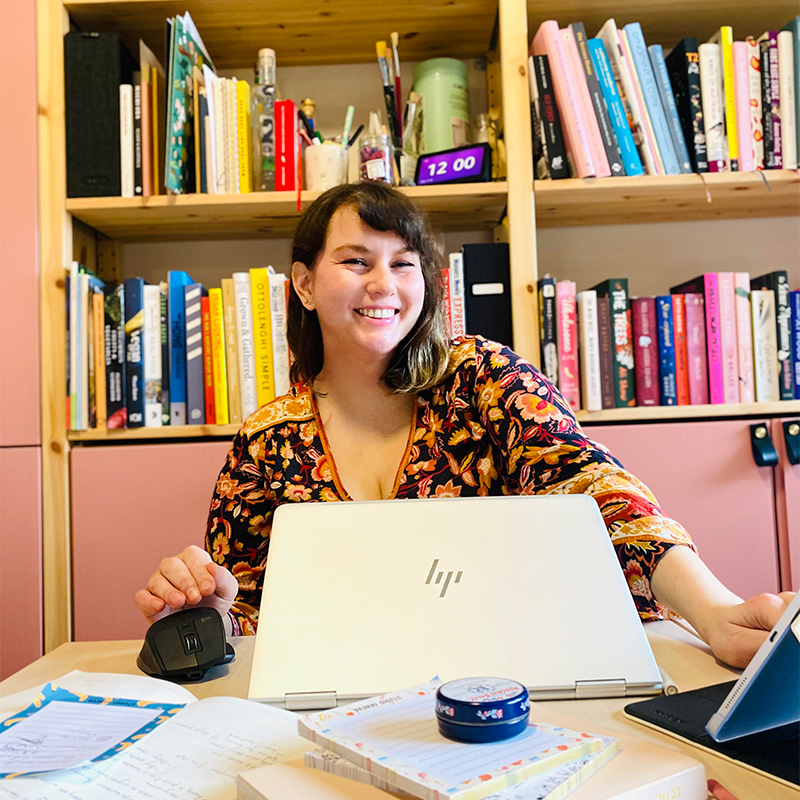 'Geneva Richards'
Hello! My name is Geneva and I'm the illustrator behind Studio Geneva. I'm so thrilled to be a part of the Designer Project!  
I only discovered the world of surface design in 2020 during my pandemic career shift into illustration and design. A creative career is always something I wanted and I also love writing; so I took an extremely broad degree at university, studying communications where I explored visual and digital communications as well as public relations, advertising and marketing. I worked in the public relations industry for a few years in beauty and tech before shifting my focus back to my true love – design – in 2020.  
'April Showers – design in progress'
For my personal work, I like to take a prompt from my list of popular motifs and create a pattern based on the prompt. This helps me just start a design and focus on creating without worrying about the result. Building an exciting collection of books about design and illustration, as well as folders of inspirational images I've gleaned from the internet, and even scraps of paper from magazines or wrapping paper all help me to make my design decisions (I like to think of myself a collector of ideas but really, I am a trash goblin)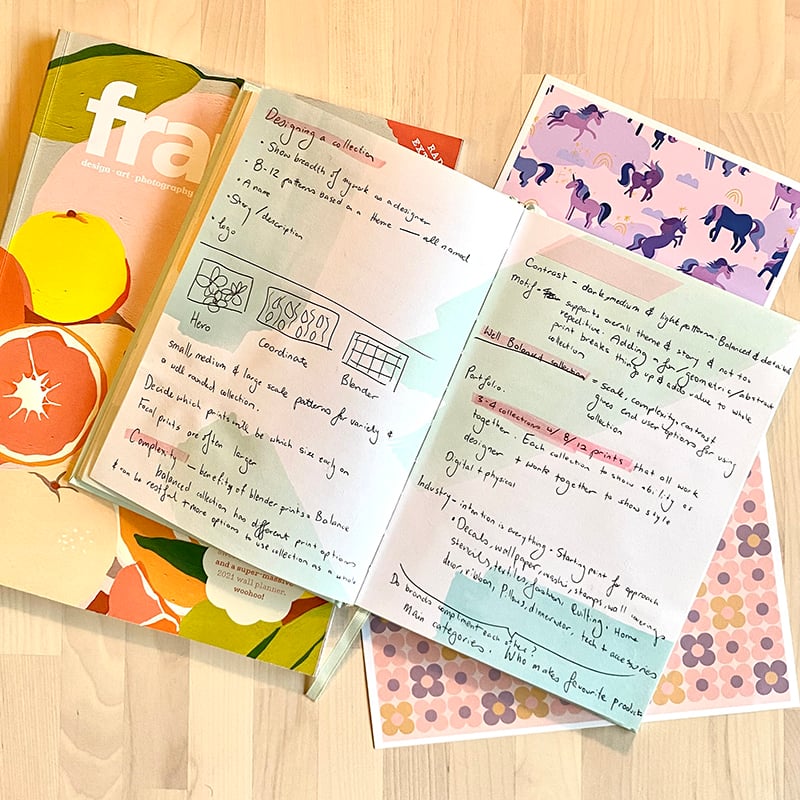 'Design notes + details'
When designing for a client, I explore inspiration, moodboards, colours, motifs and collections before drafting ideas and beginning the pattern design process. 
My actual design process is probably best described as 'chaotic'. I'd love to say that there's a specific way that I make patterns but there just isn't! Sometimes I sketch motifs in a sketchbook, sometimes I make a digital sketch, sometimes I just throw some shapes around and see what I like. Sometimes I decide what colours to use in advance, and sometimes I change my mind 30 times. I take the time to explore different ideas and programs in my projects in order to create striking patterns and designs.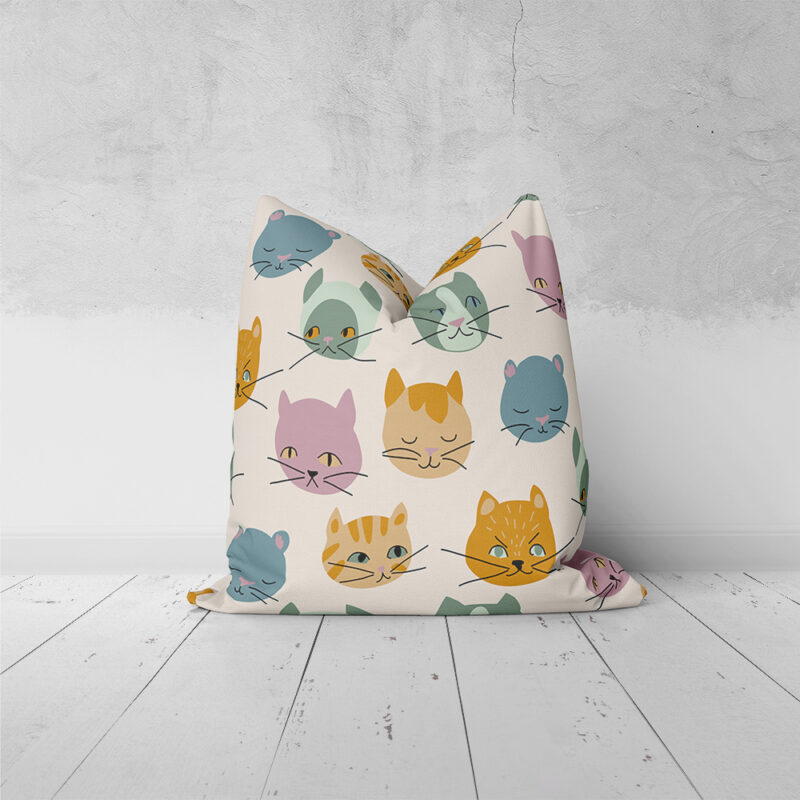 'Kitty Kats Cushion Mock-Up'
I mainly sketch either by hand in a sketchbook or on Procreate on my ipad. I use Photoshop to re-colour and arrange my textured raster patterns, or I colour my designs on Adobe Fresco before transporting them to Illustrator. I use Affinity Designer to create seamless repeat patterns right on my iPad. Depending on where the mood takes me, I might use one or two, or all of these programs for a single project!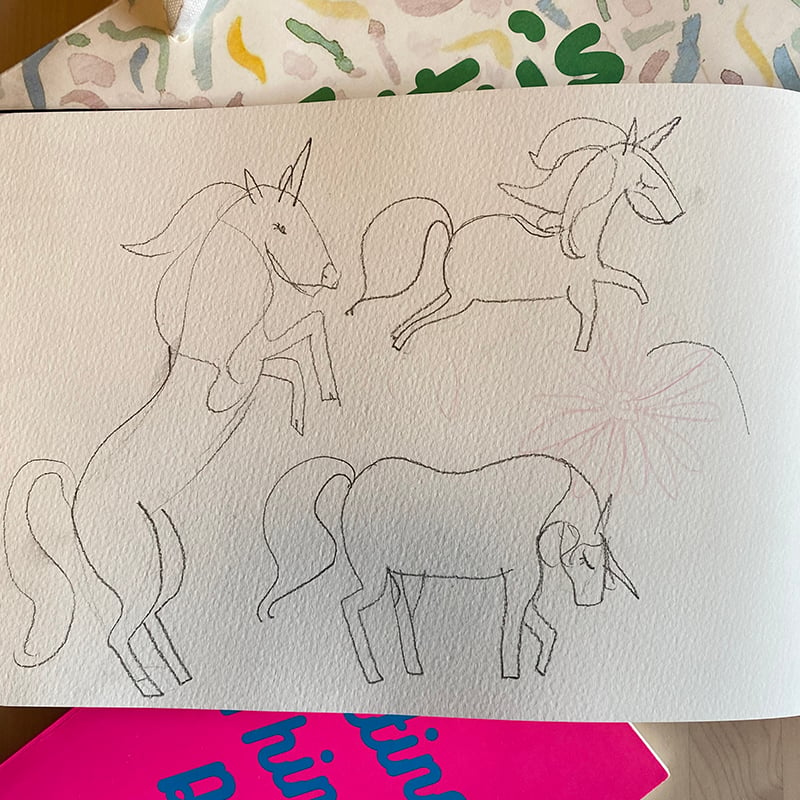 'Magical Unicorns Sketches'
For me, surface design is about creating, expressing and exploring rather than the result. I hope you enjoyed this peek behind the curtain! 
Geneva x 
Check out more of Geneva's work at studiogeneva.com.au or visit her Instagram @studio.geneva for all the amazing inspo she has to offer.