Snippets. Chats with Creatives.
Here at Digital Fabrics we love everything print, pattern and colour and we love to know what makes print designers tick.
This series we are focusing on textile designers as our creatives to get into the nitty gritty of the thing we love the most, textiles and surface design! We have asked a different set of questions relative to this and as always we hope to inspire others by sharing snippets of these creative stories.
Today we are chatting to Audrey Gachet a Sydney based textile designer and illustrator who's love of the beach and nature is reflected in her hand painted watercolour designs. Her work is elegant, classic and contemporary as well as being proudly printed and made in Sydney. She works mainly with fabrics and creates gorgeous textile pieces for the home as well as creating art prints, we love it all and can't wait to share her inspirations and story below.
You will find her products online here or look out for her at a market, she has previously exhibited at Life Instyle, Makers & Shakers and Finders Keepers.
Tell us a bit about yourself, your brand/label name what your creative practice is, how and when you began:
I'm Audrey Gachet, I'm a designer and Illustrator based in Sydney.
Growing up in the south west of France, my creative journey started from a very young age, when I used to hang around my mother's atelier. Being an artist herself, I was influenced by my mother's art and you would often find me painting and creating all sorts of things in her studio.
After studying Graphic Design & Illustration in Bordeaux and London, my career as a designer really took off when I moved to Australia and worked with Australian brands, creating lifestyle products. I learnt a great deal from them and it allowed me to understand and appreciate the hard work that goes into creating products and developing them.
I created my label in 2018 and launched my first collection of luxurious homewares and fashion accessories, which I now sell online and in various boutiques across Australia.
Like many designers, sustainability is important to me. I wanted to make sure that I created designs that don't impact negatively on the environment and I also wanted to choose natural fibres that don't require much energy to produce and that are renewable.
The other important point to me was working with local businesses to bring my product to life, so all of my designs are hand-made by artisans in Sydney. I work with a local digital printer and maker to ensure the heart and soul of my work is translated in every product.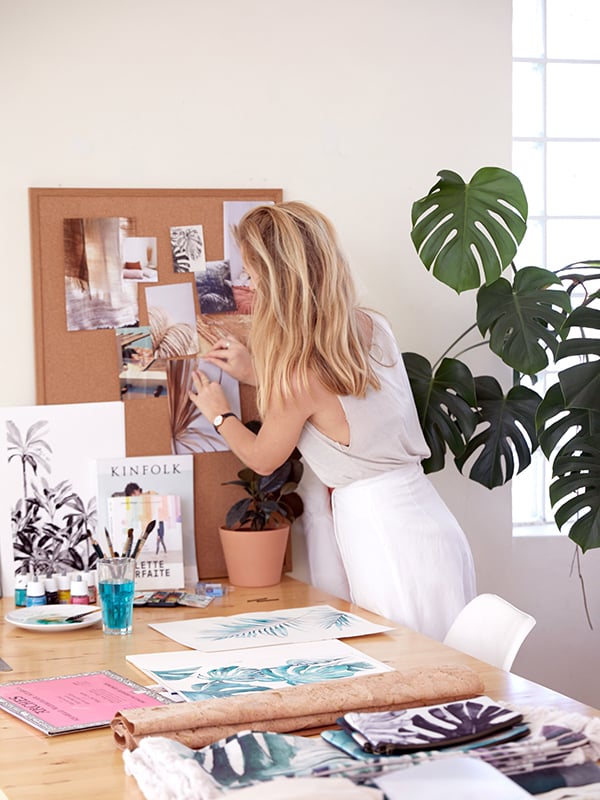 Where do you call home and what is your favourite thing about where you live?
Sydney is now my home. Living close to Sydney's magnificent beaches and botanical beauties, I feel deeply inspired by the Australian lifestyle – nature informs a big part of my work. Having grown up in the French countryside, I've always been drawn to the simple and authentic aesthetic, so there is always a bit of France injected into my work.
What 3 words best describe your creative style.
Raw, Organic, Delicate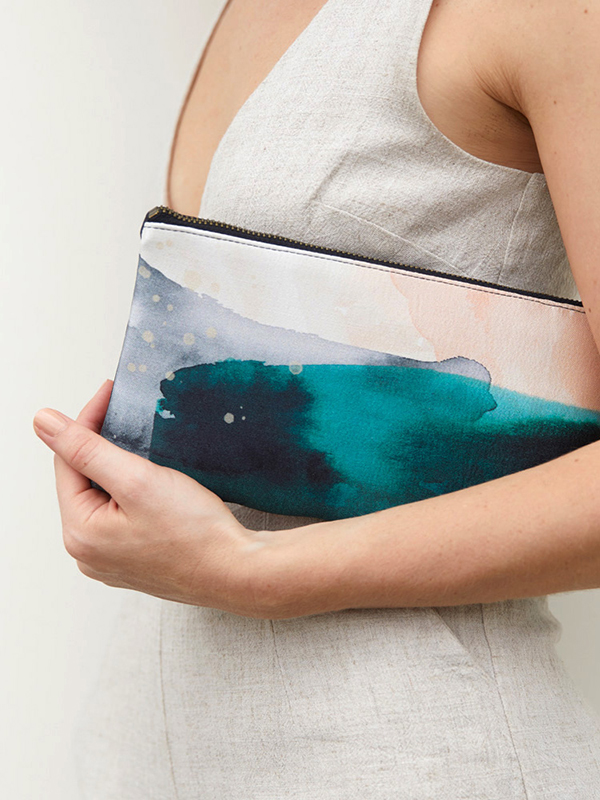 What led you to Textile design and what is your favourite thing about working with fabrics and/or print? 
I have been interested in textile design from a very young age. I learnt to sew and started designing my own clothing, bags and homewares such as cushions for my student apartment.
As a designer now, working with fabric and prints allows me to continue to indulge that love for colour and texture. Being able to create a tactile experience, for example by pairing interesting fabrics together, is something I really enjoy doing. It's very important to me to generate a sense of visual envy and of wanting to touch and feel the final product.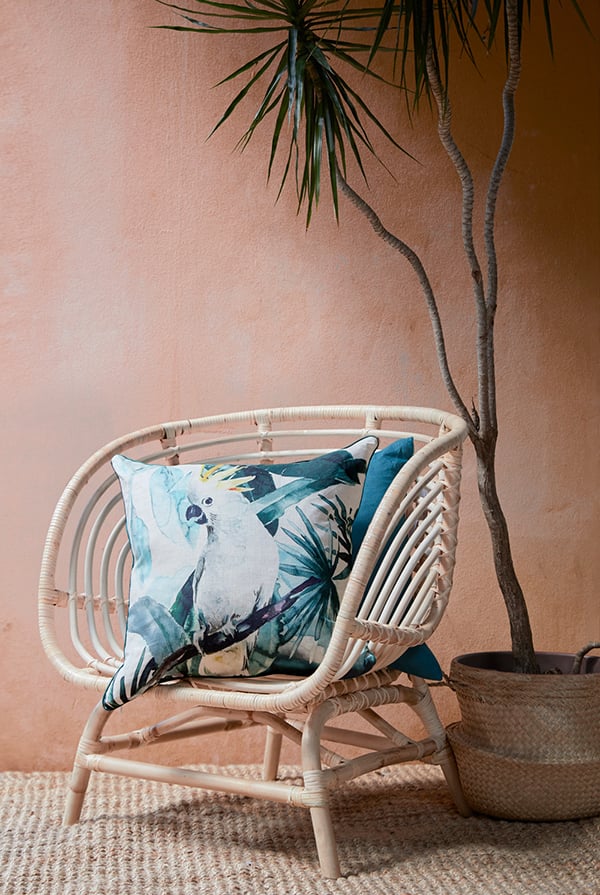 Tell us about how you get your creative juices flowing, what is your process? Do you have a source of inspiration you want to share with us?
The creative process – giving life to an idea – really excites me more than anything. Taking inspiration from my everyday life, I am quite drawn to colour combinations and texture. Whether it's from what I see in the streets, from books, in exhibitions, on social media, or along my travels – everywhere you look there is inspiration! As a creative it is important to observe everything around you and be open to all forms of art, not just your own niche.
Do you have a favourite medium and/or method to work with, if so what is it and why?
I enjoy working with watercolour to build up delicate shades and layers of fine details and to manipulate white space and light which amplifies the surrounding colours.
I also really love the freedom that working with watercolour gives you – it is a technique that is not easily mastered but you learn to play with it and truly appreciate the unpredictability it brings. It allows me to have a free gesture which sometimes leads to aesthetic 'imperfections', but these possess their own unique beauty.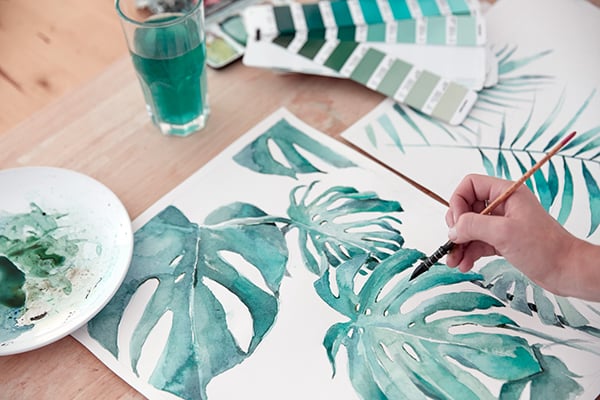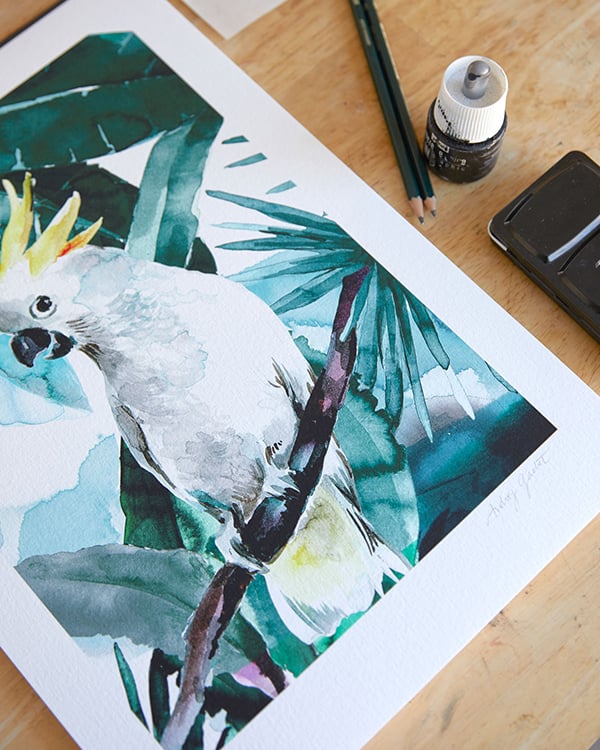 When designing a new collection or set of work what is your process and how long might you spend on this?
Gathering inspiration from a multitude of sources – be it colours, textures or shapes – always kick-starts the process. The next step is to organise my materials and plan what I would like to focus on and what I want to communicate through a collection. Then comes my favourite part of the process – I start painting. The process continues on through printing and production, with a full project taking from six months to a year, from initial inspiration to final product.
What would you say is the biggest challenge when running your own business, what is your favourite and least favourite part?
Having a business is a challenge on its own; you are constantly multitasking and working on all the facets of the business – sales, marketing, web designing, production coordination etc. Although, staying focused on what you are good at is the biggest challenge. You have to make sure you make time for what you love doing, which for me, is the creation process.
What advice would you give an aspiring textile designer in today's challenging and competitive environment? Are there any resources you would recommend or websites that you couldn't live without? 
Persistence and consistency in your work is important. That's why being passionate about what you do keeps you going. Make the things you wish someone else would make for you – I keep repeating this to myself and stepping back from my design, thinking would I love having this? If it's a yes then I will go ahead. Sometimes you get stuck with creating your own designs. But being surrounded by other creative helps as well and make sure you keep meeting new people and network.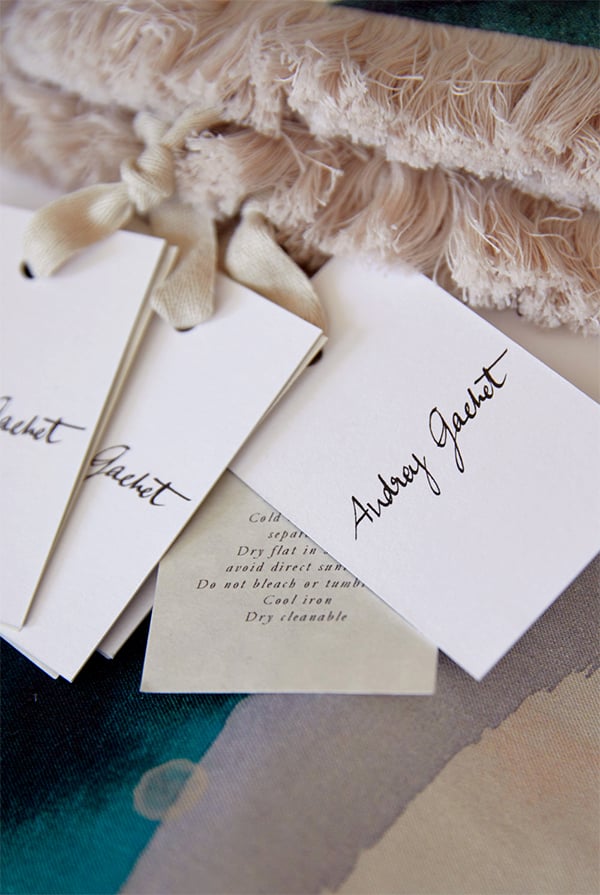 What would your dream creative project or collaboration look like? Tell us about why you would love to collaborate with them and what you find inspiring about their work.
I would love to collaborate with Anthropologie. I have been a big admirer of their colourful and textural designs and it is quite an institution for homewares and fashion lovers and designer.
What projects or collaborations from last year stuck out, good or bad and what is coming up over this year that you would like to plug!
I am currently in collaboration with the Australian clothing brand The Ark. It's an exciting project which should come to life this summer 2019!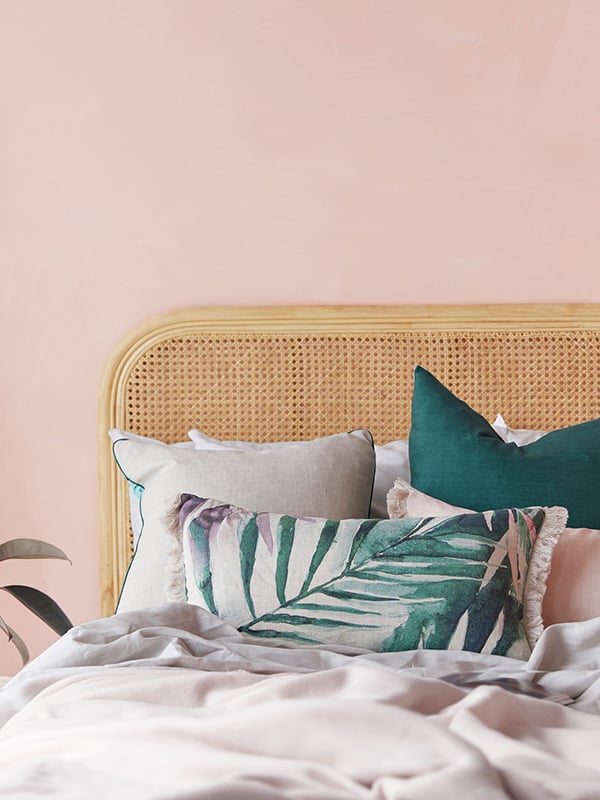 Read about what Audrey is upto: Website, Facebook, Instagram.