It's been an absolute pleasure starting off this year's series of The Designer Project with the ultra-talented designer Krystal-Anne Knafl and have adored sharing her funky and colourful textiles designs with you. Krystal has made a range of her designs available as print ready artwork in our Fabric Shop online, which can be printed onto any of our stock fabric base cloths. To provide some more insight into each of Krystal's designs, the artist herself has put together a guest blog which details her process behind creating her designs as well as what inspired the prints in her collection.
Keep reading to find out more about Krystal-Anne Knafl and her surface designs!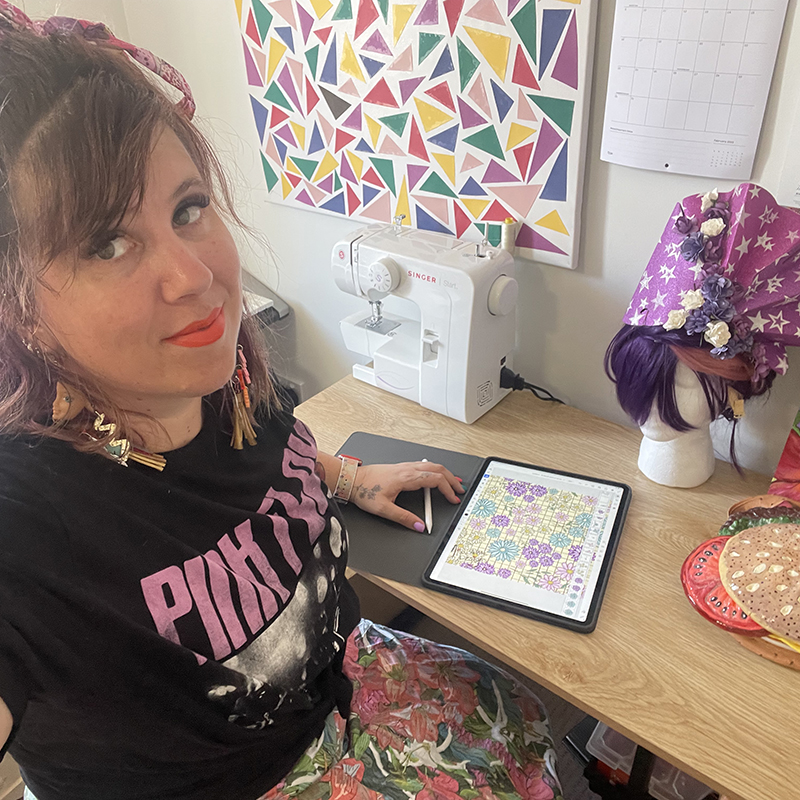 'Krystal-Anne Knafl'
Hi everyone, Krystal Knafl here from @missappledesigns. I am very excited to announce that some of my designs are now up for sale in the Digital Fabrics fabric shop! Exciting times for all of us, because you get to have some fun creating some amazing products and I get to enjoy hearing about the awesome things you make, which inspires me to design more. I'm looking forward to you all sharing some of the works you were inspired to create. When I was initially designing, I envisioned my designs on curtains, bedding, tea towels, pillows, dresses, skirts, maybe even some cheeky pencil cases and make up bags. There are some great ideas throughout the website and all over the great wide web.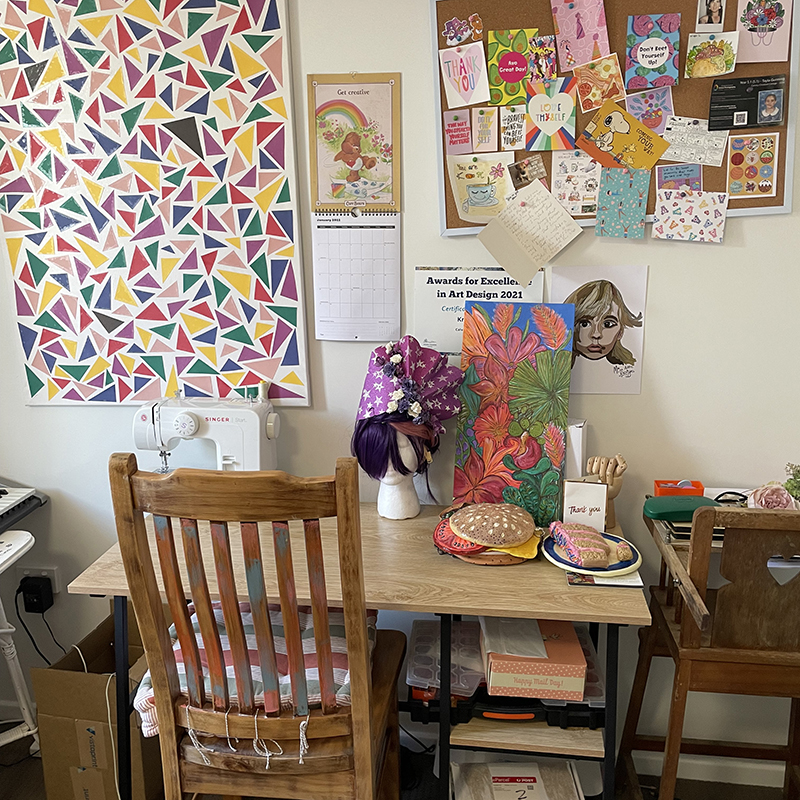 'Krystals Design Studio'
I thought it would be fun to share my inspiration and process behind my final designs including some photos of my main design space as well as stimulus images. The majority of my works are hand-drawn on my ipad pro using Adobe Fresco and an Apple pencil. I am a big fan of fun, funky and whimsy designs, but I do like to occasionally find balance through use of warm, more neutral tones.
I am a storyteller at heart and most of my works started from either an experience, feeling or observation. I have found that when an experience captures my imagination, I can put more heart into the final product.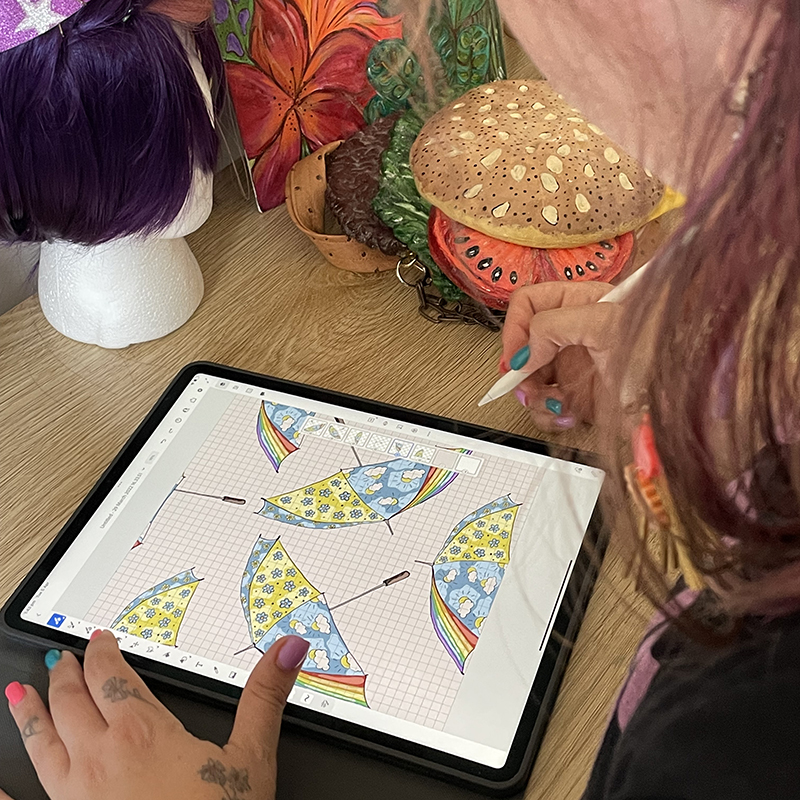 'Work in progress design'
Chickens With Hats was inspired by one of my lessons as a Secondary Teacher in 2021 when a student brought in a chicken that he had found on the way to school. This chicken became a big conversation point in the class which lead to me being inspired to explore what this chicken could look like with a hat on (much to the excitement of my students.) Sarah's Orchard Garden was inspired by my friend Sarah's growing orchard collection. I was obsessed with the colours and would get even more inspiration every time she added another one to her collection. Crazy Plant Lady was inspired by another friend of mine that developed a deep love/obsession with building a plant collection. She would share all these amazing photos of the plants like they were her own children. There were such beautiful design elements in the plants she shared which inspired me even more.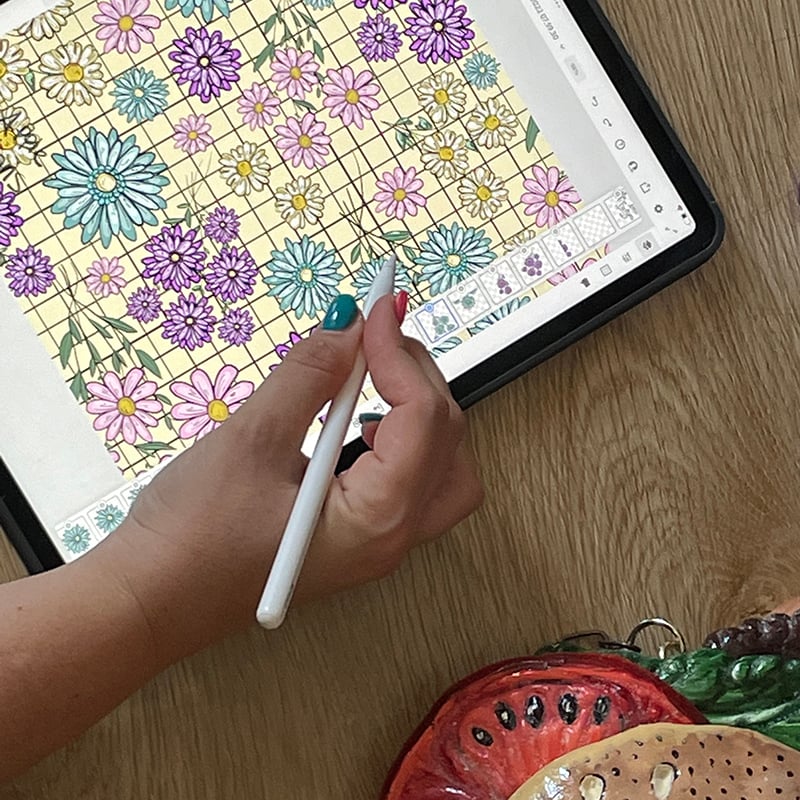 'Work in progress design'
When designing, I'll typically search for stimulus through images and particularly look at colours and lines that can work well together. From there, I'll work towards creating motifs outlines and start experimenting with different colour palettes until I find one that works. Creating motifs can take anywhere from an hour to two weeks depending on how much work and experimenting I need to do.
I do have a 'dedicated design space' but I do love designing in spaces where I can relax and stretch my legs. Three of my favourite spaces to design are my couch while listening to music, my bed on a Saturday morning after a big week of work and on occasion down The Strand where I take in some sunshine and sea breeze.
Below are some images that inspired Sarah's Orchard Garden some of the initial motifs I created before collaging them (Thank you, Sarah Risdale, for allowing me to use these beautiful images):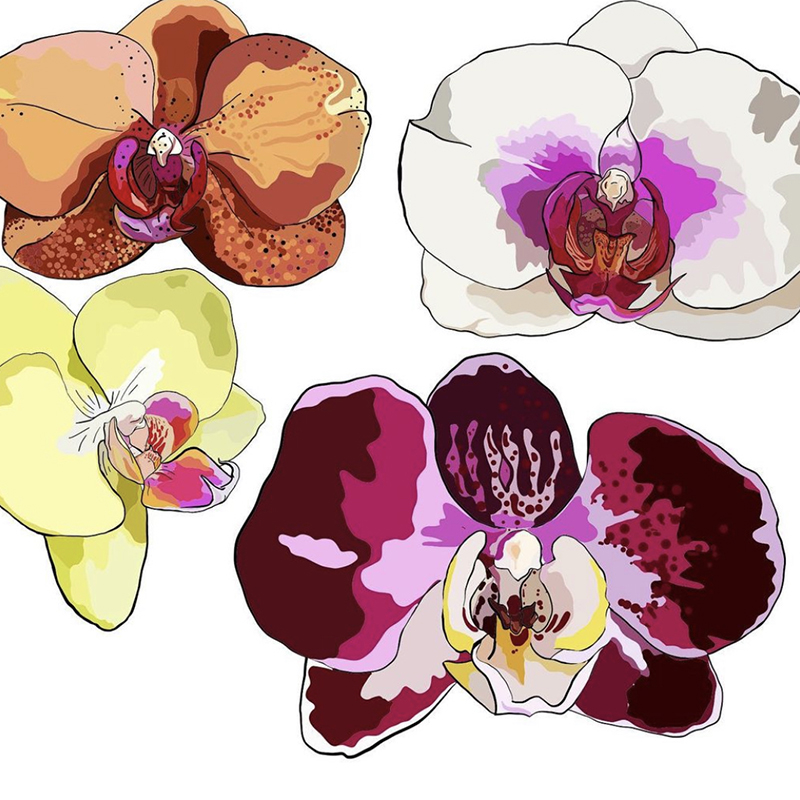 'Orchard Motifs'
Below is an example of how Sarah's Orchard Garden can be used. I found a super cute and easy baby doll dress no-pattern dress on Youtube and create this. It prints beautifully on fashion fabrics such as bamboo or fabric but would look incredible on some bedding fabrics. Get in touch with the team at Digital Fabrics about which fabric base would be suit your project.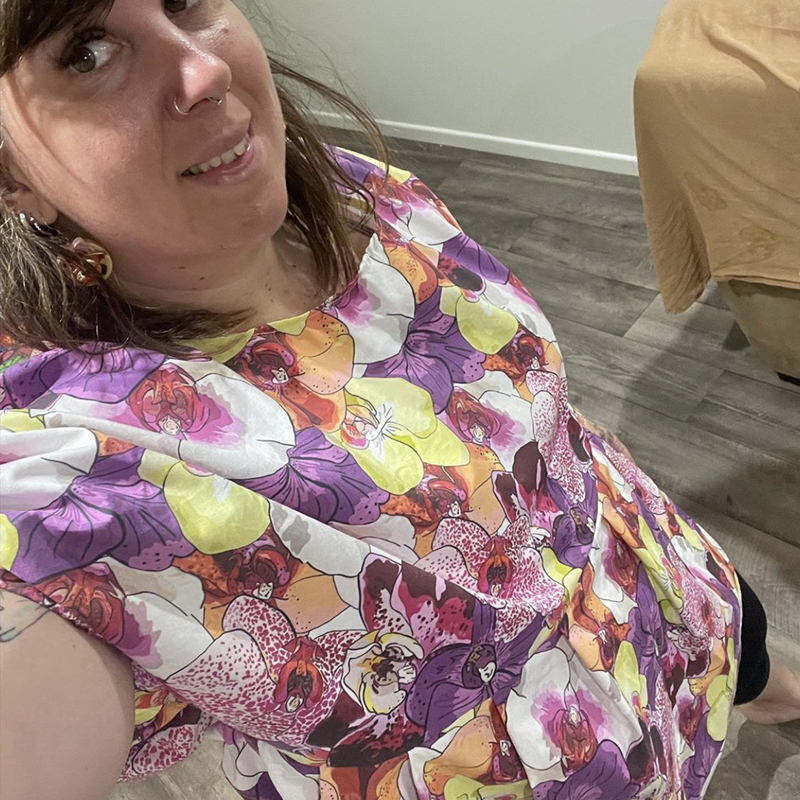 'Krystals Baby Dolly dress'
As a fan of fresh and delicious produce, I was inspired to create Summer Salad. A super cute and colourful design that brings out the natural fun and beauty of vegetables which would look amazing as a tote bag, tea towel or even some funky cushions! Or why not make a statement in the kitchen and create a fun apron. This print can also be ordered here in a wide variety of fabrics to meet your sewing needs.
Here's a cute mock up of Summer Salad as a funky cushion to get you inspired: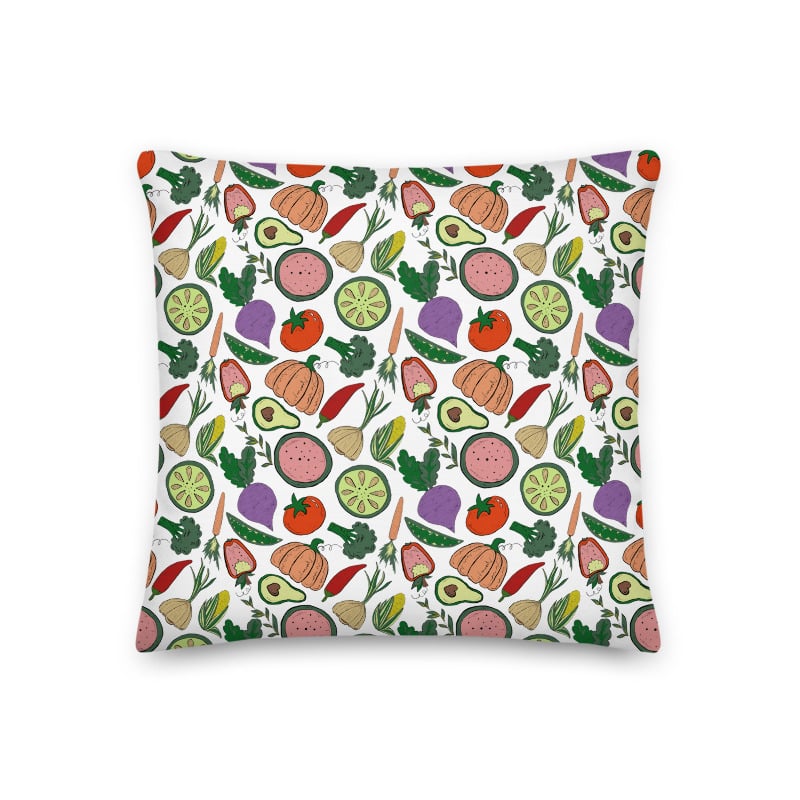 'Summer Salad Cushion Mockup'
I hope you enjoyed hearing about what inspires my designs, the process I undertake and some cool ways you can bring these all to life! You can view more of my designs in the fabric shop. The epic thing is you can choose a fabric base to suit your sewing needs, and the minimum purchase is only 1m! Don't forget too that if you're needing support to chose the right fabrics and get started, get in touch with the Digital Fabrics team and they will gladly help you out.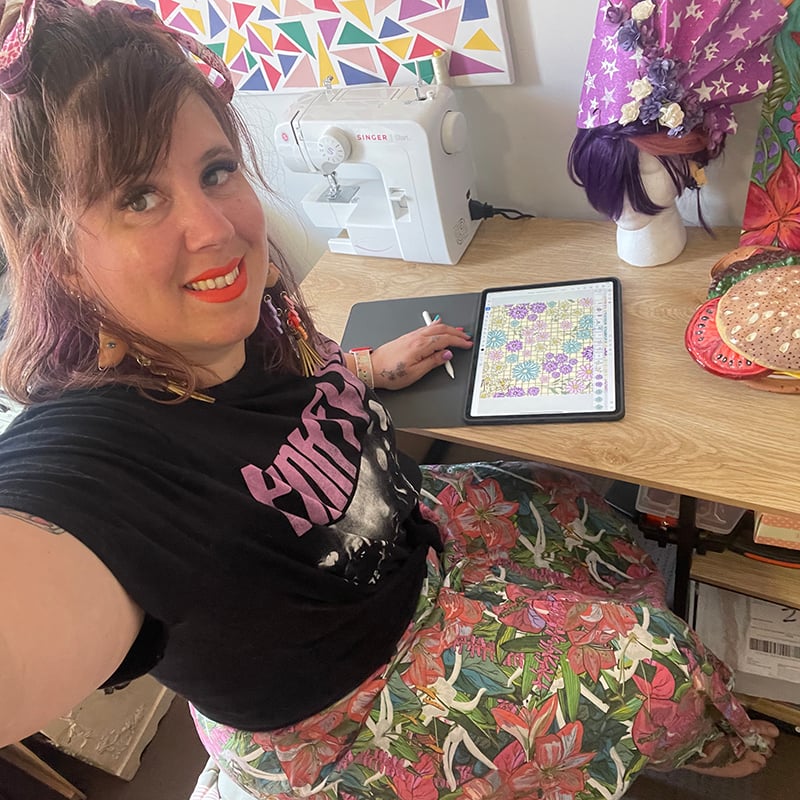 'Krystal in her studio'
Thanks for taking the time to read my blog and I hope I have inspired you to bring out some inner fun and creativity. Don't forget to tag both @missappledesigns and Digital Fabrics in any projects you undertake with these designs!
If you want more fun and colour in your world, give me a follow on Instagram or Facebook.
Lots of love and inspiration,
Krystal Knafl
If you want to collaborate with us on The Designer Project and become part of this creative club, please apply! Send us an email with your portfolio and why you would like to be part of this initiative, and we will be in touch!