It's been an absolute pleasure featuring the work of surface pattern designer Lauren Powell, and we hope you've adored her designs as much as we have! Lauren is a self-taught artist and designer who creates designs inspired by the everyday and rural living. We've felt very fortunate to have Lauren make her "Home Sweet Home" collection available in our Fabric Shop online, with each of the designs available to print onto any of our gorgeous stock fabrics. To coincide with Lauren sharing her delightful range, the designer has also written a guest blog which we've showcased below! The blog invites you into Lauren's background, inspirations and creative methods. The blog also includes some fantastic snaps showing Lauren's home life, process and printed designs. Keep reading to find out more about Lauren Powell and her charming designs!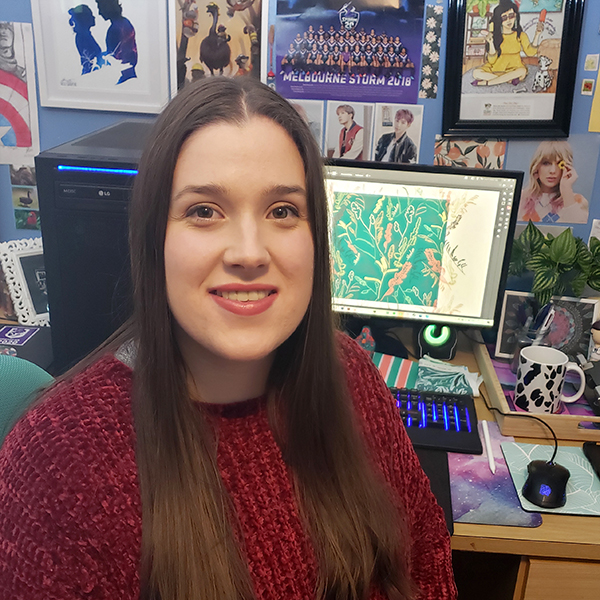 Lauren Powell
Hi Everyone! I'm Lauren Powell from LozzieElizaDesigns based in the beautiful Southern Highlands, NSW, surrounded by stunning rural bushland and heritage towns. I am overjoyed to be a part of The Designer Project by Digital Fabrics.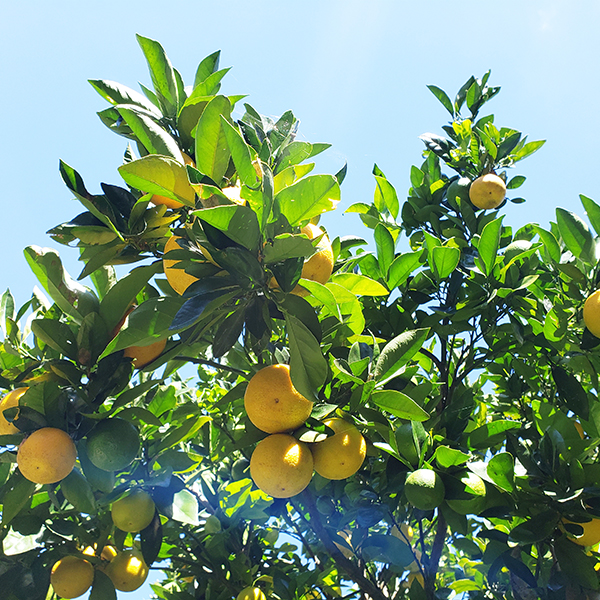 Lauren's orange tree
My collection "Home Sweet Home" is inspired by life on a semi-rural property, where I have lived since I was little. At a young age, I was often covered with paint, outside in the garden planting flowers with my family or around all of my animals including my chooks, horses and dogs.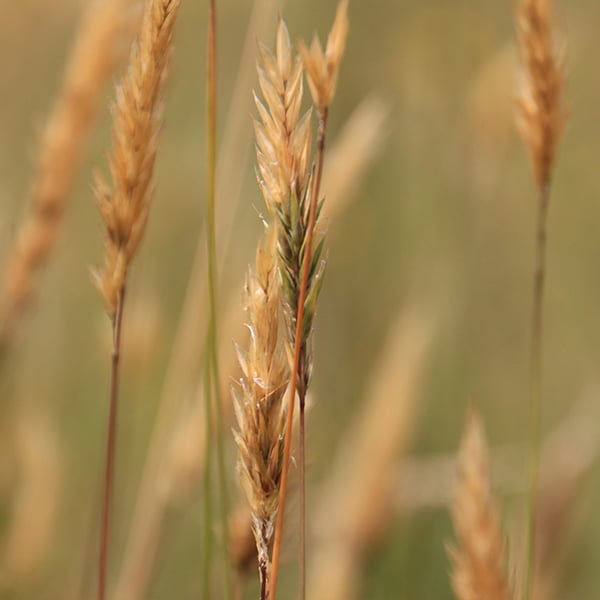 Wild grass in the Southern Highlands, NSW
Some of my patterns start as a simple drawing in an art book, painted artworks or can even be parts taken from my photography. I love to scan parts that I bring into Illustrator to vectorize and I love to draw parts on my iPad Pro in either Procreate, Affinity Designer or Adobe Draw.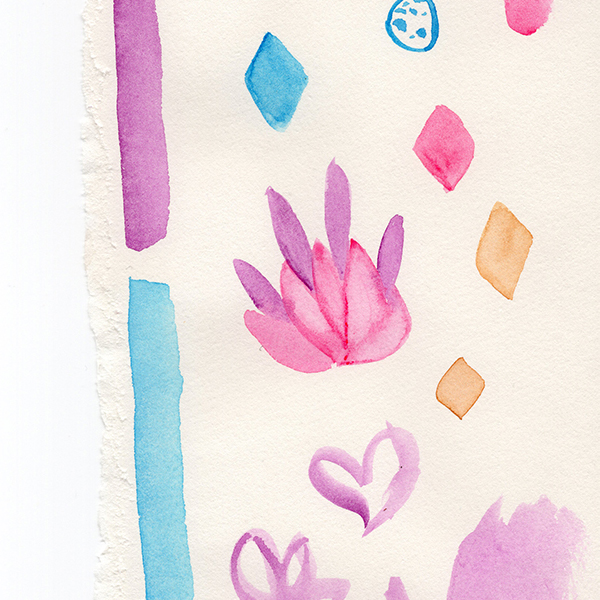 Watercolour sketch used for Lauren's "Painted Tartan" design
In my studio I love to display all of my interests in my workspace. A range of bright colours in the objects around me from the lights in my gaming computer, inspiration by other artists who I look up to and even past artworks that I have created over the years.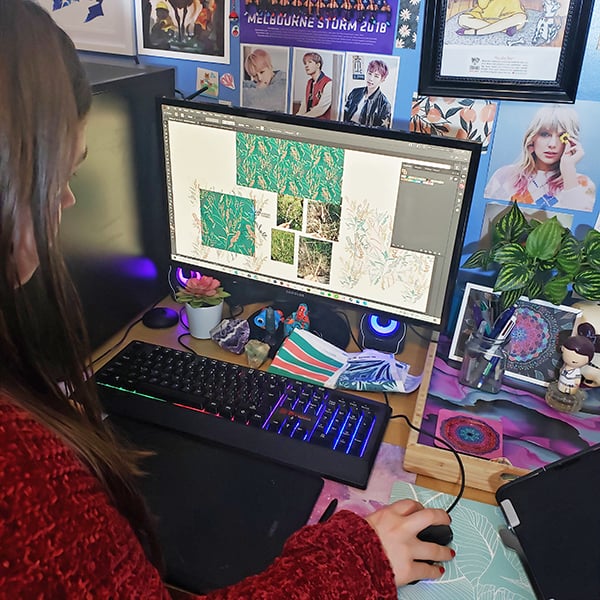 Lauren working on her "Wild Grasses" design at her home studio
My pattern "Folksy Floral" is created in honour of my grandmother who was a big part of my life growing up, shaping my love of a range of crafts. She created beautiful folk art when I was young and I wanted to give her most loved style of art a modern feel via a pattern. She also loved to sew clothes, so it was fitting to feature her art as a part of my collection.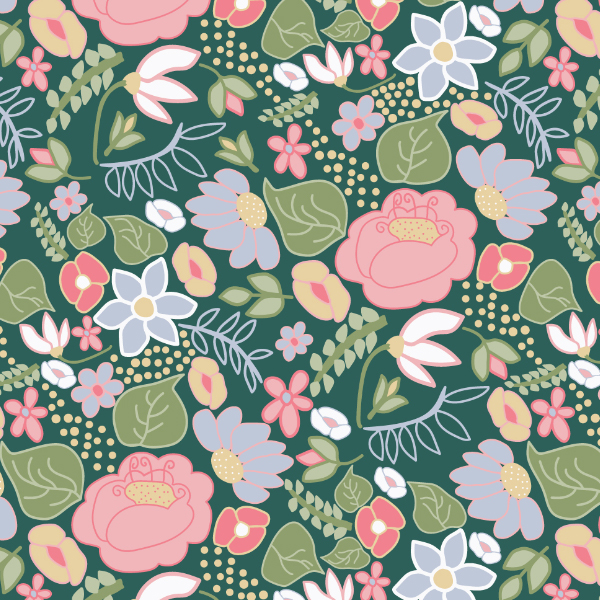 "Folksy Floral"
My style of design is influenced by all the stunning wilderness around me. From our grown native flowers around our 5 acre property to all the changes of the seasons. I have a love of trying new ways to create my art. One of my favourite mediums on my iPad Pro is gouache brushes by a fellow Australian artist and I can't wait to explore more of this medium traditionally for future designs.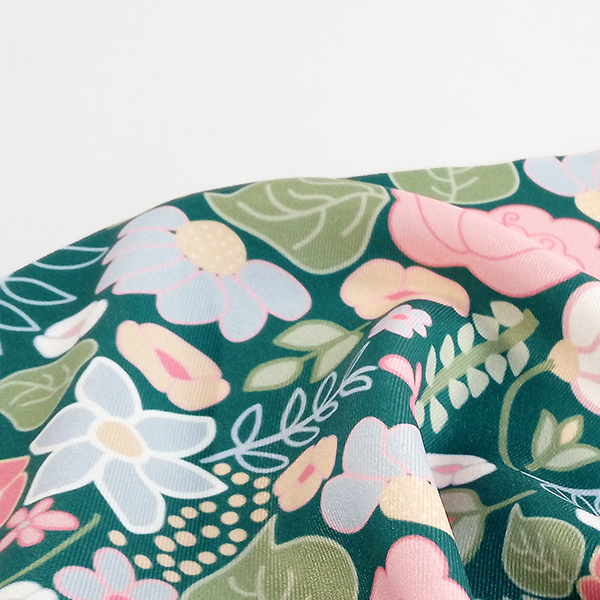 "Folksy Floral" printed onto our London fabric
I can't wait to see what beautiful projects you create with my collection! If you want to show me what you are making you can find me on Instagram @lozzieelizadesigns!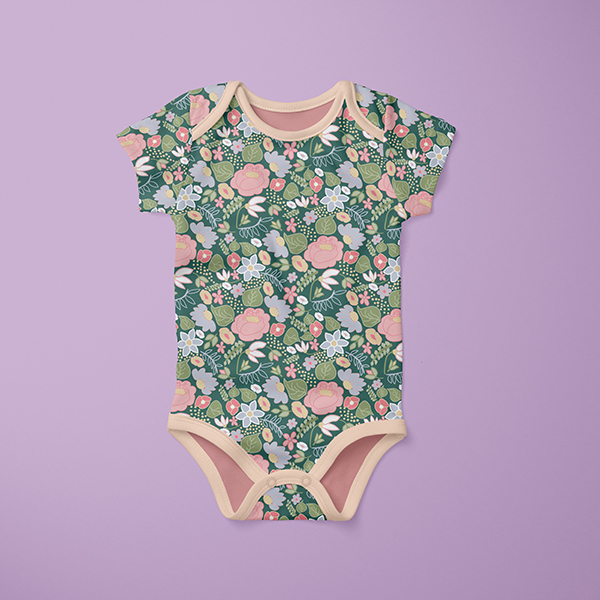 "Folksy Floral" baby onesie mock-up
If you want to collaborate with us on The Designer Project and become part of this creative club, please apply! Send us an email with your portfolio and why you would like to be part of this initiative, and we will be in touch!