We've absolutely adored sharing Shelley Lee Steere's designs with you all and hope you're all enjoying this instalment of The Designer Project! Shelley is a primary school teacher turned surface pattern extraordinaire who provides gorgeous designs through her studio label Motif Manor. The designer's "Australian Flora" collection has been made available in our Fabric Shop and features a stunning range of designs inspired by native flowers. The designs each stand on their own or also work beautifully when used together. What's more is we've been so very fortunate to have the artist herself put together a guest blog which is shared below! Keep reading to find out more about Shelley's work, inspirations and typical creative process!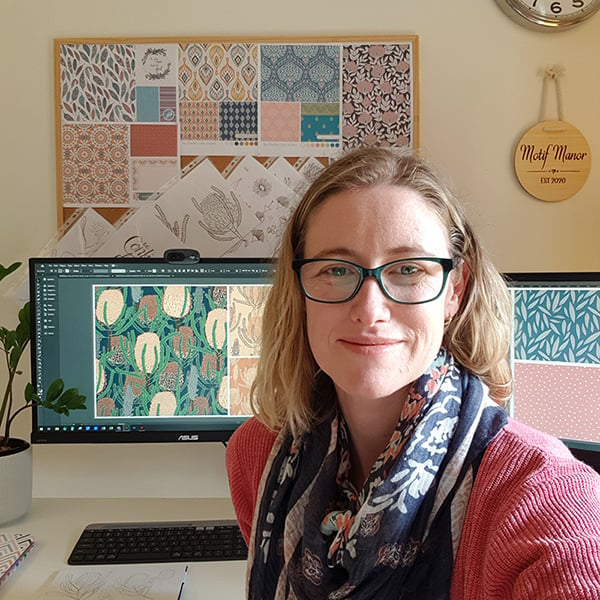 Shelley Lee Steere
Hello!
Hi, my name is Shelley and I am owner and designer behind Motif Manor, where I share my passion for colour and pattern. I love creating patterns and designs to adorn textiles and products that bring added joy to a person's day. I am so excited to be working with the fabulous humans at Digital Fabrics through The Designer Project, and to share my "Australian Flora" design collection with you.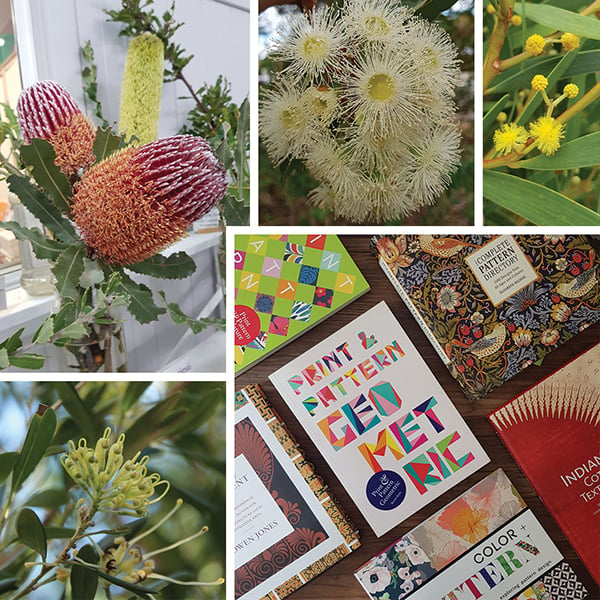 Some of Shelley's current sources of inspiration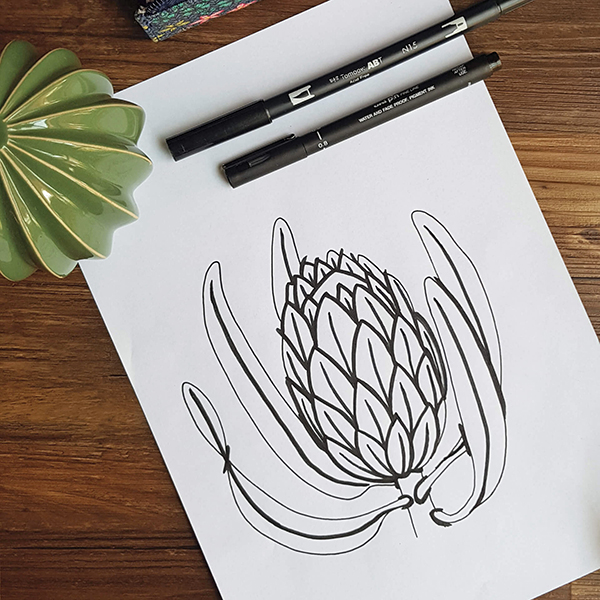 Marker illustration
About Me
I have a deep love of learning and surface design. In fact, creating patterns was something I even did as a child where I developed an eye for detail. My professional life began as a primary school teacher before focusing on my family, made up of an amazing husband and three fabulous children – including twins! Imagine my delight, years later when I discovered I could design patterns for a job!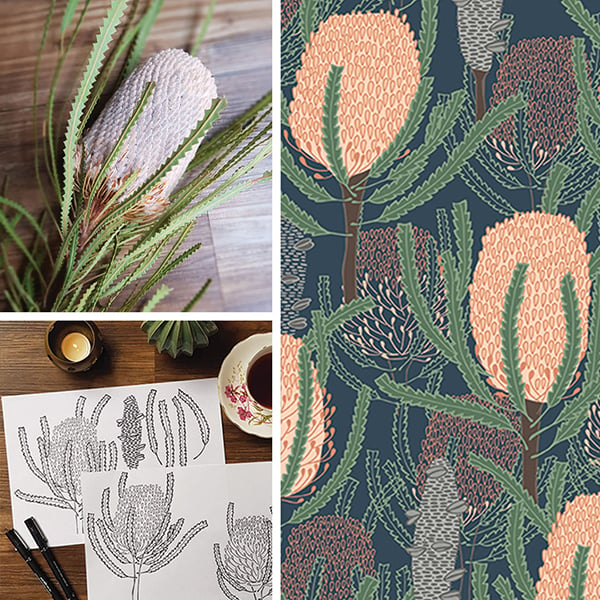 The "Banksia" design coming together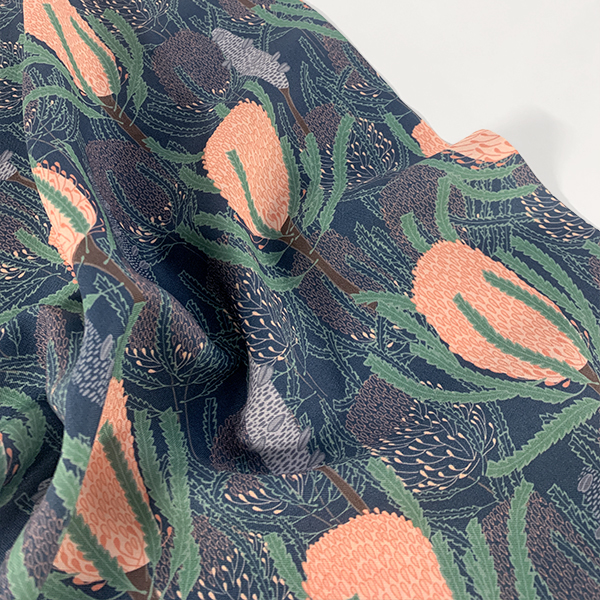 "Banksia"
My Work 
My work has been described as detailed and intricate.  I am inspired by nature, cultures from around the world and the Arts and Crafts Movement.
My current focus for design (or should I say obsession) is the amazing native flora we have right here in Australia. My process starts with collecting inspiration from books and my own photos. All of my work begins as hand drawn motifs using just the humble pen and paper. I like to capture the shapes and details in my line work before sitting down at my computer.
The wonders of digital technology allow me to take these black and white drawings and transform them into colourful, layered patterns and placement prints. The joy I feel at seeing a pattern come together lights me up.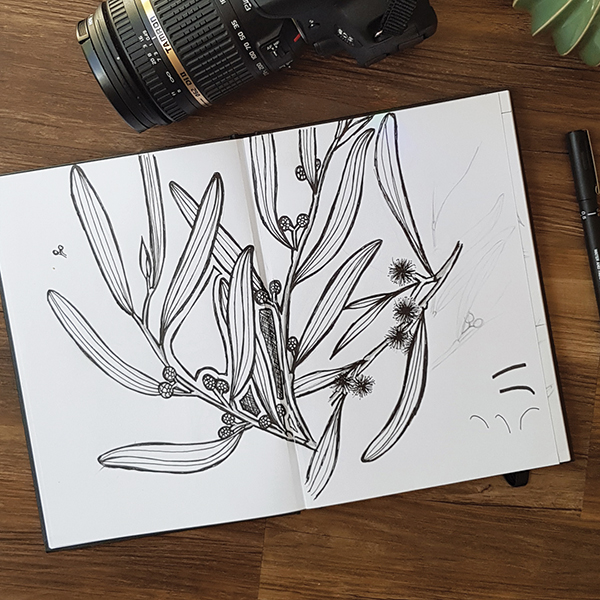 Marker illustration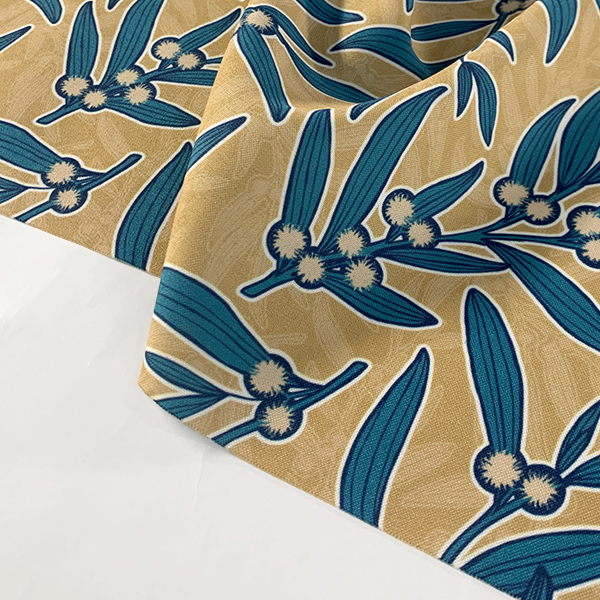 "Golden Wattle"
Why Surface Pattern Design?
There is something special about designing that fulfils my need to be creative. I love the challenge of making perfectly seamless tiles and the possibilities of what they can used for. I believe that everyone deserves to have nice things and that beautiful surface design can bring us back to the present moment.
Thanks so much for taking the time to learn a bit more about me and my work. I can't wait to see what you clever people create with my designs!
Head to Motif Manor and Instagram to check out more of Shelley's amazing work.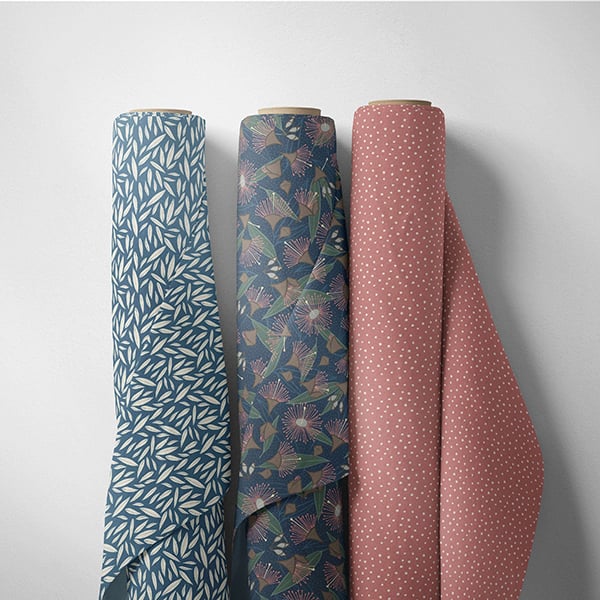 If you want to collaborate with us on The Designer Project and become part of this creative club, please apply! Send us an email with your portfolio and why you would like to be part of this initiative, and we will be in touch!