Snippets'. Chats with Creatives. We are back with series two! Here at Digital Fabrics we love everything print, pattern and colour and we love to know what makes designers tick. This second series is all about asking some fun and different questions and learning about the inspirations and ideas behind the artist and their work. We hope to inspire others by sharing snippets of these creative stories. We gave the artists and designers featured a varied and different set from series one list of questions to choose from so we will learn something new from everyone involved, should be fun!

Today on Snippets we are talking to Katelyn Tso, the textile designer behind Indigo Thread, a beautiful brand creating homewares, accessories and clothing as part of the slow fashion movement.
Tell us a bit about yourself, your brand/label name what your creative practice is, how and when you began:
I'm Katelyn, the designer and maker behind Indigo Thread. I've always loved design. All through high school I would make my own clothes, screen printing, sewing and adjusting op shop finds. After school I started studying Interior Design, however after the first year I realised that interior design wasn't for me, rather I loved designing individual textile products. It wasn't until I became a mum that I found the time to sew again and I started Indigo Thread. I'm now a self-taught textile designer, making accessories, homewares and a clothing range coming soon.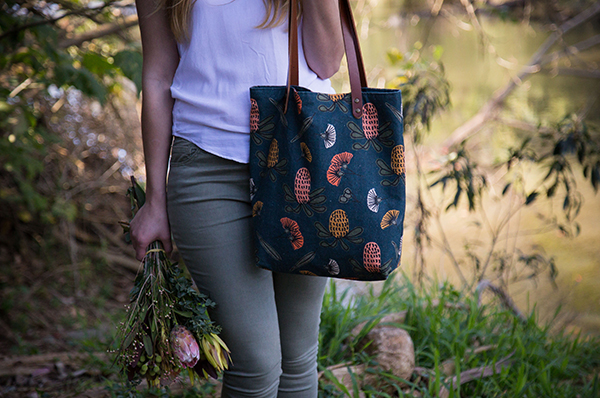 Where do you call home?
I currently live in Sydney but I grew up on The Central Coast of NSW and it still feels like home to me.
What 3 words best describe your creative style.
Simple Shapes – Fun Prints (sorry that's more than 3 words)
Which part of the creative process is your favourite and why?
Seeing the finished product come together for the first time. Sometimes I skip ahead, not completing the steps in the most effective order because I'm so excited to see the finished product.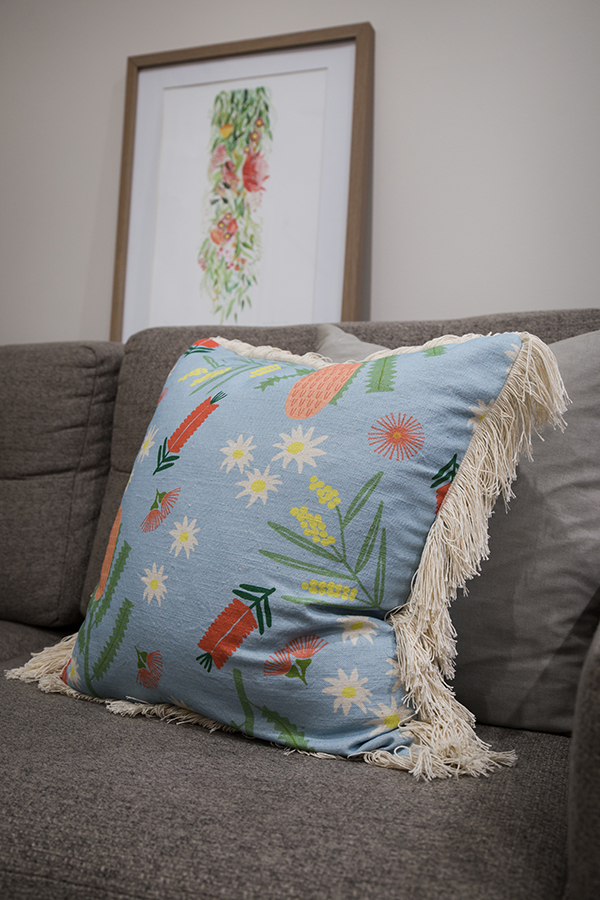 How would you describe your work, and what influences your style?
Simple designs and shapes with stylised and fun floral prints inspired by Australian native flowers. My desire for practical yet attractive products fuels my designs.
What does a typical creative day look like for you? How do you stay on plan and organised? 
Being a work from home/stay at home mum means that it can be a bit all over the place and my work is very disrupted. I have a little more time now that my eldest has started preschool 3 days a week but I still have to fit work into small time slots throughout the day. I stay organised by writing lists. Daily, weekly and monthly to-do-lists help me keep focused.
Depending on the time of year and if I have a market to prep for, I could be just sewing sewing sewing. Whereas other quieter times I get a chance to design some new products and fabrics, so it varies a lot.
Tell us about your creative space, what are your tips for keeping a creative studio space organised.
My studio isn't really a studio. It's a big desk in the living room of my 2 bedroom apartment. My husband hates that I take up so much space in our home, especially when I take over the dining table as well (it's the perfect place for screen printing and cutting out fabric). I would love to have a studio one day, or at least a separate room that I can shut the door on the mess but for now it's working for me. I don't mind a little bit of creative clutter but I do regularly have to re-organise so that I have the space to work and I always feel like I can work better with a clean workspace. The best tip I have is get a good storage system. I have these amazing deep drawers in my work desk (custom built by my dad out of an old pallet) that store all my sewing bits and pieces as well as a cupboard full of fabric.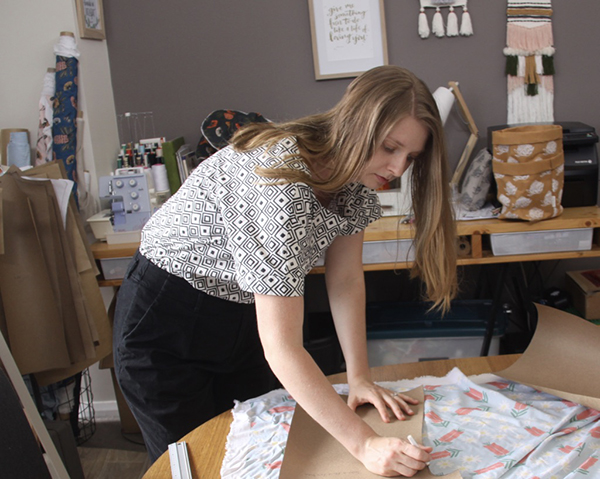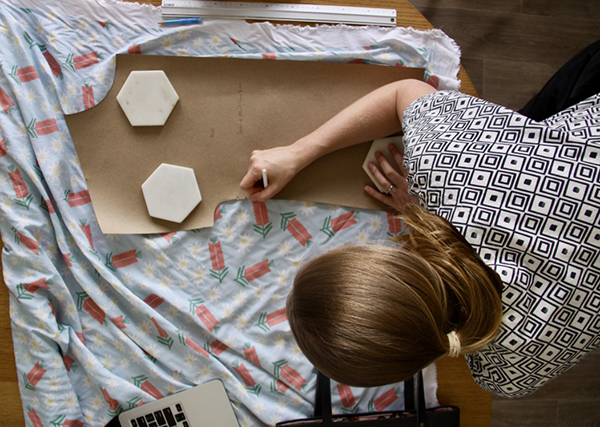 What/who inspired you to take the leap in to your creative venture, how did you get started?
I just started Indigo Thread as a hobby while I was on maternity leave and I think that made it not feel like a leap, it just kind of happened naturally. I didn't have the pressure to make money from it straight away which was nice and I think I've enjoyed the process more because of it.
Tell us about how you get your creative juices flowing, what is your process?
I am inspired constantly by the beautiful world around me. By colours, shapes and nature. I'm often taking photos of flowers or colour combinations to reference later as well as looking at clothing styles and figuring out how they were made.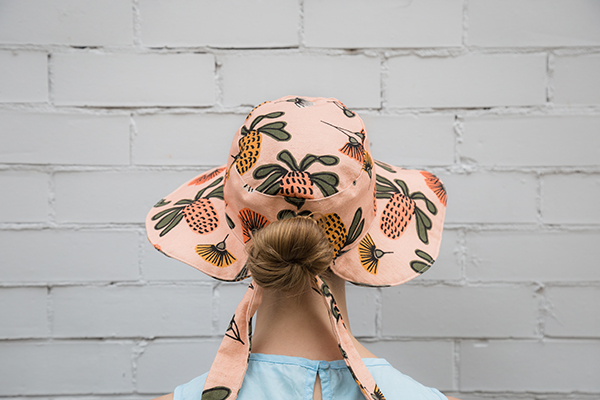 What projects or collaborations from last year stuck out, good or bad and what is coming up this year that you would like to plug!
I loved working with my bestie, Nicole from Better Together Paper, on a collaboration of Prezzie Sacks last year. We love a chance to catch up and be creative together.
This year I'm so excited to be launching a range of women's tops. I'm currently still in the design phase but they will be released in the next month or so. Think simple boxy tops in my Australian botanical fabrics.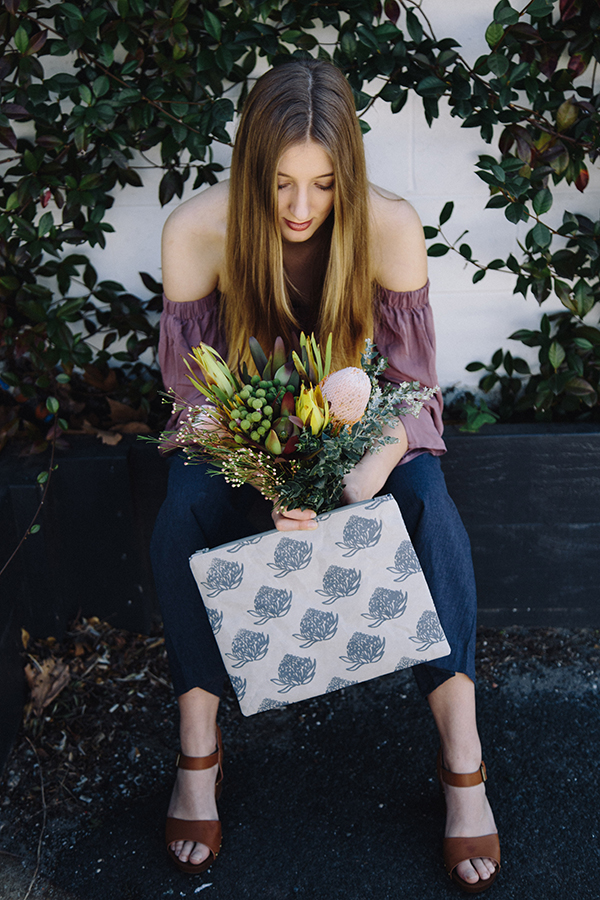 You can follow what Katelyn is upto: Website, Instagram, Facebook.