Snippets'. Chats with Creatives. We are back with series two! Here at Digital Fabrics we love everything print, pattern and colour and we love to know what makes designers tick. This second series is all about asking some fun and different questions and learning about the inspirations and ideas behind the artist and their work. We hope to inspire others by sharing snippets of these creative stories. We gave the artists and designers featured a varied and different set from series one list of questions to choose from so we will learn something new from everyone involved, should be fun!
Today on Snippets we are talking to Kate Blairstone, a US based artist, illustrator and designer who's work can be seen across textiles, wallpaper and art prints with a unique and nostalgic botanical theme running throughout.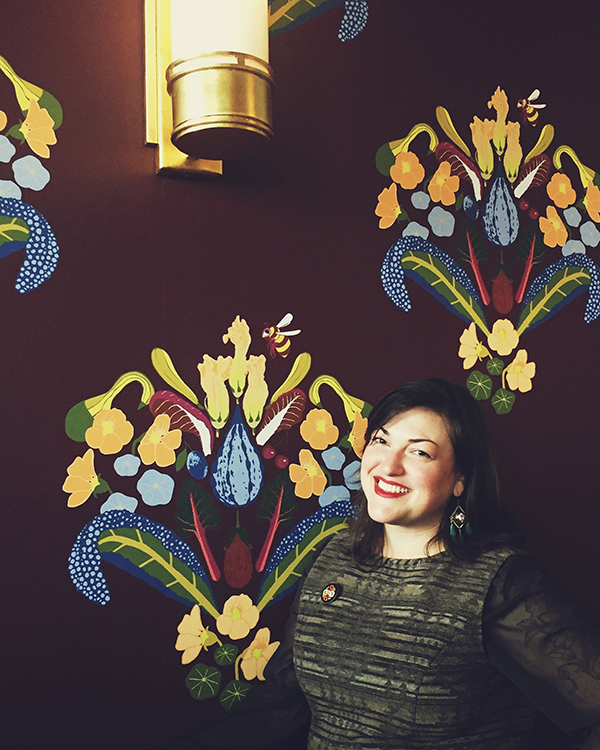 Tell us a bit about yourself, your brand/label name what your creative practice is, how and when you began:
I design custom wallpaper and draw lots of stuff (mostly plants) under my own name. My formal education is in Printmaking – I build up images in layers, sometimes using ink on tissue, sometimes digitally. My business launched officially in the Fall of 2016.
I worked behind the scenes in restaurants for years before going full freelance. In that time I accumulated every possible creative hobby (leatherworking, beadwork, gardening) before figuring out that I could combine all those things into surface design and illustration. The restaurant where I worked always needed design help, so I resurrected my art degree to maintain their menu and website. Eventually when we opened a new location, the owner gave me the opportunity to help design the space, including a huge focal wallpaper.
Where do you call home?
I live in the St. Johns neighborhood of Portland, Oregon with my husband and 15 month old son.
What 3 words best describe your creative style?
Lush, Loud, Adventurous.
Which part of the creative process is your favourite and why?
I enjoy combing the visual world for inspiration, building color palettes, finding unexpected ways to communicate with color. Taking time to draw from life, getting into a meditative headspace and using my pencil to observe how a thing is structured. Mark making, especially with brushes and black india ink, where color isn't a consideration at all, and I can just focus on the shape my brush makes. Twist my arm, and I might say my absolute favorite part is coloring my images, when I've been through all these other steps and the pieces finally come together.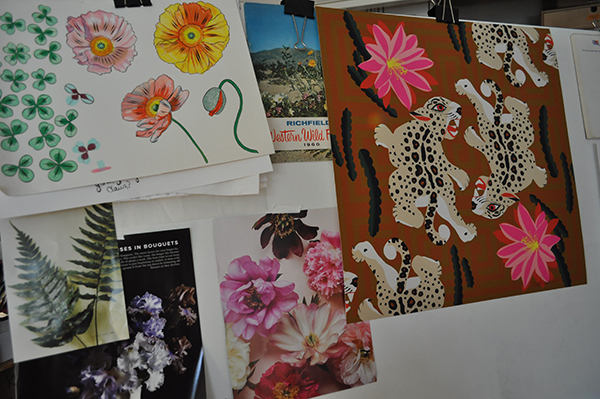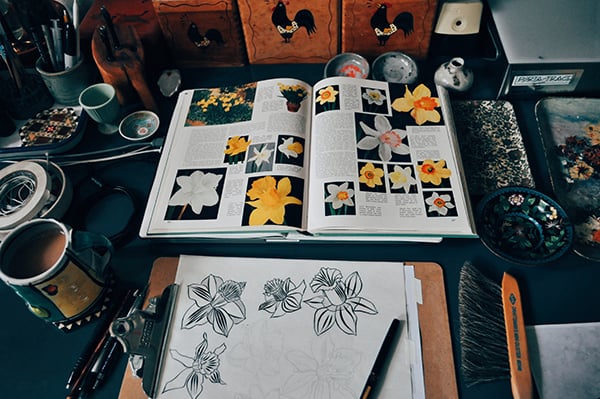 How would you describe your work, and what influences your style?
I think of what I do like looking at the world through tinted glasses, or at a photograph that's yellowed as it's aged. The color of light has a wonderful way of evoking memory and a sense of time and place; it's a distorted reality. My palettes are designed to enhance this feeling. I spend lots of time looking at plants and working in my garden, and when I travel I pay particular attention to how the plants I grow are contextualized differently in other places, through both landscape and surface design traditions. It helps me to see things anew. I'm delighted by the cycles of my garden, of food and of fashion – I especially love when an iconic style can be seen through the lens of another era or culture and across media, like 70s Victorian Revival, or Art Deco Architecture via Latin America, or 60s MOD as seen through Italian Horror. My husband is a comic book artist: we are always playing with mashups to describe our work and find new inspiration.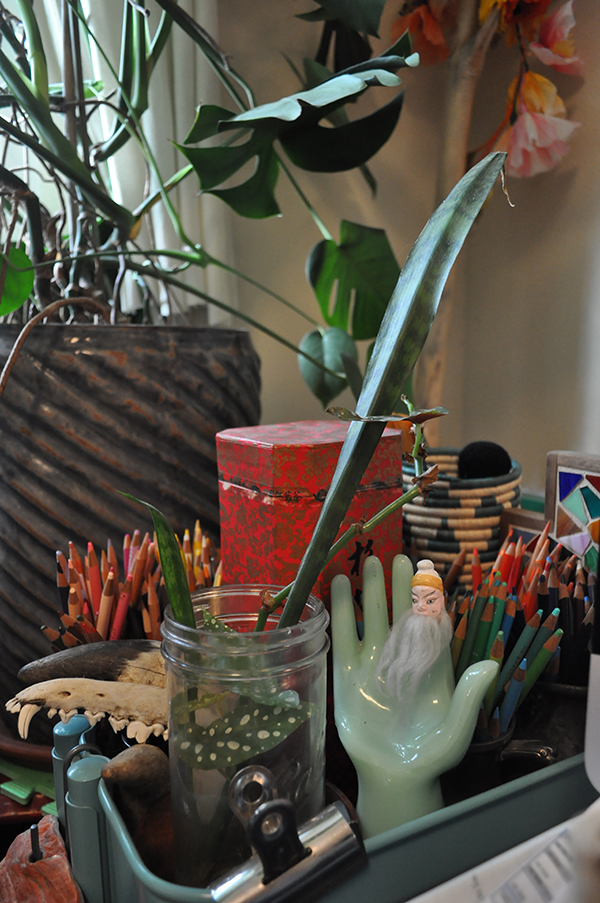 If you could go back and tell yourself one hot tip or piece of advice when you started out what would it be?
Though I've always been creative and went to art school, it took me a long time – too long, maybe – to really own it. And it took me a long time to find a medium that really took hold of me the way that illustration has. Looking back, I can say confidently that everything I dabbled in has its place in my creative heart, and made my work what it is now. But I wish that I hadn't been so scared to call myself Artist, to give myself to making things with my whole being. For years I thought I needed some kind of credential; the only thing that mattered ultimately was the permission I gave myself. An Artist is a person who makes art, and that's what I do. If this resonates for you, go read Elizabeth Gilbert's "Big Magic." Living a creative life is what it's all about, y'all. Also a reminder to myself, always: doing your life's work is a long game, give yourself the time and make the commitment to get there.
What has been your proudest creative business achievement to date?
It gives me great pride to have built my portfolio to a point where my clients recognize my style, see what I can do for them and – for the most part – give me the freedom to do it. As a commercial artist there is sometimes enormous pressure to conform in order to get enough paid work to make it. It is such a privilege to have this kind of trust, and an absolute joy to deliver on it. Also I hired an accountant this year, which felt like such a big girl move, I literally teared up in the parking lot after our first meeting.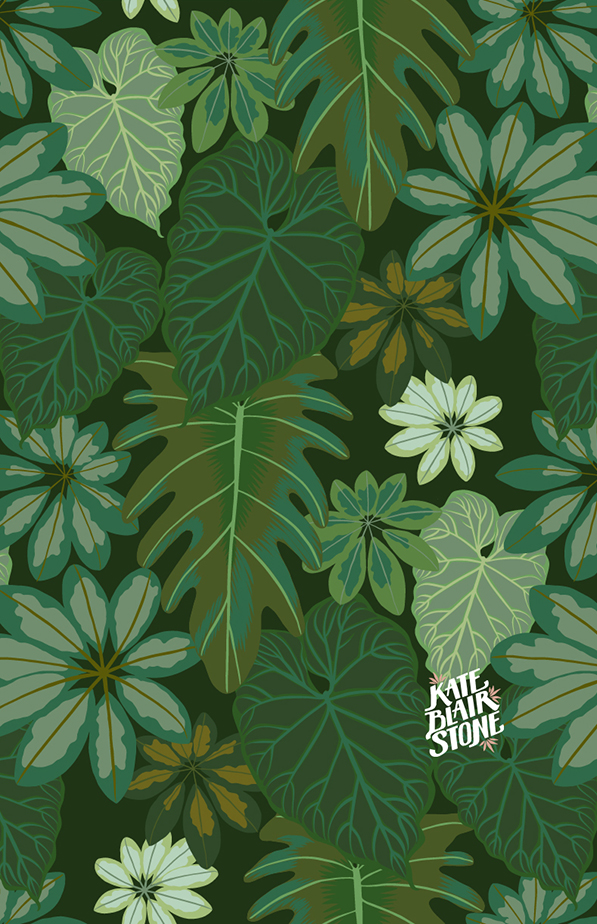 Which other artists/ designers/ makers, artists or creative people are you enjoying at the moment?
Right now I'm inspired by Petra Borner, Andy Dixon, Tyler Keeton Robbins, Michelle Morin, Sonia Pulido, Marisol Ortega, Anisa Makhoul, and Gucci Gucci Gucci. All great follows.
What would your dream creative project look like? Who or what is your dream project, client or job? Tell us about why you would love to collaborate with them and what you find inspiring about their work.
For me, great projects involve trust, the opportunity to solve good problems, research and analysis, collaboration, strategy and beauty. I've been lucky enough be a part of a few such projects in my career; those experiences have shaped the way I find meaning in what I do, and defined the kind of work I'm looking for going forward. I love to participate in translating feelings visually – I get really excited about differentiating brands. There are so many small-scale production methods available to us now, why use the same stuff when we can be fantastically different?
My dream clients are great collaborators, passionate about what they do, confident in communicating their vision, and hire the right people for the right job. The beauty of seeing my work this way is that there are lots of dream clients to be had out there, but if Gucci wanted to hire me I might literally throw myself at Alessandro Michele's feet.