Snippets. Chats with Creatives.
Here at Digital Fabrics we love everything print, pattern and colour and we love to know what makes print designers tick.
This series we are focusing on textile designers as our creatives to get into the nitty gritty of the thing we love the most, textiles and surface design! We have asked a different set of questions relative to this and as always we hope to inspire others by sharing snippets of these creative stories.
Today we are chatting to Crystal Kruger from Sydney based Textile studio 'Skye St Studio' who offer a range of services such as textile design, colour matching, pattern grading and mood board creation. They have a range of fun, bright and often hand painted prints that you can license or buy exclusively for all sorts of projects and needs as well as offering custom illustrations and design work.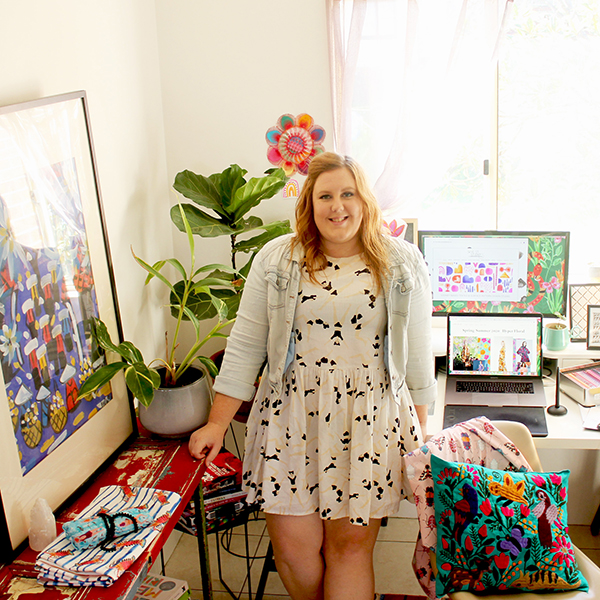 Tell us a bit about yourself, your brand/label name what your creative practice is, how and when you began:
My name is Crystal Kruger and I am the designer behind Skye St. Studio. I am a textile and surface pattern designer and also a design educator. My career began straight out of school, studying fashion and textile design and technology education at the Whitehouse Institute of Design in Sydney. I have spent the last decade both teaching textiles and design subjects to students, as well as starting my own business as a textile designer. For me it has always been textiles or fashion in some form or another that fill my heart and fuel my inspiration. It took me a bit longer to realise the textile design was the right fit.
Where do you call home and what is your favourite thing about where you live?
I live in Sydney, Australia which is such an exciting, vibrant and inspiring place to be. Everything is fast paced but there is a wonderful balance between the urban and natural landscapes. I love being able to explore the ocean, the rivers and the mountains which surround Sydney but then also experience the wonderful, eclectic mix of cultures (and foods!) that inhabit this place. Culture, travel and nature are some of my biggest inspirations.
What 3 words best describe your creative style.
Colourful, painterly and fun! Trend-driven designs with soul.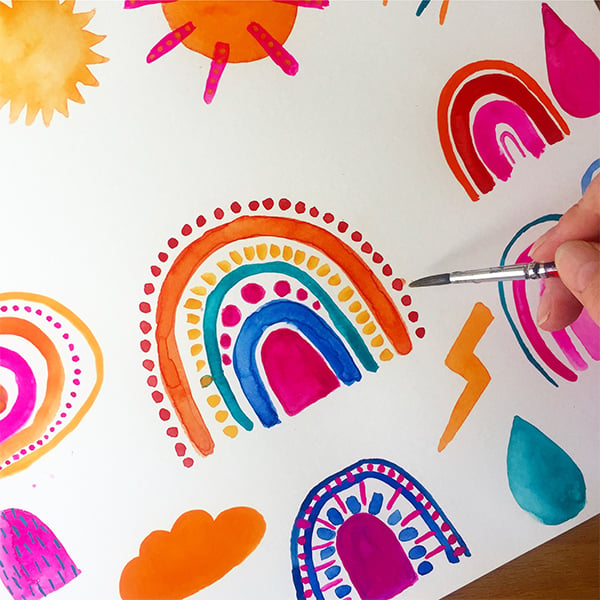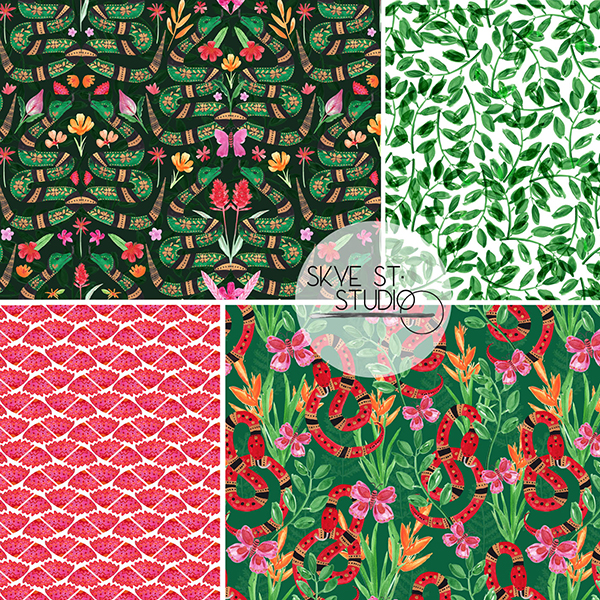 Tell us a bit about what kind of studio, space or practice you run? Do you sell online or license your prints, do you do commissions or lots of freelance and what do you like doing the most?

Skye St. Studio is a very flexible design studio. Because it is so small I can be agile and accommodating to the needs of different clients. I sell the copyright to textile and surface pattern designs outright, as well as licensing prints through the catalogue on my website. At Skye St. Studio, I often work with local makers and other small businesses, but also larger companies and I love the variety that comes from working with different creative businesses. I do commission based pattern design and have worked with clients to design a range of other products including logos, tote bags layouts, soft toys and bespoke wall art for giftware. Skye St. Studio offers freelance design services as well and I would love to build that side of my business further. I also have an exclusive collection of designs available through Pattern Observer Studio. These are shown at trade shows such as Premiere Vision and Surtex but are also available for viewing at any time through Pattern Observer.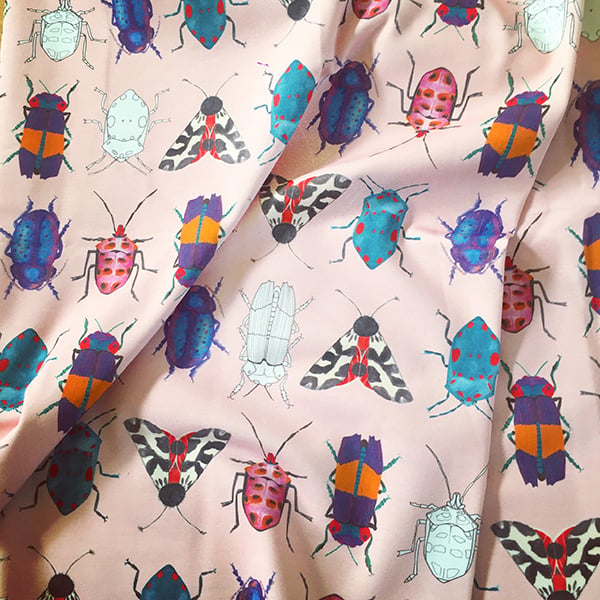 Do you have a favourite medium and/or method to work with, if so what is it and why?
My favourite way to design Skye St. Studio prints is to paint. I love to put some music on, something like The National and let the creativity flow. Sometimes I will just paint freehand, other times I will sketch first. I love to use gouache paints mostly, but also ink and watercolours. Not all Skye St. Studio prints are painted, but all are hand-illustrated before they are digitised. Colour is quite intuitive for me and so I tend to pick my palette right at the start of a project. I usually work with inspiration images in front of me, such as a Pinterest board I have created, a mood board I put together, or reference images from a client brief. I love the subtle variations of colour and texture that paint allows me to capture in my prints. I really feel this adds life and soul to my prints.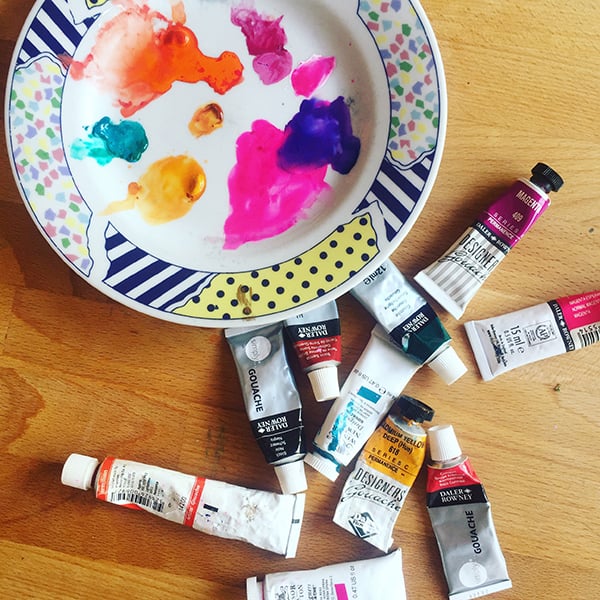 Which part of the creative process is your favourite and why?
Well, I love all of the creative process! But I must say, there is nothing like getting your hands on a new design brief or a new idea. I love that inspiration and idea development phase, putting together a mood board and sourcing amazing imagery. In that moment I love the sense of purpose, drive and that excited feeling in my stomach. I love the potential of that stage and the intuitiveness of being inspired. I feel that this is a real strength of mine as a designer, I am very good at synthesising the mood of a brief and bringing ideas together.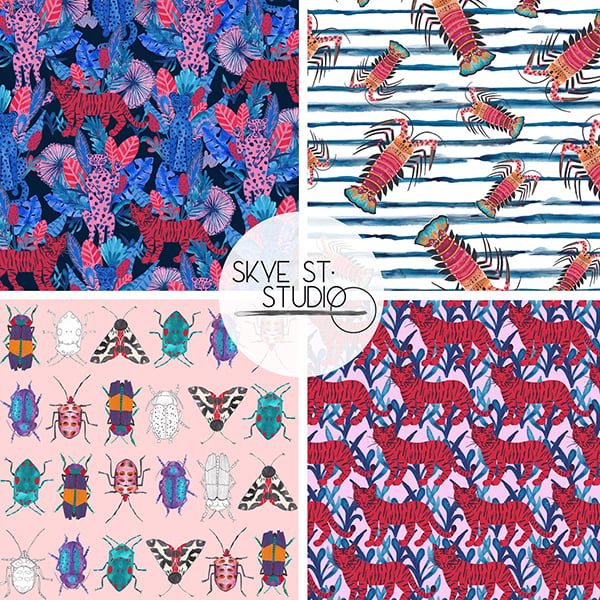 What would you say is the biggest challenge when running your own business, what is your favourite and least favourite part?
The biggest challenge is the potential for isolation. As a designer we can get some absorbed in our thoughts and be in our heads too much. But also as a small business, it is easy to forget that other designers just like us are struggling with the same business challenges. It is really important to try and build a network of people that you can chat with and share your journey with. Often you are working from home or in a studio on your own and it can be a bit lonely at times. I love having someone else around to just ask, 'what do you think of this?' Otherwise it is so easy to overthink things! Finding the right clients can sometimes be a challenge as well, being a small business.
The best part is the creative freedom and the satisfaction I get from fulfilling my creative goals. When you have a win, it is amazing! I love it when a client gives me great feedback and I see them getting excited like I am about a print I am working on. That validation is amazing as a designer. It is wonderful working for myself, because I can choose what and who I want to work with as well. After the restrictions of working in schools for many years, I love the flexibility of being able to work from my studio or a cafe, to set my own schedule and to dress like me!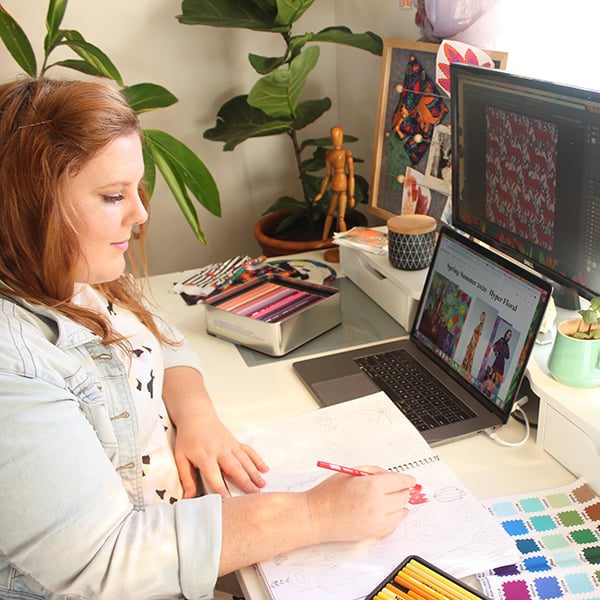 What would your dream creative project or collaboration look like? Tell us about why you would love to collaborate with them and what you find inspiring about their work.
My dream project would be to have my own print-driven, body positive clothing range. My background is in fashion and I have always approached clothing as a form of expression. Prints say so much about the wearer, which I love! Yes, trends come and go, but if you can find pieces for your wardrobe that really sing and show the world who you are, then that is a wonderful thing. I feel it is especially hard to find fashion like this for women size 14 and up. Your options become so limited and I think everyone deserves to be able to buy clothes they love, no matter your size.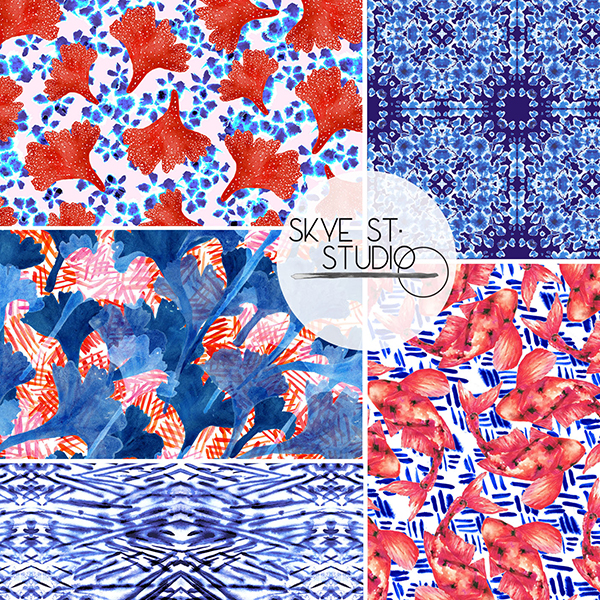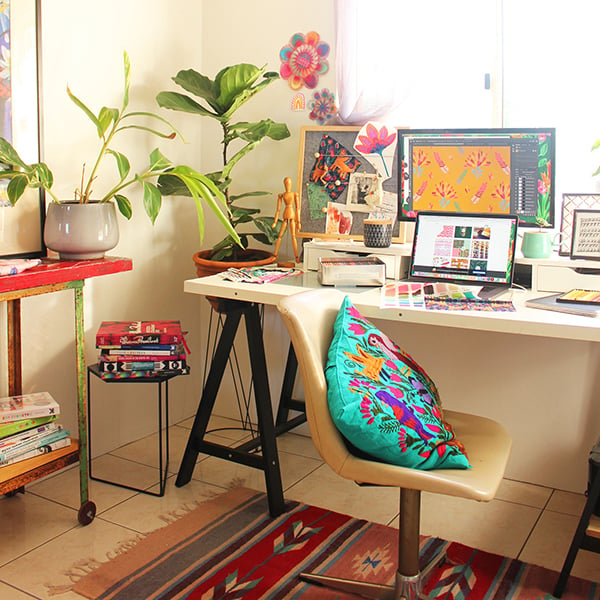 What projects or collaborations from last year stuck out, good or bad and what is coming up over this year that you would like to plug!
I have a brand new collab which is launching right now and I am super excited about it. I recently worked with fashion designer Kathryn Shaw of Rattamatatt on her new spring collection called Jungle Fever, which is available for preorders on Etsy from 5th August. She has featured Skye St. Studio hand painted patterns from my Jungle Snakes print collection on her garments and it all looks so amazing! Kathryn has been a dream to work with and I am so proud of what we have created – we hope you all love it too!
All of Rattamatatt's designs are classic and vintage cuts with a focus on fit and they all feature gorgeous, fun, modern prints with personality. Kathryn is all about slow fashion and ethical clothing production, making everything herself. I love this design philosophy and she has made my prints look absolutely fantastic on her garments! With Rattamatatt's silhouettes and Skye St. Studio prints, the Jungle Fever collection is fun, bright and whimsical – check it out online! Stay tuned to our social media accounts also, as there may just be a fun little giveaway in the works, where you can score yourself some original Ratamatatt x Skye St. Studio goodness! Jungle Fever Collection available for preorder on 5th August 2019 at Rattamatatt's Etsy store.
Where would you like to see your work featured?
One day I would love to see my work adorning some amazing dress in Vogue or for sale in Gorman! I am obsessed with their artist collabs haha.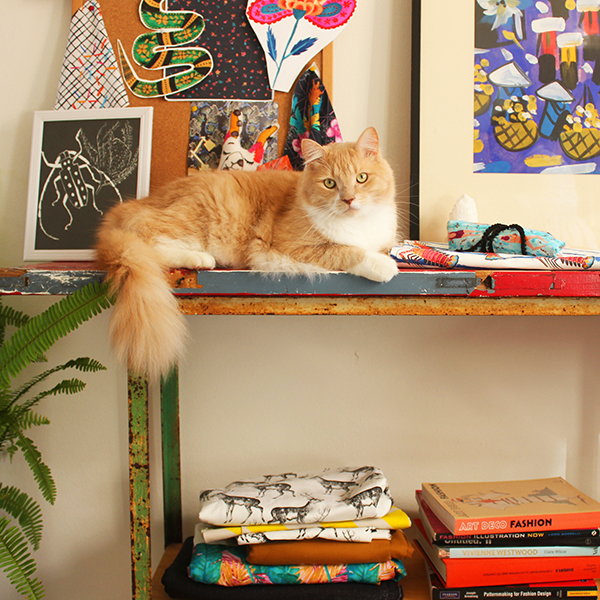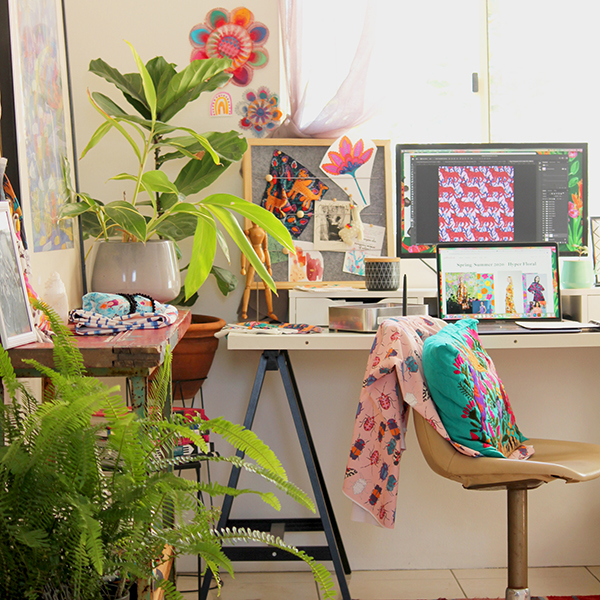 You can find what Crystal is upto here: Website, Instagram, Facebook.