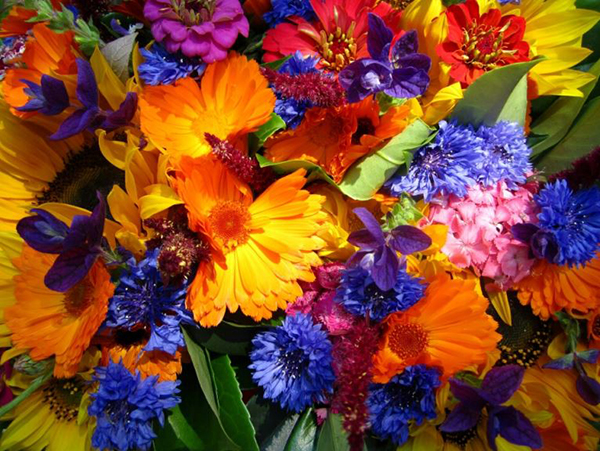 Not going to lie it's very nice getting sweet notes of appreciation from our customers, but more than anything we love receiving photos of makes and completed projects. We just love seeing what fabrics that we have printed has become. Sharon Wilson surprised us recently with images of her amazing colourful creations, box pleated skirt & boxer shorts, she used her photo to create this beautiful floral fabric. Her honest feedback and tips and tricks on working with Aerocorp fabric are truly appreciated and we are sure will be really helpful and inspiring to other sewers. Here is what Sharon wrote:
About 7 years ago I took a digital photo of this colourful bunch of flowers in Switzerland.  After seeing what Digital Fabrics could offer with their range of fabric types, I couldn't wait to order the Aerocorp fabric and make a knee length box pleated skirt with waist yoke.  It turned out beautifully and there was even enough remnant to make a pair of boxer shorts .
I found the Aerocorp not difficult to work with.  As the website said, it did have a soft handle and cotton look and feel, however it was resilient, as 100% polyester is, but with a good press, it is easy to tame into place or make a crisp line where necessary.
Aerocorp fabric has a tendency to unravel immediately after being cut.  So don't over handle it, and make sure that raw edges are tamed as soon as possible. 
The skirt has a lovely drape and swing to it.
I probably would not make a top out of it unless it was for a cooler climate and a dressier look.  
If the print is very busy (as this one was) you could even possibly get away with not ironing it – great for traveling. 
The fabric order delivery was on time and well packed.  Inside was also a sample pack which I really appreciated because sewers really need to feel a fabric to gain good judgement on what to use.  I would definitely recommend this service and am tempted to order again some time in future.
If you are like Sharon have a creative project in mind and would like to print your own fabric, you can upload your design and start creating right away here.
Save