We have absolutely loved sharing all of the amazing floral prints by artist Carly Westbye, and hope that you've enjoyed them as much as we have!  
To coincide with Carly's 'Spring in Bloom' collection being made available to all of our customers through our Fabric Shop online, the artist herself has put together a guest blog which further explains her self-taught design process, what inspires her designs as well as bit more about herself. 
Keep reading to find out more about Carly Westbye and her wonderful floral designs!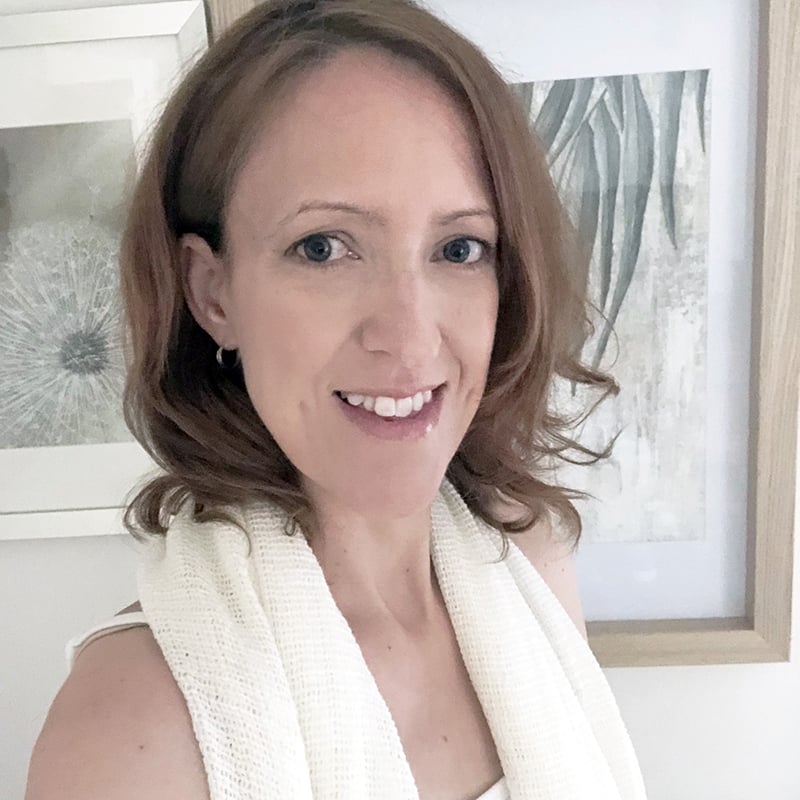 'Carly Westbye'
I am honoured to share my art through Digital Fabrics and look forward to bringing more designs to this unique network of talented designers.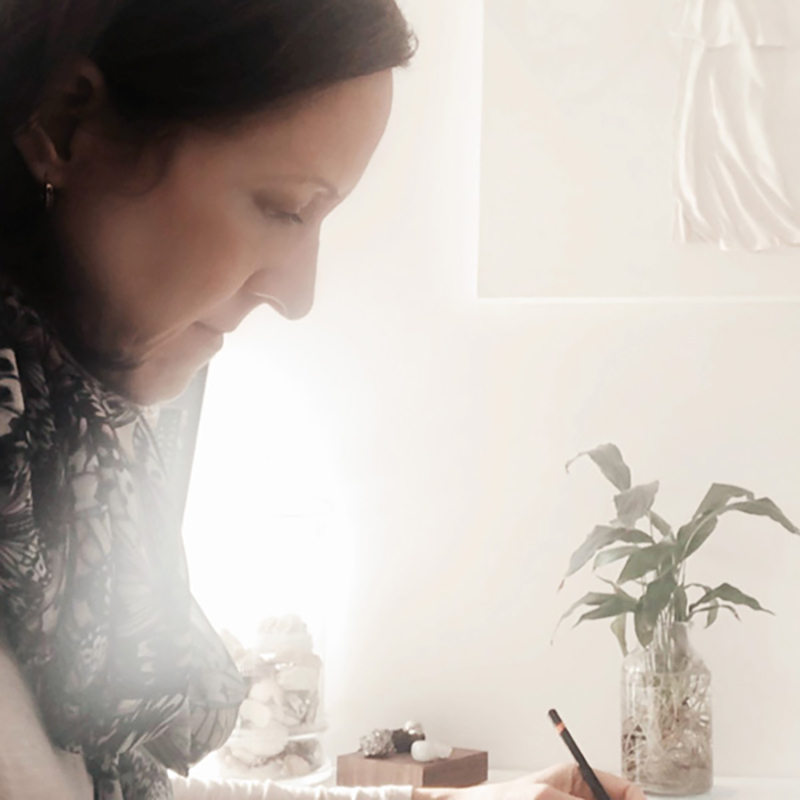 'Carly in her studio'
I am a Canberra-based designer and founder/owner of FinBok Publishing. I commenced my business as a Graphic Artist/Desktop Publisher and have spent the last eighteen years expanding on my design skills. My surface designs for interiors and fashion launched in 2016 and my designs have branched from collaborations, prints for personal use and expanding through to creators abroad in the textile industry.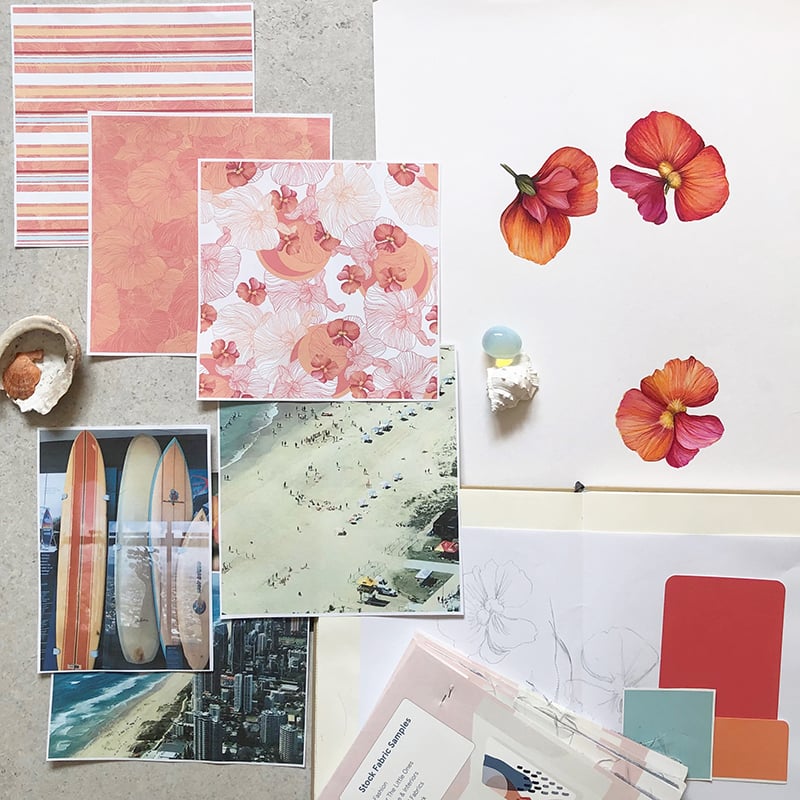 'Flame Pea Moodboard'
We are often asked what drives our passion to create and generally speaking for myself, I gain much satisfaction viewing the appreciation of those who support my work. Sharing the love of art and bringing a smile is what speaks to me. I have been creative since I was a child and have also been fortunate to explore a number of art shows where I have been able to sell my paintings.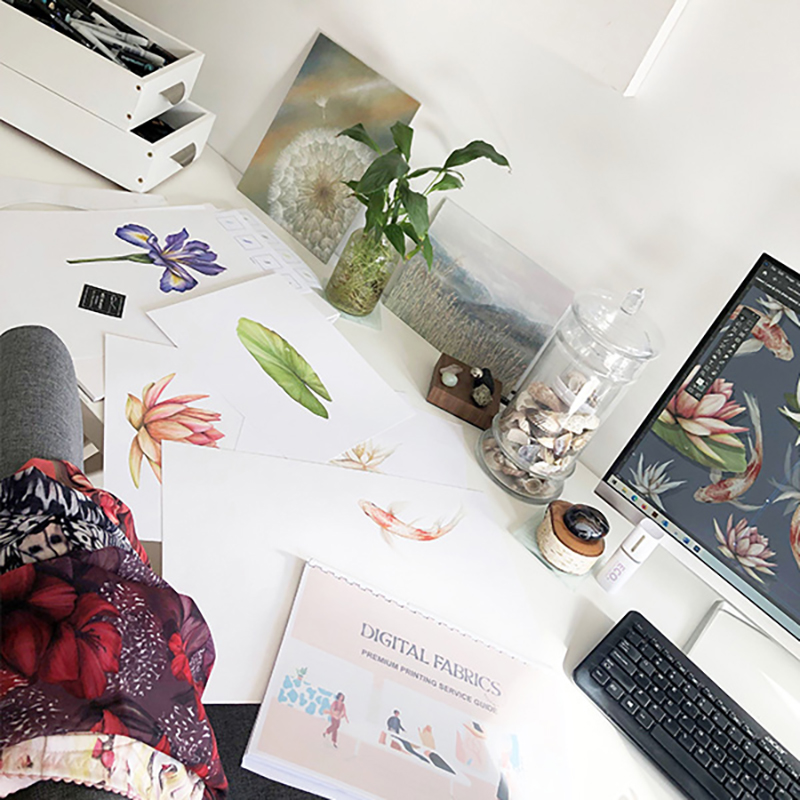 'Carly's Design Workspace'
Most of my inspiration is drawn from nature and more recently I have spent some time observing my history and culture. I enjoy exploring nature's contours, textures and colour palette. Together, I like to combine this with a variety of mediums, as I continue to explore new techniques and learn to work with organic materials sourced from Australian suppliers. I am currently working on many new designs to be released this year, all of which have been created using a unique self-taught technique.  This method combines natural pigments that I mix with inks and gel mediums. I find this to be a rewarding process to see my illustrations and paintings brought together, as I continue to develop on my seamless signature style.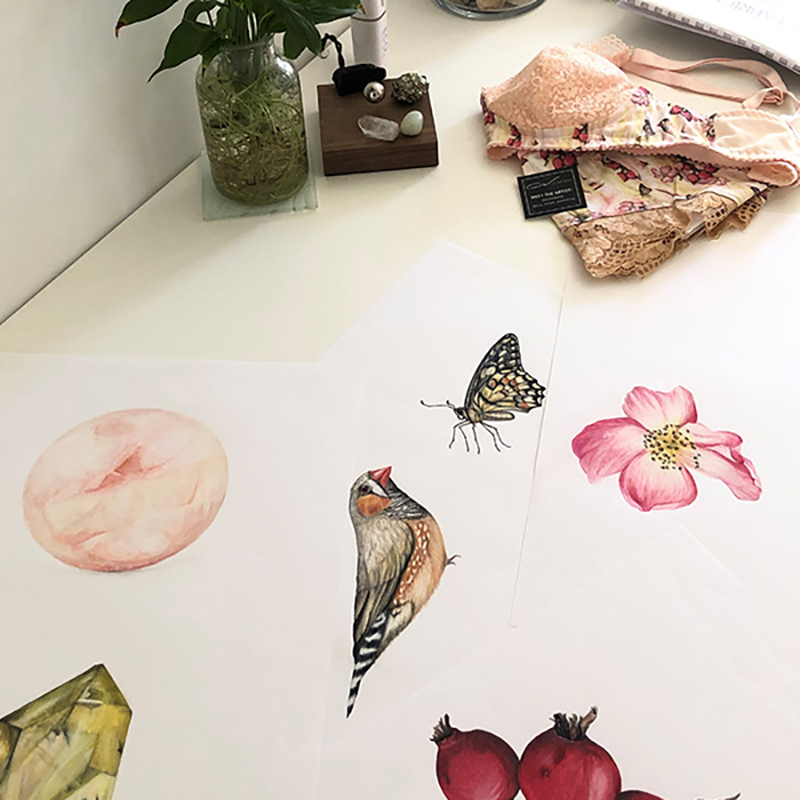 'Whimsical Sketches'
The process in developing my designs will vary, depending on where I draw my inspiration from. Sometimes it begins with a walk in nature; other times a colour I am drawn to, a memory, or experience. My sketchbook is a big part of my life, and I never leave home without it. This is a journal that I hope will be treasured in my family for the years to come.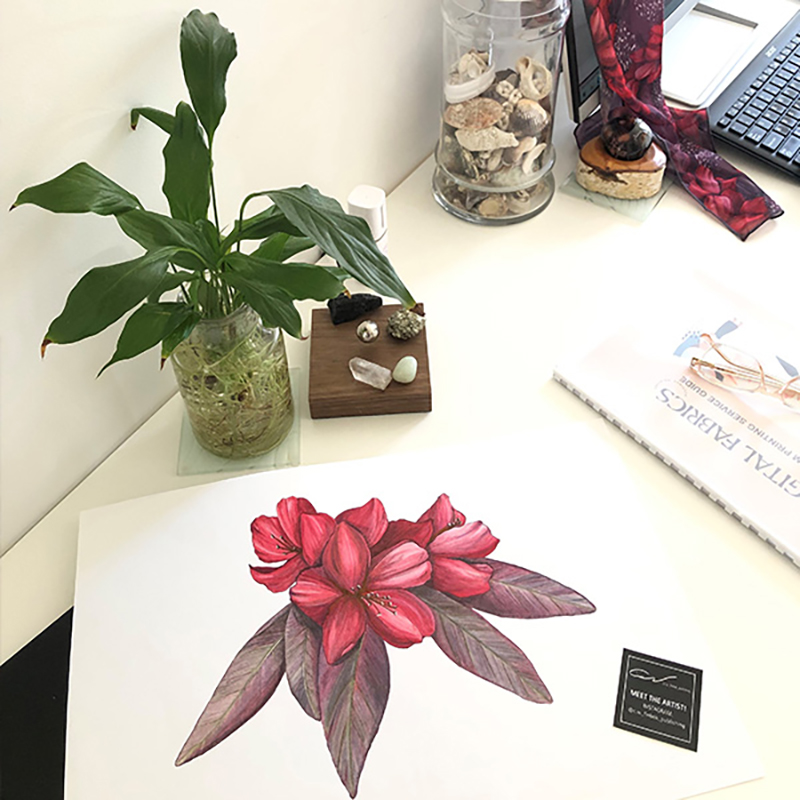 'Ruby Blomst Sketches'
Each design is taken through a process that I have constructed over time. This process enables me to keep my designs on track during my creative thought process. My designs are structured with sketches, both initial and final stages, a colour selection process and consideration of purpose for print. All of my final designs are then imported to Adobe Creative Suite, where I then clean my files and prepare the layout for print production. 
'Singapore Butterfly Sketches'
If you want to collaborate with us on The Designer Project and become part of this creative club, please apply! Send us an email with your portfolio and why you would like to be part of this initiative, and we will be in touch!