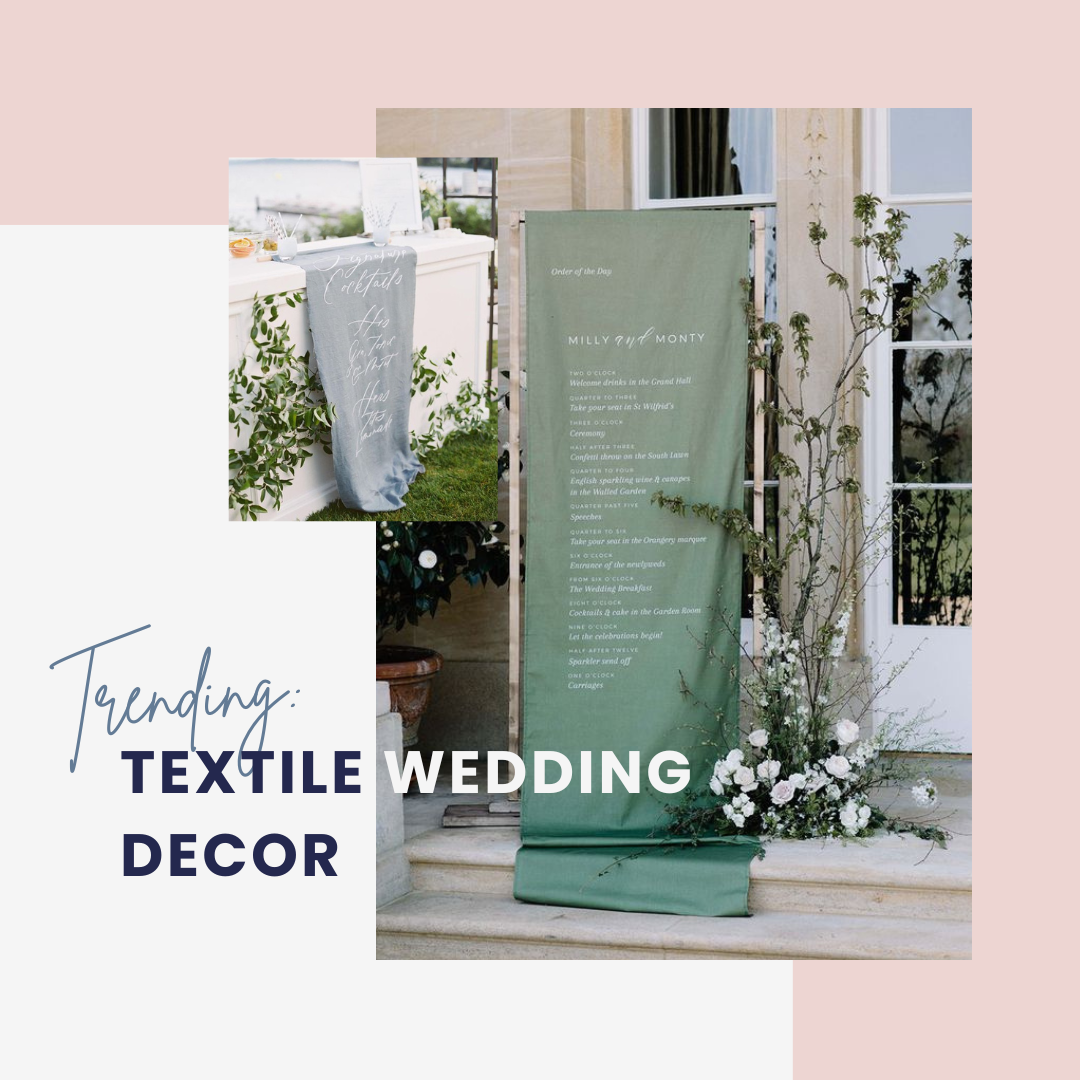 One of the hottest new trends in wedding styling is textile decor and here at Digital Fabrics we make it even easier to incorporate personalised textile elements to your wedding day styling with low minimum order quantities and hands-on support to bring your vision to life.
Textile wedding decor instantly adds a next-level luxe feel to your Big Day, making it effortless to weave your chosen colour palette through your ceremony or reception venue and add little pops of unexpected surprise and delight for your guests. Let us explain three easy ways to incorporate fabric decor into your wedding.
Wedding Signage
Personalised printed textile banners and signage can add an unexpected touch of wow to your nuptials. We love seeing couples incorporate textile wedding signage into their scheme as they can soften hard or brutalist architectural venues (think big stone buildings or industrial warehouse spaces). What's more, a fabric banner or sign can effortlessly command attention in a large-scale space. Consider printing your seating chart onto fabric, your wedding day order of events onto fabric or your bar menu onto a textile hanging. Whether it's gently fluttering in the breeze in an outdoor venue or creating a striking divide between interior spaces – you won't be disappointed with your guests' reactions.
Table Decor
Ok, you might be thinking table decor, that's obvious, but hear us out. The majority of wedding venues and stylists will hire their table decor – think napkins, table runners and tablecloths. Whilst they may stock luxurious linens, often getting the perfect colour isn't very easy as you have to pick from the available stock. If you have a complex colour palette, a bold design or a specific shade in mind, printing your own wedding decor may provide an opportunity to add an unexpected twist.
We love printing personalised table decor for our customers. A great idea is printing personalised placemats or napkins that guests can then take home with them as an alternative wedding favour.
Stationery
We all know that first impressions count, so what could make a more striking impression than a beautifully printed textile-based invitation. We've loved seeing wedding stylists get creative and use fabric instead of paper for their couples' invitations. It's something that'll get all your guests talking about your Big Day well in advance of the event.
Here at Digital Fabrics we stock a wide range of wedding-appropriate fabrics including luxe natural cotton linens, strong and durable cotton drill or canvas and floaty, romantic chiffons and lightweight weaves. Importantly, we can print in any colour you need – that means you can precisely match the pantone that you are trying to achieve. What's more, you can help reduce the environmental impact of your event. All our fabric bases are sourced from sustainable and ethical suppliers and where possible we use recycled fabrics.
We're lucky to get to work with leading industry stylists and coordinators and many happy couples to help elevate their wedding celebrations with fabric flair. Just contact us to find out more.