Welcome to my little corner of the world, my name is Sami Sparrow, artist, author and designer. I'm delighted to share my work, process and latest collection "Favourite Things" with you. An extravaganza of fun, cute and character filled designs awaits you. Some hand-painted, all hand-drawn. I'm so thrilled to be teaming up with Digital Fabrics to bring you designs for you to create a more personal project with.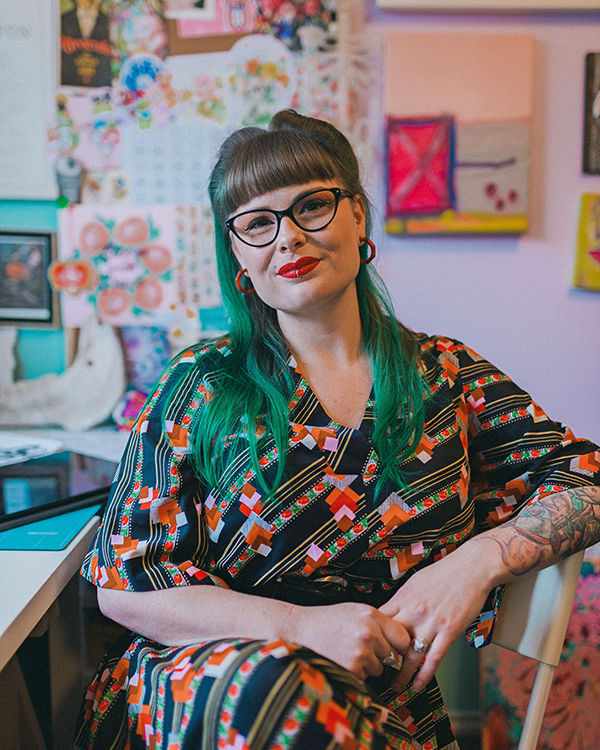 Sami Sparrow in her studio
"Favourite Things" is a collection of just that, a few of my favourite things. This diverse collection has a variety of designs, some created digitally, some painted but all hand-drawn.  I enjoy creating in both styles depending on where the mood takes me. My work is inspired by my eclectic life and love for vintage, bright colours, children's book illustrations and cute things in general; I like to think this is reflected in each of my designs. When developing this collection I wanted to bring a sense of comfort, homeliness and childhood excitement, with each design telling its own story.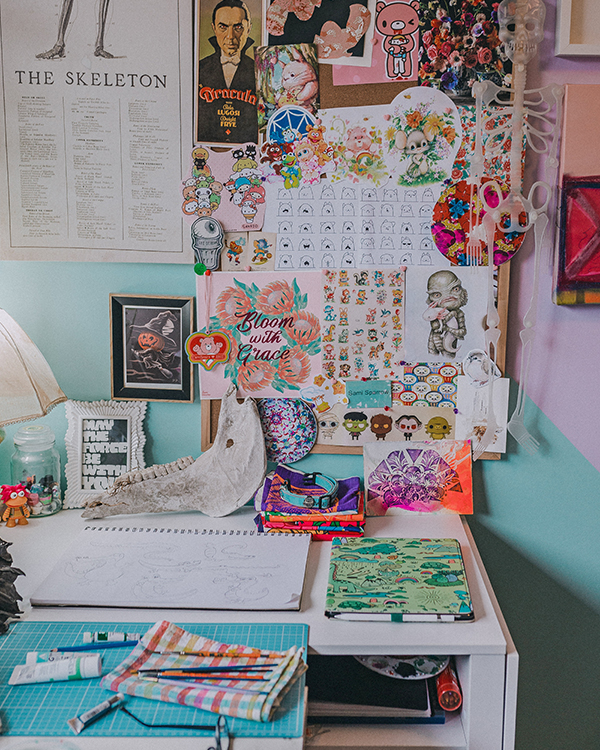 Sami's creative space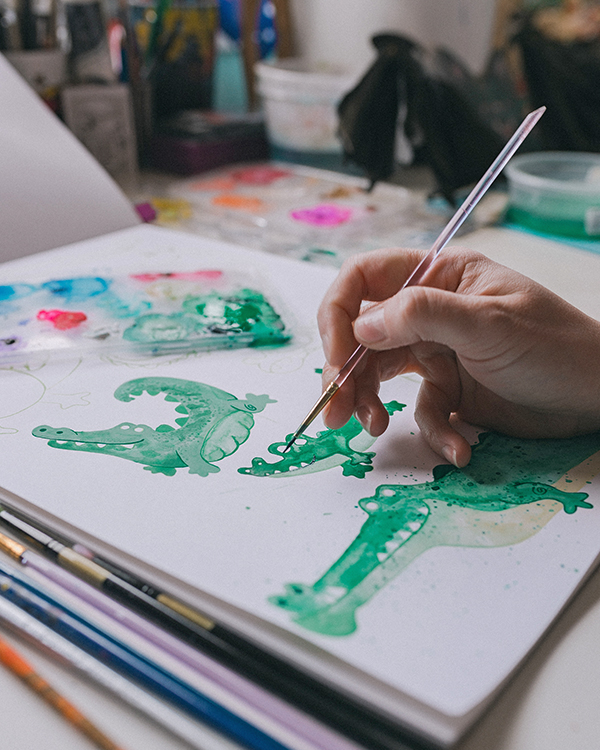 Sami hand-painting watercolour motifs
Behind the scenes in my studio, I take on the 'more is more' interior design concept. Being an extremely visual person, I enjoy being surrounded by an assortment of inspirational items that I have been collecting throughout my life and continue to curate on a regular occurrence. From childhood toys and books to vintage, geometric and graffiti works of art, my studio is my temple; my decorated hive; my place of creative oneness.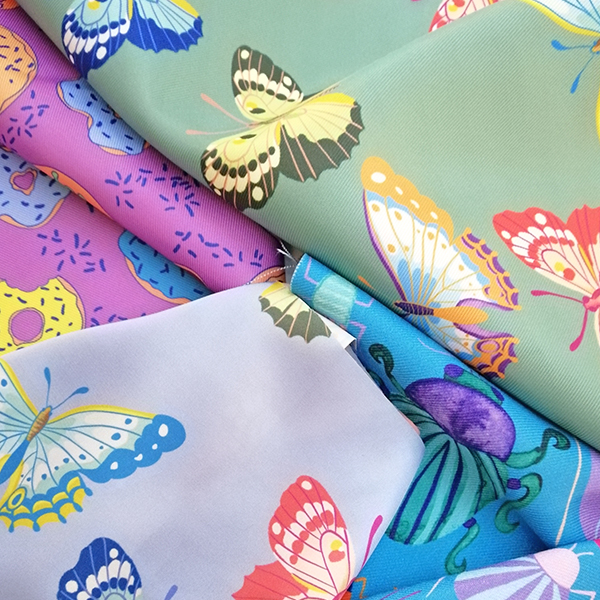 Selected designs from the "Favourite Things" Collection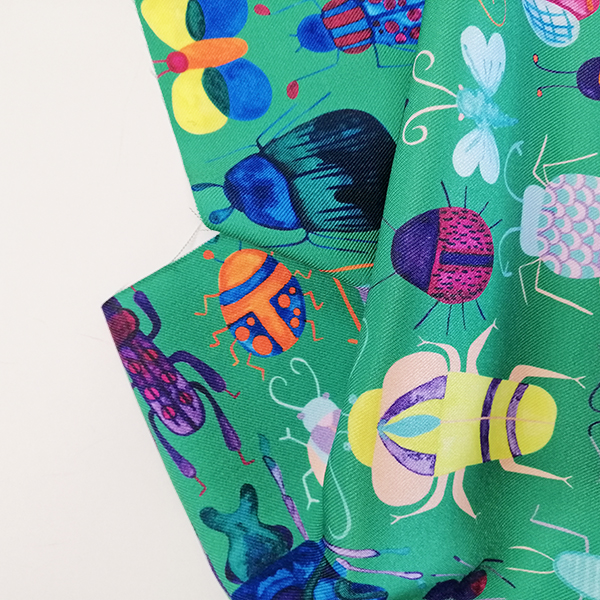 "Bugs – Leaf Green" 
Interestingly, I've just realised I do not tend to share my creative process very much. So I'll give you a taste of how my creative brain works. Each of my designs begin with me sitting down and doing a bit of inspirational research. As I said, I'm a very visual person and my eyes love to devour as much content as possible. Colours, shapes, movement and expression are just some of the attributes I will be seeking to recreate with my own style. This also helps me to decide if the design will be hand-painted or digitally drawn.  With sketch book in hand I roughly draft some ideas. Once I have a page filled with concepts I refine my scribbles in another sketch book giving the designs more character and personality. Depending on my desired format, I will either photograph the sketch to re-draw digitally in Procreate, or re-draw on crisp paper and begin painting for an organic finish before scanning and digitally creating the pattern repeat. This process can take anywhere from a few hours to a few weeks to complete.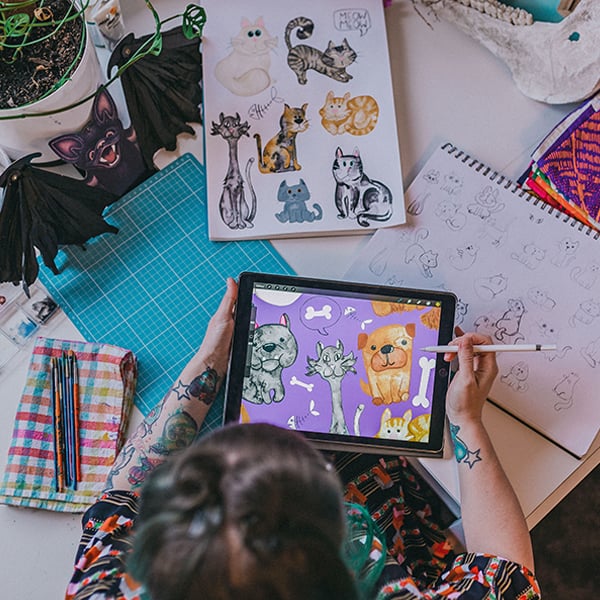 Sami working on the "Cats and Dogs" design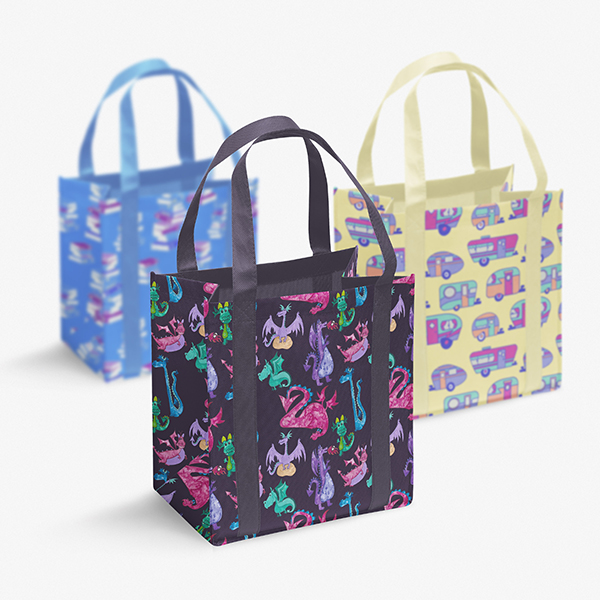 "Favourite Things" Collection designs bag mockup
An exceptional example of my digital work is "City Scape". This piece is inspired by the skyscrapers and tall buildings crammed into a small space in cities all across the world. I love the geometric shapes of these buildings and how shadows and light play on the faces of the structures throughout the day. The piece was a great challenge to create and had to be made digitally to get the sharp edges and angles I was looking for. For a beautiful contrast why not use this geometric charm on a flowing dress, skirt or robe.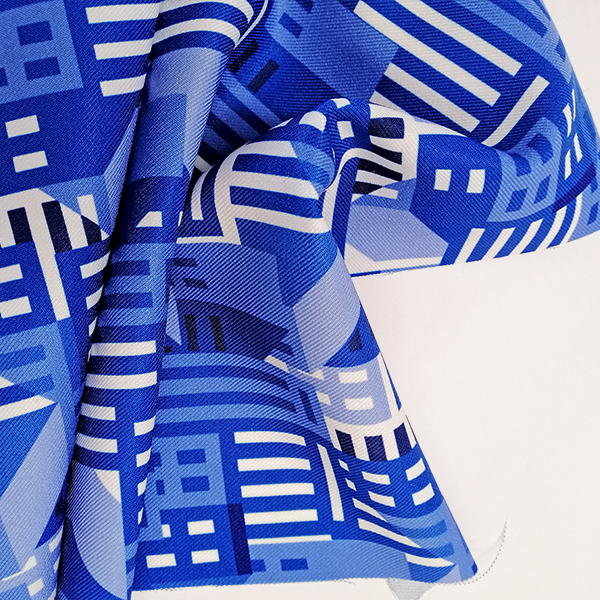 "City Scape"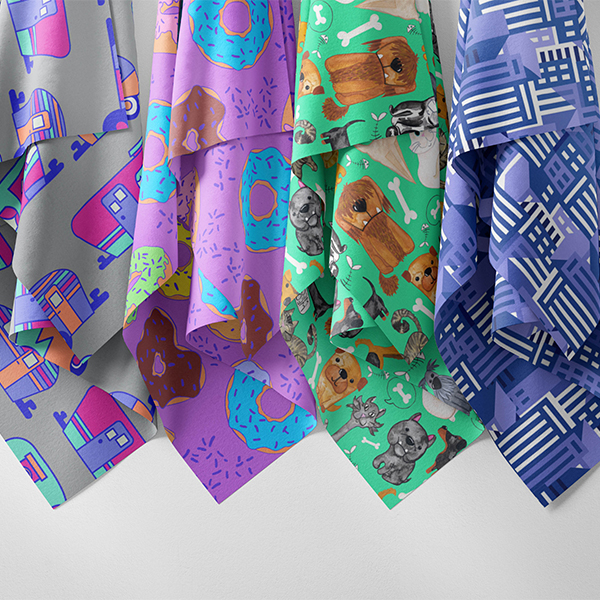 "Favourite Things" Collection design mockup
As for hand-painted designs, you cannot go past "Floral Fungi". This complex smaller scale design sprung to life through my love for the natural world. I'm a long-time admirer of fungi and feel they are just as beautiful as many flowers, so incorporating them with flowers was a natural progression for this creation. I knew I wanted to capture the organic textures left by using watercolour paint as details within both the flowers and fungi, so this design had no chance of going digital until it was time to create the repeat. I feel this design would look stunning as a blouse, cushion or even a shawl.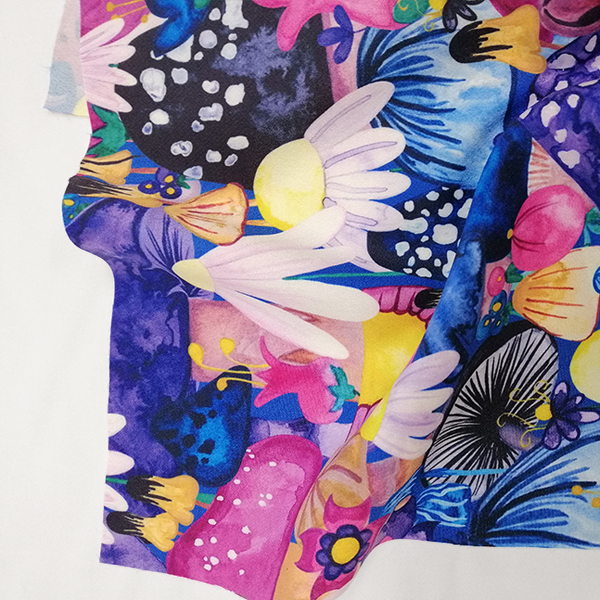 "Floral Fungi"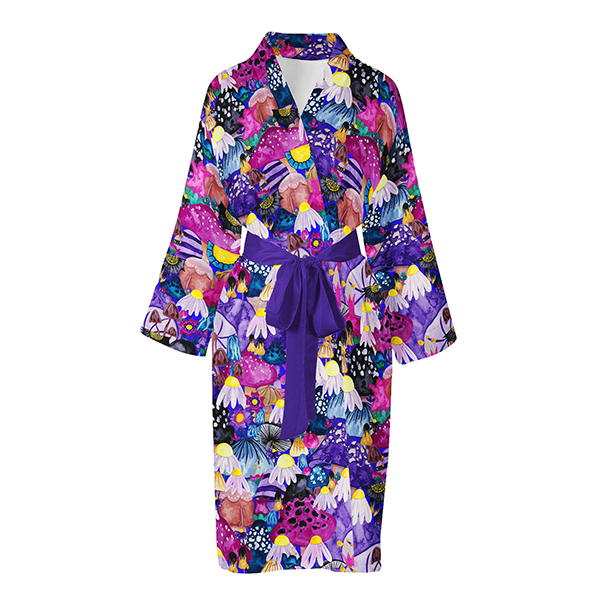 "Floral Fungi" robe mockup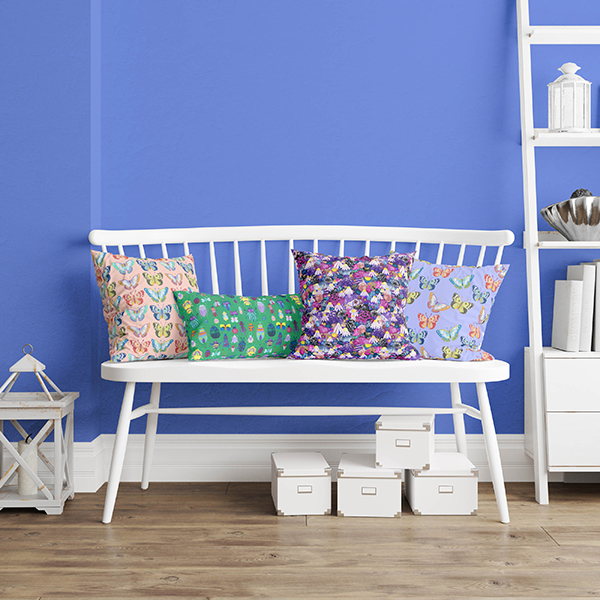 "Favourite Things" Collection designs cushion mockup
I'm excited to bring our stories together and see what you create with my designs. From "Cats and Dogs" to "Butterfly Collector" to "Bugs"; "Book Worm" or "Donuts" there is just as many awesome fabric bases to choose from at Digital Fabrics as there are designs to choose. You will only be limited by your imagination for what we could achieve together. Please share your projects with me via Facebook or Instagram, I just can't wait to see what you make. Thank you so much for your time and happy creating!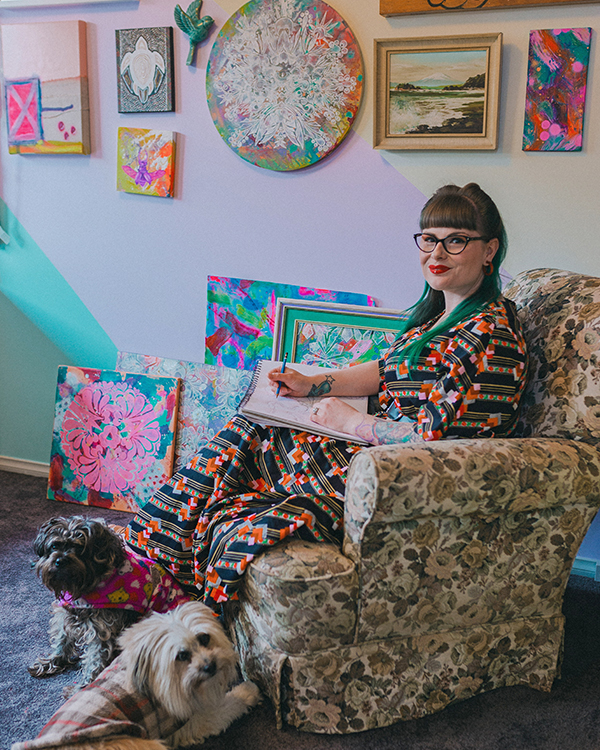 Sami in the studio with her fur babies
If you want to collaborate with us on The Designer Project initiative and become part of this creative club, please apply! Send us an email with your portfolio and why you want to be part of this and sure, we will be in touch.