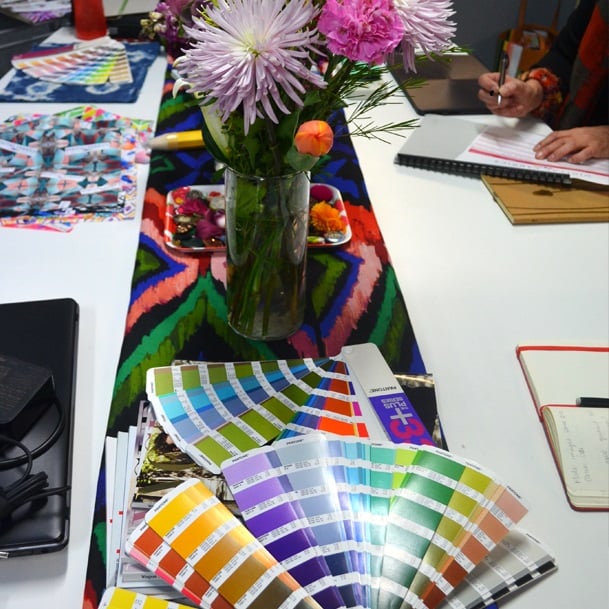 Here at Digital Fabrics over the past few months, we have been testing the education waters by offering some workshops aimed at engaging our customers in the digital printing process, handing over some required designing skills and getting excited about the results from our students. We were so excited that we've decided to continue with our DF School offerings and are looking forward to seeing the creations that come out of it!
First class off and running starts this week Thursday, there's no time to think just do it! Idea to Reality is a four week evening class designed to take you through the fundamentals of what digital printing is and how to develop your artwork into a seamless repeat, ready to be printed for meters and meters. Have you got a design idea burning a hole in your sketchbook? Do you want your very own custom designed and printed fabric for that one of a kind dress? Head on over to our website now to book your spot in our Idea to Reality class!
Next in line there is a one day workshop perfect for Photoshop newbies. Textile Design for Photoshop Beginners will walk you through the basic applications in the Adobe Photoshop program, like where the move tool is and what the magic wand tool can do, before going through some simple repeat set ups that will have you designing your own fabric prints in no time. Ideal for those with little to no experience in Adobe Photoshop, Textile Design for Photoshop Beginners on November 5 is now open for bookings!
If you've had a bit of experience working in Photoshop and have been dreaming of your own cushion prints or yoga leggings or even a statement scarf, Design Your Own Product is the workshop for you! Immerse yourself in this one day class focusing on the manipulation options in Photoshop and using these to develop a placement print. With the added option of having your product printed, how can you go past the Design Your Own Product workshop on December 3.
Whichever class you choose, we can't wait to see you there, share our digital printing insight and be amazed at your creations.
Save
Save